On July 4, 2022, we posed the question: "Cockfighting: Will It Soon Become Legal In The U.S.?" based on the introduction of two bills (HB 2332) and (SB 1006) in the Oklahoma legislature to reduce the state penalties relating to animal fighting (not limited to roosters) by decriminalizing "possession and training of fighting animals." 
Cockfighting is the brutal, atavistic death sport that involves placing two or more roosters (fighting cocks) with sharp knives attached to their feet in a ring to fight for their lives or be killed during matches, on which bets are often made as to which of the birds will survive. 
However, Oklahoma State Rep. Justin Humphrey, author of HB 2332 (now HB 2530), and Sen. Lonnie Paxton, author of SB 1006, want to decriminalize cockfighting as part of Oklahoma's criminal justice reform efforts, basing the change on "seeking parity with reduction in punishment for other crimes." 
Both bills passed out of committees, and HB 2530 is eligible to be considered on the House floor. 
Passage of HB 2530 would place Oklahoma in violation of the U.S. Congress prohibition on blood sports in the U.S. and all its territories, which was passed in 2018. 
These measures would gut the Oklahoma Ban on Cockfighting Act, aka, State Question 687, which was passed by voters on the Nov. 5, 2002, ballot, making it illegal to hold or encourage a cockfight, train birds for fighting, be a fight spectator, keep birds for fighting purposes, have equipment or facilities for training or handling or fighting the birds, with cockfighting defined as a fight between birds, whether or not fitted with prosthetic weapons, and whether or not bets or wagers take place. 
HOW THESE BILLS WOULD CHANGE CURRENT OKLAHOMA LAW
SB 1006 passed in Committee and would allow voters in counties to vote to reduce the crime of cockfighting to a misdemeanor. 
HB 2530, would also make the crime of cockfighting a misdemeanor. 
In Oklahoma, cockfighting is currently a felony punishable with up to 10 years in prison and up to $25,000 in fines. But these "justice reform" measures would allow county-by-county elections to decide the issue. And, only five percent of a county's voters, or the majority of the county's commissioners, may call for a special election in any county. 
It is currently also a felony to buy, sell, deliver, or possess any bird for cockfighting. If passed, cockfighting violations would be reduced from felonies to misdemeanors, with maximum fines of $500 for animal cruelty violations. 
According to the Journal Record, Rep. Humphrey commented, "In my area I've gotten much more support. They're raising them as game breed stock. We're talking about really an economic impact. Changing the law would keep legitimate game fowl breeders out of jail and pump more money into rural Oklahoma's economy," he stressed. 
He also told the Journal Record, "Drugs like methamphetamine, heroin, and fentanyl have killed hundreds of Oklahomans, but possession results in only a misdemeanor," he said, "meanwhile, fighting chickens continues to be a felony." 
"How many people have died from chicken fighting?," he asked. 
(Actually, as recently as October 2020, a police officer in the Philippines was killed by a gaff that was still on a rooster as law enforcement officers attempted to stop a cockfighting event, according to the New York Post. 
The sharp blade severed the femoral artery in Lieutenant Christine Bolok's thigh and it was later believed to have been coated with poison. 
Officers attempted unsuccessfully to stop the bleeding with a cloth used as a tourniquet, but reports say it may have been applied "in the wrong spot.") 
ANIMAL WELLNESS ACTION GROUP OPPOSES THESE CHANGES 
The national organization, Animal Wellness Action (AWA), says the U.S. is the breeding ground for the global cockfighting industry, generating billions of dollars in economic activity, primarily due to betting, event entry fees, and the sale of fighting animals sold mainly via online marketing and videos, some for as high as $2k per bird. 
AWA has tagged Oklahoma as the "Cockfighting Capital of the U.S.," claiming the birds are often raised on gamecock farms—including Oklahoma farms—trained to fight, and shipped globally, creating an even greater market for fighting animals and paraphernalia. AWA claims, according to its research, fighting birds are shipped from Oklahoma in boxes via the U.S. Postal Service. 
"Cockfighting is inhumane, barbaric," said Wayne Pacelle, President of Animal Wellness Action Group, in a recent media release. 
STATEMENTS BY OKLAHOMA STATE REP JUSTIN HUMPHREY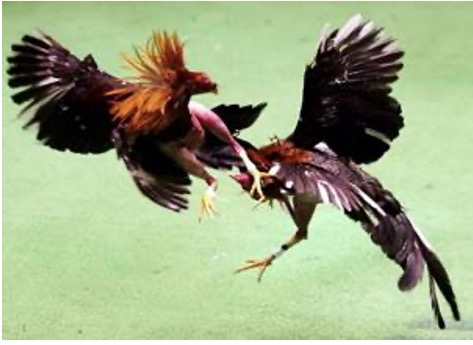 "This is an event that people like. I'm for freedoms," Representative Justin J. Humphrey told KFOR News. 
"You can argue about whether it's cruel," said Humphrey. "You may win that argument, but at the end of the day, do you think that that is worse than fentanyl? So, killing a chicken is going to be worse than having fentanyl and all that killed 800 Oklahomans and that this one should be ten years in the penitentiary and this one should be a misdemeanor? That is not fairness in sentencing." 
Humphrey also told KFORNews he has never been to a fight. "Just because I haven't been to one, doesn't mean that I don't know lots of people who raise them," said Humphrey. 
"Humphrey said he may need to go to a fight if he's going to carry the bill; however, he has been busy," the station reported. 
"Humphrey unsuccessfully introduced a similar bill in 2022, and in an interview, he said cockfighting is a big moneymaker in Oklahoma," the City Sentinel reports. 
Oklahoma Sheriffs' Association CEO Ray McNair told the City Sentinel that Oklahoma cockfighting's highest concentration is in the southeast, from McCurtain County across the state to Carter County. Oklahoma sheriffs are mixed about decriminalizing cockfighting because the penalties are higher than those for drug charges. 
"In previous years, sheriffs saw drug sales, human trafficking, gangs, and cartels connected to cockfights. Within the past 60 days, 30 people were arrested in Bryan County for cockfighting, where law enforcement dropped the cockfighting charges in lieu of drug charges because those arrested were involved in both," he added. 
Drew Edmondson, who served as Oklahoma Attorney General when the ban was enacted and now serves as co-chair of the National Law Enforcement Council for Animal Wellness Action Group said, "Oklahoma is a prime donor of fighting roosters for the pits of Guam. Just a handful of Oklahoma breeders have shipped thousands of birds to Guam—an American territory where cockfighting is banned—and to other countries where the blood sport is legal." 
(See also: Cockfighting: Expanded Federal Law Would Halt USPS Transport of Animals for Fighting) 
OKLAHOMA GAMEFOWL COMMISSION 
The OGC (Oklahoma Gamefowl Commission) describes itself as "…a political action group. The goal of the OGC is to unify members into a single political group that will influence legislative actions and form a voting powerhouse that will positively impact Gamefowl owner's rights in Oklahoma and across the United States." 
Thus, it makes it clear that its efforts will not stop at the state's borders, and it claims to have "four (4) new bills planned for Oklahoma's 2023 legislative session. 
Former Oklahoma Attorney General, now co-chair of the National Law Enforcement Council of AWA, Drew Edmondson, said that OGC members are cockfighters. "Oklahomans make money by raising and training fighting animals and shipping them abroad. But exporting fighting birds to a state, territory, or foreign nation, is a federal felony," according to the City Sentinel.
ON-LINE SPORTS BETTING –WILL IT BE CONSIDERED?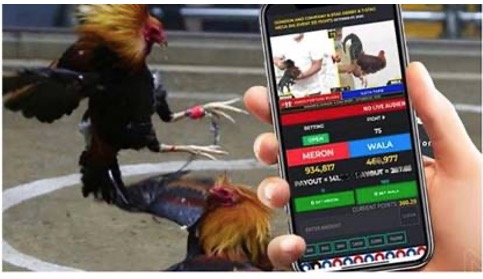 With the proof that laws are being changed merely by a motion that wipes out years of careful planning and enforcement to maintain what has been considered a level of order and protection for animals, is it possible that the changes to Oklahoma cockfighting laws are about more than just penalties? 
California voters were just asked to vote for on-line gambling. The results of legal online gambling, for a very short period of time, illustrate the dangers. 
On May 4, 2022, Philippine President Duterte suddenly announced his decision to ban E-Sabong after only five years, despite the economic benefit it provides to the country. Duterte said the ban was immediate, although the estimated income from this activity is approximately $1.2 million (USD) per month.
"Online cockfight increases gambling addiction and uncontrolled debts." Duterte asserted, "This leads to crimes including the increasing unsolved disappearances of participants and other scandals." 
We should learn from the mistakes of others, without having to repeat them. 
OKLAHOMA GAMEFOWL COMMISSION (OCG) 
A February 2023 article in The Oklahoman, "Pro-cockfighting group has spent more than $70K on effort to decriminalize sport in Oklahoma" states: 
A pro-cockfighting organization has donated more than $70,000 to Oklahoma lawmakers in a push to decrease penalties for participating in the illegal sport, although the group does not report the source of its funds. 
The Oklahoma Gamefowl Commission, a political action committee, has donated to dozens of state lawmakers, including $2,000 to Gov. Kevin Stitt. 
It concludes with the comment, "Cockfighting enthusiasts at the (Oklahoma Gamefowl Commission) are using ill-gotten gains from their ongoing criminal conduct and buying influence at the capitol to attempt to gut a voter-approved law," said Wayne Pacelle, president of Animal Wellness Action and the Center for a Humane Economy. 
OKLAHOMA GAMING COMMISSION 
This Commission oversees the gaming enterprises of the various tribal casinos in Oklahoma. Here is an excerpt from an article that involves legislation just as an indicator of the type of revenue that is involved: 
Committee returns HB 3008 to the Oklahoma House (Mar 8, 2022) 
OKLAHOMA CITY – After receiving a vote recommending approval from committee, a bill that would allow Oklahoma's Native governments to offer in-person sportsbook wagering at casino sites is likely to receive a vote on the floor of the state House of Representatives. Under HB 3008, tribes would pay the state 10% of net revenue earned from sportsbook. 
"When introducing HB 3008, Rep. Ken Luttrell, R-Ponca City, referenced a 2017 estimate by the Oxford Economics Group that the state could earn $240 million in new revenue, though that figure has met some skepticism. " 
Is it possible that the efforts to decriminalize cockfighting are not tied to "illegal gambling" by locals at the fights but to a coordinated effort to take steps to legalize cockfighting gambling in Oklahoma?
See also Cockfighting: Cops' Addiction to On-line Betting (E-Sabong) Sparks Fear of Crime Wave
Mother Sells Baby to Pay Online Gambling Debt
Cockfighting Game Risks Addiction to Blood Sports On-Line Gambling
(Phyllis M. Daugherty is a former Los Angeles City employee, an animal activist and a regular contributor to CityWatch.)