ANIMAL WATCH - A form of on-line betting on simulated and real cockfights is apparently available to current members for gambling on-line and only "temporarily" closed to players worldwide,
according to the PitMasters-Live website, which apparently hopes to lure cockfight enthusiasts and other sports aficionados into its internet gambling web. 
It is unclear whether such betting will be legal in California, pending the decision on Prop. 27, on-line sports betting in the November election. 
This is not E-Sabong, which was in place in the Philippines from 2017 and legalized on-line cockfight betting only within the country. (E-Sabong was banned by President Duterte on May 3, 2022, after the tragic social and economic impacts on addicted citizens developed and became public.) 
E-Sabong was an economic and social experiment that allowed gamblers to legally bet on (a "cultural tradition") cockfighting through any electronic device and claimed to have the goal of supporting the country's economy during the COVID-19 epidemic. 
During that period, legal cockfighting derbies and tournaments could not be held in the usual public stadiums nor locally in approved locations. However, bettors could view cockfights on-line and place bets 24-hours a day.
This resulted in police officers, along with the general public, becoming addicted to the point that their Chief issued a warning and then a total prohibition against any viewing of cockfights or gambling while on duty. 
It also resulted in a rising number of suicides over debts, loss of homes and marriages, and increased criminal activity, including burglary. Finally, the disappearance of 34 aficionados who were believed to be involved in fight-fixing and the belief (or evidence) that they were possibly murdered, finally caused President Duterte to reverse his opinion. 
The dire circumstances and fear were finally made evident when a young mother sold her baby to a human trafficker for enough to pay off her gambling debt. 
(See: Mother Sells Baby to Pay Online Gambling Debt) 
Prior to imposing the ban on May 3, 2022, Philippine President Duterte continued to support e-Sabong, stating in a public address that the (approximately $11.34 million the government made in monthly taxes on the pastime was absolutely vital for the economy. 
HAS ON-LINE GAMBLING GONE AWAY IN THE PHILIPPINES? 
It appears the major gambling syndicates under an agency known as PAGCOR (Philippine Amusement and Gaming Corporation) want to maintain the level of addiction to which the companies' coffers have become accustomed and now have a strong foothold in the market. 
And, those to whom gambling and the thrill of blood and the deadly climax to bouts from the feminizing thrust of a blade into an opponent's body is worth risking it all, appear to have been continuing to access a slightly modified type of on-line betting, which appears to be alive, well and waiting to expand.
However, illegal e-Sabong is reportedly still alive, and "government attempts to control the spread of illegal online betting sites is not being helped by Facebook's reluctance to block e-Sabong pages, despite continued government requests," according to the Casino.org report. 
A look into the social aspect is also provided, "Furthermore, cockfighting is frequently touted as a metaphor for life in the Philippines, with only the fittest surviving and thriving." 
It has also traditionally been coveted as a "socio-economic equalizer," where the wealthy and powerful and the common workers sit side-by-side. 
L.A. SHERIFF'S DEPT. SEIZES OVER 200 FIGHTING COCKS 
A California news report on July 22, 2022, linked a cockfighting ring with 228 fighting roosters to drugs and guns. 
The bust resulted in 228 cockfighting roosters being seized by L.A. Sheriff's deputies, along with 500 to 600 pounds of cannabis — worth an estimated $500,000 on the street. A.22-caliber rifle was also removed from the scene by officers.
One male suspect was arrested and booked at the Palmdale Sheriff's Station, but the nature of charges was not immediately provided. 
"Cockfighting and illegal trafficking of drugs run hand in hand," said Wayne Pacelle, president of the non-profit Animal Wellness Action, adding, "The northern, remote parts of Los Angeles County have long been a hotspot for illegal cockfighting operations, and here we see this plain evidence of this organized criminal activity again."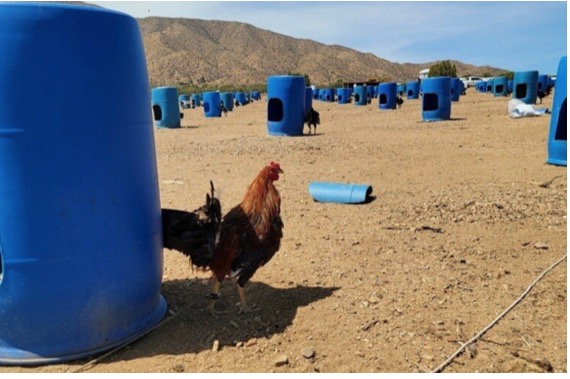 NEW COCKFIGHTING GAME CLAIMS TO BE MAKING HEADLINES WORLDWIDE 
This week, on July 27, a post by FederalRegsAdvisor.com, a Los Angeles-based company (not a governmental agency) indicating it is owned by a local attorney, posted an article entitled, "What Are the Steps Include in WPC2027 Register? How Can We Reset the Password of the Platform?" which outlines the steps to be involved in a cockfighting game with on-line betting. 
This appears to be a copy of a January 20, 2022, post by PitMasters Live, but is the timing—just before a CA election to consider legalizing on-line sports betting—merely coincidental? 
Or, could this be a warning that CA is already being set up for on-line gambling on blood sports—whether we want it or not? 
Following are excerpts from the original PitMasters Live post, which indicates it is "Licensed by PAGCOR." (This is the Philippine Amusement and Gaming Corporation involved in e-Sabong mentioned above.) 
I have highlighted a few areas for emphasis; however, the entire "application" can be read at the link provided above: 
Sports are one of the most popular forms of entertainment in the world. People participate in these sports based on their own preferences and cultural backgrounds. Cricket and football are two of the most popular and well-liked sports in the world. Our topic for today is WPC 2027, a video game. 
What is WPC 2027? (World Pitmasters Cup) 
The world pitmasters cup is known as WPC. In the Philippines, cockfighting is a popular game. Wpc 2027 is an online platform where players from all around the world can participate. In this game, players fight each other with their cocks. After that, the crowd places a wager on their favourite cock. At the conclusion of the game, the winner's cock player receives all of the money. People who bet on the cock, on the other hand, win a portion of their money. This game is both entertaining and beneficial in terms of earning money. As a result, this sport has become well-known all across the globe. 
How to Signup WPC2027 Account? 
When entering the official WPC2027.live website, you have two options for registering for WPC2027. You can use the provided button to login if you already have a WPC2027 account. If not, you have completed all of the necessary steps to create a new WPC2027 account. Make sure to complete the WPC2027 registration form to the best of your ability. 
If you wish to create a new account at WPC2027 live without making any mistakes, follow the steps below: 
Put your "Username" in the box. 
Put your "Password" in the box. 
Type your "verification" password again. "Family Name" and "Last Name" 
"Mobile Number and Facebook Profile Link" should be entered. 
Set the "Birth Date" and "Activity" parameters. 
Then click "Register" after entering "Income Source." 
There is a detailed application, which should be read in its entirely, and is partially provided here for information only. It includes the warning that applicants must be 21 years of age or older and contains this privacy policy. And the following, 
Note: The owners have temporarily blocked the new registration for WPC2027. 
Here is a description of Wpc 2027 features: 
There are lots of features in this game. WPC2027 has changed immensely since its last release. An educational exercise will walk you through the most recent points of interaction while also providing useful advice. Cockfighting has been introduced, which is a popular hobby in the Philippines. Participants wager on the best match-ups in numerous championship rounds. It's certainly worth your time to get WPC2027 in its free version. This programme also allows you to view live matches and events on your mobile device, making it even handier. 
It is stated further in the description that WPC2027 is a "completely free mobile application, with software that supports the three languages that are currently accessible." And adds, "WPC2027 is available for iOS and android." It later adds that it is available on all mobile devices. 
It states, "Betting on cockfights is a popular method to watch a live battle." And includes the following statement, "The WPC2027 event is unnatural in that it harms birds, yet the Philippians arranged it that way in order to make the event a success." 
PROP. 27 – ON BALLOT IN CALIFORNIA 
California residents are being asked to approve on-line sports betting (Prop. 27) in the November 2022 election. Do we really know enough about it to run the risk? 
Also read, best 1 dollar minimum deposit casino in Australia. 
(Phyllis M. Daugherty is a contributor to CityWatch and a former Los Angeles City employee.)