ANIMAL WATCH - If you volunteer or adopt a Pit Bull or other aggressive dog from a Los Angeles Animal Services shelter, you may be taking far greater a risk than expected with your life and safety and that of your family, friends, pets, neighbors and your entire community. 
LAAS may know that it is just a matter of time until the dog attacks—based upon its past repeated behavior and is taking the same chances as gamblers. "Russian Roulette" is a potentially deadly game of chance in which a player places a single round in a revolver, spins the cylinder, places the muzzle against the head or body, and pulls the trigger. If the loaded chamber aligns with the barrel, the weapon will fire, potentially fatally, or seriously, injuring the player (or someone else.). 
The following story is one of many similar or far-more-serious attacks on adopters, volunteer or shelter staff published on CityWatchLA. It could have been told sooner but necessitated time to assure where it would end —not because the dog was magically transformed by love and kindness, but because it was sent out of state after it attacked two shelter volunteers. 
WHY THE CARNAGE IS ALLOWED AT L.A. ANIMAL SERVICES 
Los Angeles City political figures have not even one-time expressed concern about the danger of adopting out the large number of Pit Bulls (especially) that have reported records of attacks on humans and other animals and have been impounded for that reason.  The only statistic of significance is that the shelter is "No Kill," (90% of all impounds leaving alive, regardless of where they go or the future danger they pose). 
"No kill" is a mythical and idealistic standard set by the multi-million-dollar Best Friends Animal Society, misleading the public to believe that a lifetime of confinement in a cage or a miserable life in a "sanctuary" with up to hundreds of confined dogs is blissful for the animal.  (See: Hundreds of dogs seized in Texas Pit Bull sanctuary raid.) 
The American public wants to believe this and is willing to donate millions of dollars annually to "save" them, without concern (or awareness) of the suffering and deaths of victims of their vicious behavior. 
City officials never sanctioned former-General Manager Brenda Barnette for the numerous attacks by known-vicious dogs that injured and maimed adopters, kennel staff and volunteers. They also approved the promotion of former SMART Team member Annete Ramirez to Assistant General Manager. Ramirez was carefully groomed and praised by Barnette and is following dutifully in her footsteps. 
DOSKY'S STORY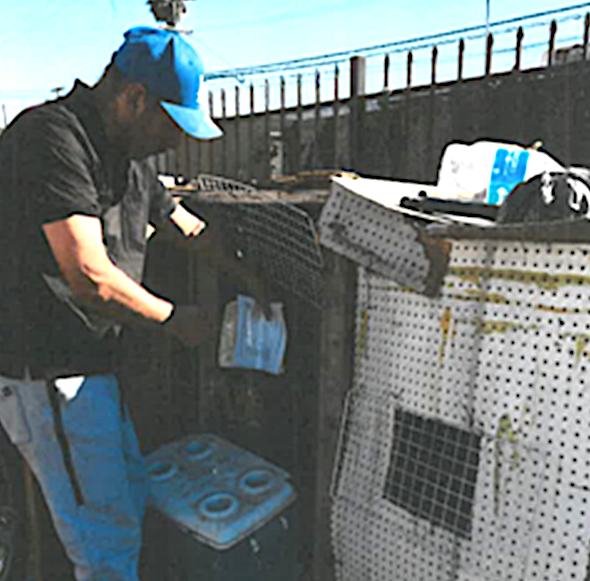 On March 22, 2021, a Pit Bull (mixed-breed) named Dosky was picked up by L.A. Animal Services' officers as an owner-surrender from a disgusting makeshift "kennel" behind an apartment house in Watts, a community in south Los Angeles. The reason provided by the owner was that Dosky was "aggressive with people."  
LAAS knew this dog was dangerous from the description by the owner and his family and knew that "aggression" was the excuse for total confinement in which he was caged in a kennel constructed from wrought iron fencing covered by wood, particle board and a small area of wire mesh (he did have water accessible). It joined on one side a dilapidated wooden "dog house" which served as weather protection.  
Cages should provide a dog with the necessary security, space, and comfort like the crates from this article. That was not the case for the Pit Bull, Dosky, who was tied inside and could only look out through a small area onto the concrete yard and old cars, and this had prompted complaints to LAAS and was the reason they investigated. The daughter of the owner said he was tied was because he would run out when the door was opened. Reportedly the neighbors were afraid of the dog and that is why he was kept so confined and in a secluded area. The owner said Dosky was two years old and had never been inside their home.   
Officers were also told the dog was not friendly with anyone except the family. 
This particular date was the third time the owner had been warned that maintaining the dog in such poor sanitary conditions and that tying up a dog on a constant basis is considered animal cruelty. 
The owners were also cited for not licensing and/or neutering the two male dogs they kept (one was Dosky, and the other a poodle-mix) or licensing and spaying their female Chihuahua-mix.  The small dogs were kept inside the apartment.  An administrative citation had been issued.   
The owner told the officers that he had been sick (he broke his foot) and he could not take Dosky for walks.  He also said that the neighbors became angry when he took the dog outside. He said he was considering surrendering the dog.  They told him that if he decided to relinquish the dog at the shelter later, he would need to make an appointment first.  
The owner surrendered Dosky and a rooster that was also being kept in horribly inhumane conditions in a cage in the same parking lot. 
Dosky was taken to the Harbor animal shelter.  With upper management of L.A. Animal Services clearly knowing the dog was anti-social with humans, Dosky was made available for adoption by "RESCUE ONLY," called New Hope partners.  (This means that the shelter will not have to euthanize the animal, regardless of how dangerous or anti-social its behavior and the "rescue" will sign a waiver the LAAS is not responsible for any actions by the dog, with the implication that they will find it an adoptive home.)
DOSKY ENTERS HARBOR ANIMAL SHELTER
Shelter Veterinary Technicians enter initial notes:
3/22/21   "Unable to handle at this time. Very nervous. Growling and showing teeth. . . Will try to recheck and vaccinate in a few days." 
3/25/21 & 3/27/21 -  "Still very fractious at this time, growling and charging at kennel door. Unable to vaccinate at this time."
DOSKY PUT ON DRUGS
On March 29, Dosky was started on Trazadone, a stress-reducing drug under a shelter experiment introduced by GM Brenda Barnette to "reduce stress and anxiety and increase adoptions"—but no mention of "masking behavior" of aggressive dogs from potential adopters.  (See Dogs, Cats Will be Drugged in LA Animal Services "Nor Kill" Shelters – GM Brenda Barnettte's Final Legacy.) 
Veterinary note on  /31/21 (two days after drug started) - 
"Came up to kennel door wagging his tail but started barking at me after he got his Med/treat."  
VOLUNTEER/STAFF COMMENTS BEFORE DOSKY ATTACKED 
DOSKY'S JOURNEY AT LAAS  - Memos / Behavior notes  (Volunteers and Staff) 
3/22/21 – BAD BEHAV
Dosky was lunging, growling and barking ferociously at me from the very start. I even showed him his food bowl with canned food and he continued to growl and showing his teeth at me.  Use caution.  He will bite.  (Emp.) 
3/24/21 – BAD BEHAV
Dog came up to front of the kennel with a happy tail and body.  As soon as he got close to kennel door, the dog started lunging and trying to bite me.  Then I showed him food and he started wagging his tail…then once I moved the food he went back to barking and trying to attack me through the kennel [bars].  Please go slow.  Will try to work with this dog.  (Emp) 
4/7/21 –  VERY EXCITED TO SEE ME TODAY.  DOG IS GETTING BETTER.  HE DOES FREEZE AND ATTACK AT KENNEL DOOR WHEN ANY DOG WALKS BY. MAY NOT BE DOG FRIENDLY.  WILL DOG TEST AT LATER TIME. (Emp.) 
6/7/21  VOLUNTEER -  (After glowing review.) Dosky has come a long way  and has gotten very comfortable with his handlers.  Sweet dog. 
6/11/21 (Volunteer)
Dosky was very easy to leash through the front kennel door.  He no longer barks in his kennel as he did prior. . .
27 DAYS LATER – DOSKY ATTACKS
After it seemed to volunteers the efforts to relax (drugs) and transform Dosky were succeeding:
7/7/21  - BIT 2 VOLUNTEERS TODAY.
On July 7, 2021, an entry was made that the dog "bit 2 volunteers" and was again placed under rabies quarantine.
LAAS BITE REPORT
The L.A. Animal Services' Bite Report for Dosky states that on 7/07/21, he severely bit a 71 year old victim on her left side, while she was petting him. The volunteer who tried to stop the attack, 63 years old, was bitten when dog "redirected."
Description:  "VICTIM #1 WAS PETTING DOG WHEN ATTACKED. 
VICTIM #2 PULLED DOG OFF VICTIM #1 AND DOG REDIRECTED AND ATTACKED VICTIM #2.
VICTIM #1 GOT BIT LEFT CALF, LEFT ABDOMEN, LEFT ARM. 
VICTIM #2 GOT BIT ON RIGHT WRIST AND LEFT INDEX FINGER."  
REPORTS ABOOUT DOSKY ATTACK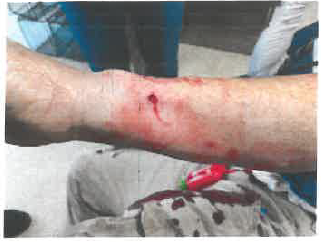 I WAS IN THE KENNELS AND HEARD A SCREAM FROM THE BIG YARD.  I knew Nancy and Marcy were there with Dosky.  I ran to the back gate at the kennels and saw Dosky jumping up on Marcy, who was trying to get out of the yard by the gate going to SNP.  I think he was on leash by then.  Marcy was bleeding from her leg and arms  Nancy had bites on both arms.  From the time I heard the scream, to getting Ernie and back to the yard was maybe a minute, two at the most.  What happened before I heard a scream, I didn't witness. Nancy was standing near her and was trying to get Dosky on leash.  Ernie was cleaning in the kennels close by.
D.T., Volunteer
L.A. COUNTY PUBLIC HEALTH REPORT
L.A. County Public Health Report indicated both volunteers were treated at 11:20 a.m. at Harbor shelter 957 N. Gaffey St., San Pedro. 
DESCRIPTION:
VICTIM #1 – 71 years    SEVERITY – 5; CIRCUMSTANCES - Petting
PART OF BODY BITTEN – LEFT SIDE:  Victim #1 was petting dog when attacked.  VICTIM #2 PULLED DOG OFF VICTIM #1 AND DOG REDIRECTED AND ATTACKED VICTIM #2. VICTIM #1 BIT ON LEFT CALF, LEFT ABDOMEN, LEFT ARM. 
VICTIM #2 – 63 years. SEVERITY – 4,  BITTEN ON RIGHT WRIST AND LEFT INDEX FINGER. (MULTIPLE PUNCTURE WOUNDS ON WRIST AND ONE LARGE GASH ON INDEX FINGER" 
TREATMENT:  Clean and applied bandage. Report shows LAFD recommended going to urgent care. Report does not show victim was transported to hospital or clinic.
(All names in this article are known but are being withheld for privacy of individuals.)
LAAS TRIED TO GIVE VICIOUS DOG BACK TO OWNER 
7/10/21 – "Left a message for previous owner that dog is under quarantine and will be considered for euthanasia. Spanish-speaking owner, explained what happened.  Dog is quarantined.  He mentioned the dog lived in an enclosure and people complained but he took the dog for walks.  Was protective of him, owner mentioned he became ill once the dog was picked up.  Will talk with his son about reclaiming the dog." 
7/14/21 – "If owner shows up trying to redeem dog, it must have property inspection done first.  Set up time and date with OIC (Officer-in-charge).  Owner would have to pay OBS fees and dog would have to get neutered." 
7/14/21 – (LAAS SENT E-MAIL BLAST TO RESCUERS, ETC.)
Hello, everyone,
Harbor Shelter has a Rescue Only dog named Dosky that is currently under quarantine and will be placed on Red Alert after quarantine.
Dosky is Rescue Only due to a Bite history.  He is currently under quarantined due to a recent bite incident that occurred involving two volunteers at the shelter. Once he is released from the quarantine he will be placed on Red Alert.  ]
If you are able to help Dosky or need any additional information please call the Harbor Animal Shelter.
DOSKY RELEASED TO "RESCUE"
And on 8/07, Dosky was again given Trazadone.
8/07/2021 - Dosky was released to a New Hope partner, according to the  record, which shows the "rescue" as an individual living in Chatsworth, who has found an "out-of-state" adopter. 
Does this mean a family is willing to take this dog? Or, more likely, will he—like thousands of aggressive Pit Bulls—just disappear into Oregon, Montana, Washington or Canada?
WAS DOSKY JUST "MISUNDERSTOOD?"
There is no question that Dosky had a miserable life before being impounded by L.A. Animal Services, but Dosky was not "misunderstood." The owner knew exactly what he would do—bite! And, that is exactly what he did at the shelter. 
Los Angeles Animal Services was aware that this was an unsocialized, fearful and dangerous dog when he came in and restricted him to release to a 'Rescue Only."
The shelter vets knew he was dangerous and put him on drugs to mask/control his aggressive propensities. 
A famous quote attributed to Albert Einstein, "Doing the same thing over and over again and expecting a different result is the definition of insanity," may have foreseen L.A. Animal Services refusal to euthanize known-dangerous dogs.
Just sending them somewhere else where they will repeat the same behavior (and subjecting the animal also to possible cruelty) is not a responsible or acceptable solution. 
Another problem for Los Angeles Animal Services and other animal shelters trying to please "No Kill" advocates by playing Russian Roulette with dangerous dogs is that the repetition of this mistake can result in injury, suffering and even death of innocent and unsuspecting adopters and their families, neighbors, shelter employees and volunteers…and the entire City is made complicit because it is done at taxpayer expense.
                                         #  #  #