ANIMAL WATCH-The deaths of Gemmel Moore and Timothy Dean, two Black men who died from overdoses of methamphetamine injected by Los Angeles animal rescuer/activist and political donor Ed Buck at his WeHO apartment are appalling.
These crimes are especially alarming because of the brutality and sadism described, which should also cause us to wonder how Buck -- lauded by politicians and some animal-welfare groups -- became so proficient and took such pleasure in inflicting pain and suffering. 
An acquaintance of Buck said that she began to see a change in him in 2013 and believes that was when he became addicted to methamphetamine. But most meth addicts do not perversely torture others for sexual gratification by injecting them with drugs to the point of ending their lives.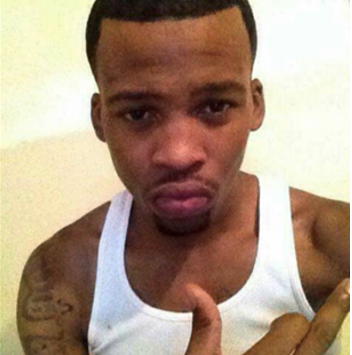 Both Gemmel Moore, 26 (photo, left), and Timothy Dean, 55, were involved in the sex industry and came willingly to Buck's apartment in West Hollywood to "Pnp" ("party and play"), which is term that indicates drugs will be involved with sex. 
A riveting New York Times Magazine article shows the text that Gemmel Moore, 26, sent to Buck the day before his death, asking Buck to bring him back to LA. In response, Buck sent an airline reservation by email immediately.  
Timothy Dean, 55, had apparently been to Buck's apartment before and was an employee of Saks Fifth Avenue. He had appeared in numerous porn movies under the pseudonym "Hole Hunter." 
We will never know many other victims escaped before the point of death and were ashamed or afraid to report what happened because they are "sex workers" and this just "comes with the job." But there is no indication that Buck forced anyone to be a participant. 
Another man who had been paid by Buck for sex, told the NY Times writer Jesse Barron that during the period Buck had been a client, there had been no sexual penetration. Buck got off on a special way of injecting the drugs into veins of (primarily) Black male prostitutes. (See:  What Happened Inside Ed Buck's Apartment?)  
These lurid reports also caused me to immediately flash back to the disturbing photo posted by Ed Buck of a "rescued" Golden Retriever (photo, below), appearing anxious and attempting to pull away from him, as Bucks held his neck. 
WERE ALL HIS VICTIMS HUMAN? . . . WE WILL NEVER KNOW 
There isn't any accusation or evidence of improper conduct or sexually sadistic cruelty by Buck in regard to the dogs he claims to have "rescued," but, obviously, there is a wide contrast in the environment needed to heal and rehome an abandoned/abused animal and the published (and verified) accounts of a dark side of Buck's life that has resulted in morbid deaths of two Black gay men (and almost of a third) in the only location Buck appears to have used for his "animal rescue" efforts. 
See also, I thought I was going to be the next to die at Ed Buck's house."   
HOW MANY DOGS DID ED BUCK "SAVE?" 
In his campaign bio for West Hollywood City Council, Buck stated he had been a volunteer for animal rescue and fostered over 50 dogs in the last four years, "finding good homes for them all." 
However, when Southern California Golden Retriever Rescue (which Buck also claimed to represent at the LA City Council in 2011) lists its thanks to permanent fosters, it states, "In the past others have opened their hearts and homes to care for terminal dogs – holding them until it was time to say goodbye. Many heartfelt thanks to…Ed Buck."  
Does that mean the Rescue does not check back on the dogs -- including those given to Ed Buck -- assuming they will die?  
It is important to look at this unnerving situation, because under "No Kill" programs, pet owners are being told by their local animal shelters and such major organizations as Best Friends Animal Society and the ASPCA that it is safe (and better) to just find a new home for an unwanted animal online or in a local publication, and not take it to a shelter. 
Animal "rescues" are appearing all over the country and have no licensing or experience requirements, are not monitored or inspected and animals are being transported even out of the U.S. with no record of their wellbeing. 
THE LINK BETWEEN ANIMAL CRUELTY AND HUMAN CRIMES 
The Humane Society of the U.S. advises in the "Link," that a study by the Chicago Police Department "revealed a startling propensity for offenders charged with crimes against animals to commit other violent offenses toward human victims. Of those arrested for animal crimes, 65 percent had been arrested for battery against another person."  
And, the Mind Hunter, John Douglas, told me that the progression from animal crimes to human assaults is common and traceable in his studies for the FBI. 
CORONER'S REPORT 
Ed Buck was convicted last week on federal charges of providing overdoses of methamphetamine that killed both men (occurring on two separate occasions). These were not just incidents where two strangers met online and got together to party. They knew why they were there. 
Buck's second-floor apartment was, according to neighbors, a common location where Black gay men he had met on hook-up sites -- such as Adam4Adam -- were arriving late at night.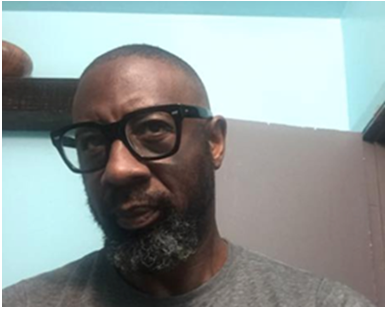 Following is an excerpt from the coroner's report on the conditions found after the death of Timothy Dean (photo, left), a 55-year-old man who had frequented Buck's apartment before and was referred to as a "friend." 
This report was verified and published by WeHoVille, which provides complete information. (See: Coroner's Reports on Deaths in Ed Buck's Apartment Show Eerily Similar Scenes.)  
It is important to look at the reality of the scene which is created by Ed Buck in his rented apartment at 1234 Laurel Ave., which was described as having no furniture, a mattress on the floor and drawers filled with sex toys. 
(If you are an animal owner giving up a pet, or someone involved in the world of animal placement, is this the environment in which any "rescued" animal should be left?) 
Both men were found dead of a methamphetamine overdose. 
"Brenda Shafer of the LA County Coroner's Office entered Apartment 17 on Jan. 7, 2019, to investigate the death of Timothy Dean," Wehoville writes. 
It also confirms that this scene "was similar in some ways to that observed in the same apartment on July 27, 2017, in the investigation of the death of Gemmel Moore." 
The Coroner's report on Dean's death first provides the names and types of drugs and how they were positioned within the room. It is a complex technical description, highlighted by such issues as, "Glass pipes had 'apparent brown and red residue as well as possible white, powder-like residue.'" Needles were found with "Amphetamine and Methamphetamine" and various "versions of testosterone." 
"The body [Timothy Dean] is seen in the living room lying partially on a mattress that was on the floor in front of a sofa. The room is strewn with clothing and sex toys. Three large mirrors were standing upright leaning against the walls. Plastic baskets were lined up on the floor containing folded men's underwear." [Buck reportedly had a fetish about men's underwear.] 
Dean's body, Shafer says, was "seen supine on a carpeted floor with the legs resting on the mattress. … The body was in full rigor mortis and wearing two pairs of white men's briefs -- one of the waistbands was pulled under the penis, and one red jock strap that was askew. A wide silicone circular sheath was wrapped around the base of the penis and rubber ring was wrapped around the scrotum." 
ONE WHO GOT AWAY 
Then, on Sept. 11, 2019, at 5:20 in the morning, a Black man walked into a West Hollywood gas station near Buck's apartment, clutching his chest, and said "I think I'm having a heart attack," according to reports. 
The cashier called for emergency medical response.  
The man said he had been staying at Buck's apartment because he was homeless. He told investigating LA County Sheriff's deputies, "We had an arrangement," which included Buck "slamming" him, injecting high and possibly repeated doses of methamphetamine. This time he knew it was too much, but Buck refused to call for help, he said. 
Now federal investigators had enough information to charge Ed Buck with the prior murders of Moore and Dean. 
ED BUCK CONVICTED 
On July 27, 2021, news outlets across Los Angeles announced that Ed Buck was convicted on all nine federal charges against him. 
This included two counts of distribution of methamphetamine resulting in death, four counts of distribution of methamphetamine, one count of maintaining a drug-involved premises and two counts of enticement to travel in interstate commerce for prostitution. 
Each of the charges for distribution of drugs resulting in death carries a mandatory minimum sentence of 20 years in federal prison, and the maximum sentence is life in prison without the possibility of parole, according to the Department of Justice. 
SEXUAL SADISM 
"Sexual sadism disorder is the term used when an individual, typically male, experiences persistent sexual excitement stemming from fantasies, urges or behavior related to causing physical or psychological harm to another during sexual activity," according to Sexual Sadism Disorder: Symptoms, Causes, & Treatment. 
"Sexual sadism disorder is typically diagnosed when sexual assault involving the infliction of pain has occurred with three or more victims or in multiple episodes involving a single victim. … Among civilly committed sex offenders in the United States, less than 10% have been diagnosed with sexual sadism disorder. However, among individuals who have committed sexually motivated homicides, rates of sexual sadism disorder range from 37% to 75%."
SEX IS ABOUT POWER
This much-repeated quote has been attributed to various speakers -- from Oscar Wilde to Stacey Keach: "Everything is about sex except sex. Sex is about power." 
 And so is death.
 GUARD YOUR PETS
The world is full of deviant sexual predators. We can only pray that any unwanted pets, if they were given to Ed Buck, were treated kindly and placed in a loving home.
But I still am haunted by the face of the Golden Retriever -- a breed that loves and craves affection and closeness -- but appears to be struggling to get away from Ed Buck.
(Phyllis M. Daugherty is a former City of Los Angeles employee and contributing writer to CityWatchLA.com.) Top photo: Damian Dovarganes/AP. Edited for CityWatch by Linda Abrams.