PLANNING WATCH - According to disgraced LA City Council Member Gil Cedillo, "From the Compton's to the Gardena's to South L.A. ...you can't throw a rock and not hit a Mexican."  
A week later we can update Cedillo's crude remarks about demographic change in Los Angeles.  You cannot read the national and even international media without finding stories about the bigoted conversation among three Los Angeles City Councilmembers and a labor leader about redistricting City Council seats.  
In terms of policy, though, the discredited quartet only discussed redistricting, not other City Hall programs and practices, like LAPD arrest patterns, that have a racist impact on their constituents.  Their agenda was to increase the number of City Council seats held by (pro-development) Latino politicians.  
While other elected officials, the media, and many community groups have widely condemned their bigotry, they have not yet called out the two myths that pervaded the surreptitiously recorded conversation. 
Myth #1:  There is an intangible shared interest that binds together those in a vague pan-racial or pan-ethnic demographic category.  But these widespread ethnic categories, like Latino or Hispanic, Asian or Asian Pacific Islander, Black or African-American, and White or Anglo are nothing more than politically constructed demographic categories.  They were contrived by the Nixon White House for the 1970 census, on the heels of a successful 1968 student strike at Cal State San Francisco calling for Asian, Latino, Black, and Native American campus centers.  Ford and Mellon Foundation grants quickly followed. 
These student centers and census categories were imposed on a complex social world where pan-racial and pan-ethnic categories, like Latino, do not organically exist.  
Latinos - In Latin America there are 32 countries that speak Spanish but do not share a common pan-national Latino/Hispanic identity.  The enormous variation of people in these countries and those whose ancestors immigrated to the United States is based on income, economic class, education, religion, gender, age, "race," sexual orientation, political views, and many other factors.  LA Times arts reporter, Carolina Miranda, makes excellent points about the cultural differences that drove the recorded conversation: 
"Latin America's Black and Indigenous populations have been marginalized; their experiences overwritten by a vague pan-continental identity." 
"1.2 million Latinos in the United States identify racially as Black."
" In Latin America, issues of race tend to manifest in gradations of color rather than the Black/white binary that operates in the U.S." 
To extend her analysis, there are enormous, often antagonistic economic relationships among those labeled "Latino".  The belief that Latinos and other pan-ethnic groups have a mirky shared interest that binds them together and  to elected officials like Nury Martinez, Kevin deLeon, and Gil Cedillo is just myth.  It has no basis in fact, as indicated by these data on the vast internal differences among "Latinos" in Los Angeles. 
13 percent of the businesses in Los Angeles County are owned by Latinos, revealing that most Latinos are employees, not employers. 
71% of Latino households in Los Angeles County experienced serious financial problems during the pandemic, compared to 52% of Black households and 37% of White households." As new Angelinos,  nearly ¾ of them are financially insecure. 
5 percent of the unhoused in Los Angeles County are Latino. While slightly less than their 48 percent share of the population, it demonstrates that low incomes and poverty burden a major portion of Latinos.
What about other pan-ethnic categories used by the census and repeated by the media and elected officials to make these abstractions appear real? 
"Asians" - In the continent of Asia, there are residents of China, Japan, Korea, Thailand, and 40 other separate countries, but no Asians.  This is a term coined by a group of UC Berkeley students in 1968.  The Bureau of the Census rolled out a newer category, Asian Pacific Islander (API), for  the 1980 and 1990 censuses, after which it was dropped.  In Los Angeles the 2020 Census found that 9 percent of Angelinos considered themselves to be Asian, although 1.4 million respondents identified as multi-racial, evidence that the Nixon White House's imposed pan-ethnic/pan-racial demographic categories were at odds with social reality. 
"Blacks" - In Africa there are 54 countries, each with its own pre-colonial, colonial, and post-colonial history, conflicts, and divisions, with little connection to people of African descent dispersed throughout the world.  This diaspora has little connection to Africa, and Blacks, like other pan-ethnic/racial groups, are internally divided by differences in income, occupation, education levels, countries of origin, social and political views, religious affiliations, gender, and housing status.  In Los Angeles, Blacks now constitute eight percent of the population, down from 13 percent in 1990.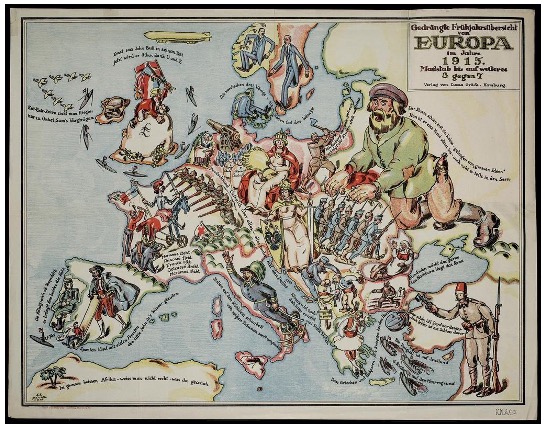 White Europeans have a long, continued history of warring against each other. 
"Whites" - In Europe there are now 44 separate countries, and they are mostly "white."  Their national borders are in continuous flux, often because their endless wars have continued.  Their globally dispersed descendants rarely speak their ancestors' languages, and most have scant knowledge about their countries of origin.  The Census reports that 28 percent of Angeleno consider themselves to be "white," but like all imposed pan-racial groups, they have enormous internal differences based on education, geography, income, occupation, economic niche, religion, social and political views, and affiliations.   Good luck go to those trying to find things that link this diverse group together, such as opposition to affirmative action, forgetting that women, the bulk of whom are white, have been the major beneficiaries of new admissions and hiring priorities. 
Myth #2:  Elected officials represent the broad interests of their own pan-ethnic or pan-racial group.  At City Hall the primary constituents of elected officials, regardless of their ethnic background, are lobbyists and campaign donors from the real estate sector.  When they campaign, they make multi-lingual pitches to potential voters honed by focus groups. This is why they emphasize street crimes and homeless encampments but never mention City Hall policies and programs that reduce their constituents quality of life.  These include: 
The LA County Sheriff and LAPD mostly shoot Blacks and Latinos, who comprise 80 percent of their victims.
Up-zoning of private parcels, especially commercial lots, through the new Housing Element and Transit Oriented Communities Density Bonus Guidelines. This up-zoning then leads to more economic inequality, homelessness, and gentrification. 
Unequal public infrastructure and services is widespread in minority neighborhoods, but of little concern to elected officials intent on accumulating power through redistricting. 
These, and many other changes to the City Hall programs and practices could reduce racial and ethnic inequality in Los Angeles, but they were not discussed in the four-way conversation heard round the world.  It also explains why flipping Council District 13 from a pro-development Anglo incumbent, Mitch O'Farrel, to a progressive Latino candidate, Hugo Soto-Martinez, is viewed as a setback, not a victory.  Likewise, the victory of a local activist, Eunisses Hernandez, who defeated incumbent Gil Cedillo in Council District 1, would not be cheered by these four unindicted co-conspirators. 
What Los Angeles needs are elected officials intent on rooting out racist programs and practices, not aggrandizing themselves. 
(Dick Platkin is a former Los Angeles city planner who reports on local planning issues for CityWatchLA.  He serves on the boards of United Neighborhoods for Los Angeles (UN4LA) and the Greater Fairfax Residents Association.  Previous Planning Watch columns are available at the CityWatchLA archives.  Please send comments and corrections to [email protected])