LA WATCHDOG--The Tampa Bay Buccaneers, led by ageless (43) quarterback Tom Brady and a swarming defense, upset the favored Kansas City Chiefs, 31 to 9, in Super Bowl LV (55).  This was Brady's seventh Super Bowl victory and caused LA Times sports columnist Bill Plaschke to claim in his column, No more doubt about it: Tom Brady is the GOAT of GOATs, that Brady "became the greatest football player ever, and arguably the greatest American team sports athlete ever." 
Many of us will agree that Tom Terrific is the greatest football player ever who, over 20 seasons and nine Super Bowl appearances, won seven rings.  But no way is Brady the "greatest American team sports athlete ever."  That accolade, the Greatest of All Time ("GOAT"), belongs to Bill Russell, the Boston Celtics center who led the Celtics to 11 NBA championships during his 13 year career (1956-1969). 
After winning to two NCAA championships in 1955 and 1956 while playing for the University of San Francisco and captaining the 1956 Gold Medal Olympic team, Russell was expected to be drafted by the St. Louis Hawks. In his greatest trade ever, and maybe the greatest trade of all time, Celtics coach Red Auerbach sent All Stars Ed Macauley and Cliff Hagen to St. Louis for the #2 overall draft choice.  This allowed the Celtics to draft Russell, a defensive minded center in an age when centers were offensive machines.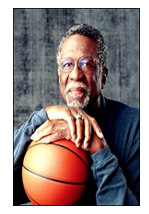 Russell changed the Celtics, a high scoring team with a porous defense, and the game with his emphasis on defense, rebounding, shot blocking, and the fast break.  In his first season, the Celtics defeated the Hawks for its first title.  And over the next twelve years, the Celtics won an additional ten rings, including eight consecutive titles (1959-1966). 
This success is reminiscent of John Wooden, who in his 27 years at UCLA, won ten national championships, all of those over a twelve year period (1964 to 1975), including seven in a row.  
Russell's offensive statistics do not compare to many other great players.  He averaged only 15 points a game, had a field goal percentage of 56%, and a free throw percentage of 44%.  Offsetting his lack of offense was over 22.5 rebounds a game, numerous blocked shots, numerous fast breaks, and most importantly, a leader who led by example on and off the floor. 
While many Angelenos will question Russell as The Goat, possibly claiming that Magic and Kareem may be worthy of the title.  But together, they only won five and six titles, respectively, over 33 playing years.  Some may claim Michael Jordan, but he won "only" six rings over 15 seasons. 
When you ask long-time fans of the Los Angeles Lakers about the Celtics and Bill Russell, do not be surprised at a violent adverse reaction.  During Russell's 13 years with the Celtics and his 11 rings (one for the toe), seven were at the expense of the Lakers (1959, 1962, 1963, 1965, 1966, 1968, and 1969).  They know that Russell is THE GOAT.
 (Jack Humphreville writes LA Watchdog for CityWatch. He is the President of the DWP Advocacy Committee and is the Budget and DWP representative for the Greater Wilshire Neighborhood Council.  He is a Neighborhood Council Budget Advocate.  He can be reached at:  [email protected].)
-cw