(Editor's Note: As regular readers know, CityWatch was founded 15 years ago to promote civic engagement. And, it is our belief that the best engagement is the result of information and education. We also believe that for this divided country to ever come together it will be necessary for all sides on these divisive issues to be heard … and listened to. No progress comes from 'preaching to the choir.' That is why we post perspectives and positions from all sides of the political spectrum. We believe your voice should be heard … even if we disagree with what you have to say. It is with that belief in mind that we make this Heather MacDonald speech available to you.)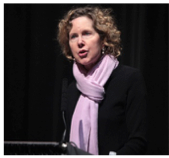 Claremont McKenna College President, Hiram Chodosh, posted this letter to the Claremont website. It provides the backstory: "As you know, in a coordinated attempt to shut down Heather Mac Donald's (photo left) lecture last night, a large group of students from the Claremont Colleges, including a small number of CMC students and some individuals from external communities, gathered to protest and blocked guests from entering the Athenaeum.
"Based on the judgment of the Claremont Police Department, we jointly concluded that any forced interventions or arrests would have created unsafe conditions for students, faculty, staff, and guests. I take full responsibility for the decision to err on the side of these overriding safety considerations.
"Notwithstanding these efforts to stifle a speaker, Heather Mac Donald was able to give her presentation to a small audience at the Athenaeum. We also live-streamed her talk. Nearly 250 people viewed the presentation live, and her presentation that is posted on our CMC homepage has already been viewed over 1,400 times. In the end, the effort to silence her voice effectively amplified it to a much larger audience."
Here is the speech some Claremont McKenna students didn't want you to hear. 
(Ken Draper is the editor and publisher of CityWatch. Heather Mac Donald's views are her own and do not reflect the views of CityWatch.)
-cw