DEEGAN ON LA-Take an old bank building, an underserved population, architect Frank Gehry and the LA Philharmonic led by Artistic Director Gustavo Dudamel, then mix them all together and you have a magnificent cocktail: a new home for "LAYO" – theLos Angeles Youth Orchestra, the youth program of the LA Philharmonic. 
The Phil is not the first arts organization to recognize the value of extending its brand away from its home space. New York City's MoMA (Museum of Modern Art) successfully operates MoMAPS1 in the outer borough of Queens, and LACMA's satellite campus concept was recently commended by the LA Timeseditorial board as "a great idea." 
And why not reach out? An interest and proficiency in the arts can help round out a young person's education, especially when the exposure starts early. The Phil already has YOLA programs at Exposition Park, Rampart, Westlake-MacArthur Park and the High School for the Arts which serve almost 1,000 kids ages 5-18. The Inglewood center will be able to double the number of kids benefiting from YOLA. 
An added plus of the LA Phil's Inglewood plan is that it also showcases for young artists the work of master architect Frank Gehry. 
The spark for this development has been Gustavo Dudamel, (photo above) who has been with the Phil since 2009. He brought with him artistic excellence and a history of cultivating young musicians through a program in his native Venezuela called El Sistema, an after-school music education program that has grown into a network of youth and children's orchestras throughout that country.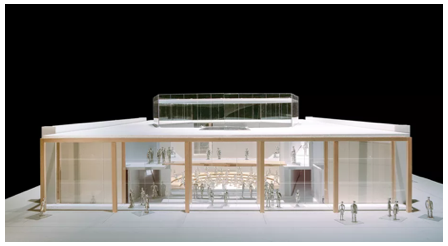 With Gehry's new building (rendering, left), and the Phil's Los Angeles Youth Orchestra program, we will now have yet another YOLA satellite helping kids access music education. It's been a long time since the now-closed Los Angeles Children's Museum in downtown LA offered anything close, with their circa 1970s Lou Adler Recording Studio where kids with musical interests had a resource to help express their musical talents. The first YOLA location was created in Exposition Park in 2007, thirty years later. 
The desire to express musical talents is what drove Venezuela's Simon Bolivar Youth Orchestra, an integral part of El Sistema. Economic chaos in Venezuela has severely cut into that program, showing what a thin membrane exists between the need for, and delivery of, arts education anywhere whether it be in Los Angeles or Caracas. 
The "humanities" and a "liberal arts" education used to be widely available upper education choices and fields of study. That changed with the growth of the youth population and the scarcity of jobs for them. The shift in education has been toward degrees attached to skills, and traditional colleges are being preempted by community colleges with associate degrees in specialized fields to better prepare kids for a shape-shifting workplace. But what should not be forgotten in this education paradigm shift is the importance of music and art. 
The Los Angeles Philharmonic, like the ballet and opera, is priced too high for most people to attend, even if they are fans of any of those high arts. Museums, on the other hand, have been able to lower prices and offer a range of "free days" that bring in lots of kids and families. Even better for museums is their innate ability as "educators" to provide arts programs for kids of all ages. The musical world is now heading in that direction and Frank Gehry as the architect is the icing on the cake for the Judith and Thomas L. Beckmen YOLA Center at Inglewood. 
What will Grey's building look like, and what will go on inside it? Known for his florid and imaginative lines, Genry insists that his new building"won't be precious."  
The former bank building, built in 1965, will be expanded by about one-third to hold performance spaces (visible through the windows to passersby) and rehearsal spaces, a music library, studios and storage. 
Where Gehry leaves off, once he has repurposed the building, Dudamel takes over, planning to double the size of the current 1,000-member youth program. There's talk about residencies and outreach to underserved and underrepresented youth in Los Angeles. Dudamel knows from his success with El Sistem both in Venezuela and with the four existing YOLA programs how to make this happen. Gehry knows how to package the bricks, mortar and glass. 
Together, Gehry and Dudamel spell out a significant addition to the music landscape of our city – an achievement that all can drink a toast to.
(Tim Deegan is a civic activist whose DEEGAN ON LA weekly column about city planning, new urbanism, the environment, and the homeless appear in CityWatch. Tim can be reached at [email protected].) Edited for CityWatch by Linda Abrams.