THE BCK FILE--On Thursday, October 5, Hollywood was buzzing with the fallout from the New York Times story by Jodi Kantor and Megan Twohey that movie mogul Harvey Weinstein had been paying off sexual harassment accusers for decades. As with Bill Cosby, Weinstein's reputation had followed him for about as long as he'd been in the business. To date, over two dozen women have come forward with allegations including Gwyneth Paltrow and Angelina Jolie. Actress Rose McGowan took her rape accusations against Weinstein to Twitter, despite a no disclosure agreement. 
Ronan Farrow had followed up the Times piece with an 8,000 word article in The New Yorker. By Sunday, The Weinstein Company had fired Harvey Weinstein and on Friday, he was ousted from the Motion Picture Academy by over a two-thirds board vote. Five members of the eight person board at The Weinstein Company have resigned. France's President Emmanuel Macron announced on Sunday that he had begun the process of revoking Weinstein's Legion of Honor award.
Weinstein's run of assault and payout ended on a March evening in 2015 at New York's TriBeCa Grand when 22-year-old model Ambra Battilana had reported Weinstein had groped her during a meeting; She was wearing a wire, monitored by NYPD. While criminal charges were never filed, this capped off habitual harassment for over three decades.
To date, the NYPD has been investigating potential criminal complaints and asking for any other women who may have been harassed by Weinstein to come forward. Similar investigations are happening in London.
Although The Weinstein Company Board denied knowledge of settlements as late as Tuesday, attorney David Boies who had represented Weinstein in contract negotiations in 2015 told the NYT that the board was alerted to three or four settlements back then.
Since the Weinstein story broke, Amazon Studios studio chief Roy Price was put on leave of absence following a sexual harassment claim and the company is reviewing its slate with The Weinstein Company.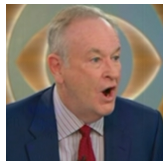 Over at Fox News, Bill O'Reilly (photo left) and the late CEO Roger Ailes were both accused of sexual harassment. Bill O'Reilly and Fox had paid out over $13 million on the host's behalf. Last month, Fox and host Eric Bolling parted ways after it was discovered Bolling had sent lewd images to colleagues via cellphone.
Hollywood's tales of sexual harassment and the casting couch are infamous. Studio heads were known to proposition actresses. Hollywood's earliest scandal involved actor Fatty Arbuckle, accused of raping actress Virginia Rappe who died sev eral days later. The actor was charged with manslaughter and was acquitted.
Shirley Temple wrote in her memoir "Child Star" that producer Arthur Freed had exposed himself during their first meeting. She was only 12. Judy Garland biographer Gerald Clarke wrote that the star had been propositioned by studio execs and MGM head Louis B. Mayer when she was between the ages of 16-20. Marilyn Monroe, Joan Collins, and Rita Moreno all detailed predatory behavior and dozens of women across decades  have alleged that Bill Cosby had drugged and assaulted them.
Hollywood doesn't have an exclusive on sexual harassment; it happens on college campuses, in top law firms, hospitals, newsrooms, in the Capitol, and in small businesses throughout the country. Hollywood is unique because of the sheer number of young women and men trying to break through a cluttered field. The golden ticket is hard to come by and those who experience the headiness of power can feel entitled to use that power over women (and young men, as in the case of actor James Vanderbeek, who tweeted his experience last week.)
The prevalence of sexual harassment extends up north to the Silicon Valley where a culture of sexual harassment seems rampant. Back in February, Uber's CEO Travis Kalanick resigned three months after Susan Fowler targeted the company in a blog post. Throughout the tech industry, women have come forward with charges of gender discrimination that launched a wave of resignations throughout the industry and in venture capital firms.
Each time a woman comes forward to break the silence, many others follow suit; there's strength in numbers. But as long as there a power imbalance between men and women, no matter what the industry, there will be predatory men seeking to wield power over colleagues or employees. Each industry has a duty to police itself. Unfortunately, when rainmakers bring in millions and sometimes billions of dollars, the allegations are often overlooked.
Payouts and NDAs can muddy the waters; women often feel they have little to no recourse when up against a powerful man so they may see a settlement as their only option; the legal system often encourages these settlements, as well.
The best we can do to change this toxic culture is to encourage young women to seek female mentors and to support each other through the ranks. If more women rise to leadership roles in Hollywood, Silicon Valley, Washington, corporate America, and academia, women will feel empowered. Sexual harassment will no longer be seen as a cost of business.
And when men like Harvey Weinstein are finally held accountable for predatory behavior, it's a start.
(Beth Cone Kramer is a Los Angeles writer and a CityWatch columnist.)
-cw