THIS IS WHAT I KNOW--On Friday, behemoth retailer Amazon announced a $13.7 Billion-value purchase of Whole Foods, subject to shareholder and regulatory approval. The purchase has sent other grocery stocks tumbling, opening publicly held grocery companies ripe for takeovers, as well. 
Just how would this buyout impact consumers in Southern California, home to over twenty outposts of the specialty grocery retailer? 
The Los Angeles grocery sector, which is the largest in the United States, is already competitive and stores operate on a thin profit margin. Amazon's buying power and technology are expected to drop grocery prices, a benefit to consumers' pocketbooks but a challenge for chains already operating on a slim margin. Smaller chains like Sprouts may especially feel the pinch.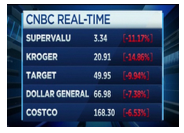 For years, Trader Joe's has had the highest sales per square foot of any grocery chain in the country, followed by Whole Foods. If the Amazon purchase is approved, access to Amazon's technology and services will likely provide consumers with convenience, as well as lower price points. 
While the Amazon/Whole Foods deal may provide financial and convenience benefits to the consumer, Alice Waters, the famed chef, owner of Berkeley's Chez Panisse and the de facto mother of California cuisine, is appealing to Amazon's Jeff Bezos to capitalize on the retailer's expansive network to expand sustainability in the U.S. Waters has been an activist for sustainability and farmers' markets for four decades. She wrote via her Twitter account:  
Dear Jeff Bezos,
With the acquisition of Whole Foods—and the ubiquitous network of Amazon–you have an unprecedented opportunity to change our food system overnight: It is time to demand that produce comes from farmers who are taking care of the land, to require meat and seafood to come from operations that are not depleting natural resources, and to support the entrepreneurial endeavors of those American farmers and food makers who do not enjoy federal subsidies. They have the same amazing spirit that propelled you and John Mackey to success. It's time to do the right thing for our country, our farmers, and our planet. And we are all here to help you do it!
With hopefulness,
Alice Waters 
Amazon is posed to transform the way we shop for food – and with hope, the reach of the retailer can bring changes to improve sustainability, as well.
(Beth Cone Kramer is a Los Angeles writer and a columnist for CityWatch.)
-cw