ERIC PREVEN'S NOTEBOOK - Paul Krekorian seemed flushed with enthusiasm as one does before an afternoon session of run-of-the-mill chicanery.
"This should be our final day of hearings..." he said, quickly correcting, "of this hearing."   
It's essential that anyone involved in the budget constantly reinforce the central lie that the many-pocketed vest of the LA City budget, is actually just one pocket, and therefore... sixty seconds, go! Times up! 
For public comment, Krekorian hands things over to Strefan Fauble, the deputy city attorney, who remarked, "We'll read out the calling information. Oh, wait,... we're in person."  (nervous laughter) 
Since it was Friday the thirteenth, Krekorian took a moment to remind everyone, that today would only be ONE hour of public comment, but that he and the committee had taken comments on "the seven or 8 days... (it was seven)...we've taken as much comment, as long as we had speakers, we took as many speakers as we had."  
That phrasing is associated with historically low turnout.  
"If you don't need the whole minute." Krekorian begged, "If you want to agree with the previous speaker... great." 
Did I mention, "We've taken extensive public comment already...?" 
By denying virtual testimony, unless it serves the angling desire of the committee or council chair, the body further erodes public trust. 
There's a story about Redd Foxx agreeing to perform at a second-rate casino bar, like say the old Barbary Coast.  He showed up, walked out to his Sanford and Son theme song... to do his set.
Dah, dah, dah dah.  
Dah, dah, dah, dah.  
Dah, dah, dah, dah, dah, dah dah.  
But on arrival, he looks around the bar and sees there are ...  
"Four fucking people!  Four fucking people!"  he cries.  
Then he turns around as the Sanford and son theme song plays: 
Dah, dah, dah dah.  
Dah, dah, dah, dah.  
Dah, dah, dah, dah, dah, dah dah.  
Four Fabulous People: 
The council does what the council wants...  
Is providing virtual testimony or not providing virtual testimony, arbitrary and capricious? 
The "arbitrary and capricious" standard generally requires only that there be a "rational" foundation, meaning that an agency decision will be upheld as long as there is a rational connection between the facts found and the conclusions drawn.  
It always makes it harder for the public to not have virtual testimony available. That's settled law. 
And by creating a special onerous requirement to wear a mask, that is not in place practically anywhere else, the council further erodes participation and engagement.   
There were only two public speakers at Friday's city council meeting that lasted only 14 minutes, most of which was Mitchell O'farrell recognizing an older relative of the wife of the late, great councilmember and pumpkin bread promoter, Tom Labonge, who had passed away last month. 
What is the rule for virtual testimony?   
Never offered at council meetings - unless council agrees, as during the pandemic
Always offered at committee meetings - unless it's a budget committee meeting or HHH oversight meetings.
What is the rule for in person testimony?
Never for committees meetings unless a choreographed budget hearing
Always for council meetings - unless blocked by council, as during the pandemic 
What is the going rate for... arbitrary and capricious? 
SKY:  breathing
A healthy diet of breathing is on offer at a Health and Healing Course for Mental Health Professionals in Martha's Vineyard. We're talking coastal Massachusetts with Islands.  In the past, it was a stereotype that "shrinks" would gather in Cape Cod in August to have the couches repaired. It was hard to get an appointment back in the day, but the problem is much worse now. 
The horrifying reports about how long it takes to get a psychiatric evaluation for a person in crisis is deeply disturbing.  
That said, this year in late June, one psychiatrist filmmaker I know is hosting a 3-day self-care program being conducted in Martha's Vineyard.   It's called The SKY program which reportedly offers powerful evidence-based breathing techniques that facilitate the release of deep stress and harmonize the body & mind.   
Over 100 independent studies conducted and published in peer-reviewed journals have demonstrated a comprehensive range of benefits from practicing SKY.  
Why not?  
Picture this: 
If a production company decides to film on a lovely beach in Malibu, what is required in the way of permits?  Is there a link?  For instance, if a crew rents an Airbnb… and all come down through the apartment and film a small beach scene, are any permits required?   
All the beaches in California are public, and obviously, there is a lot of photography in Malibu and the residents are generally cool!  But it raises one reasonable question:  who, if anyone,  is managing this?  Certainly, over the years I've personally pulled permits to film out on Westward beach -- precisely because it had a parking lot, restroom and both a rocky and sandy look.   
Planet of the Apes with Charlton Heston was filmed out there.   
Prop K Studio City - Status update:
From: [email protected]
To: [email protected] <[email protected]>
Cc: [email protected] <[email protected]>
Sent: Tue, May 10, 2022 11:50 am
At its Special meeting held on May 4, 2022, the L.A. for Kids Steering Committee adopted recommendations.  I reviewed the documents and could not see evidence of the larger $10-16M project, only the smaller budgeted $3,547,000. 
What is the budget and the project for Studio City Rec center? 
What is the status of the plan to dramatically impinge on the limited open space by reducing turf in Studio City by 69% and creating a large net zero city building in the outfield?  
One thing that we have noted is the blatant disregard for tree life and unwarranted deforestation of the neighborhood park environs.
Warm regards, 
From: [email protected]
Dear Mr. Abdallah,
What happened to Drucker?  See below!
Best,
Eric Preven
Opposition to Proposed Destruction of Weddington Golf & Tennis (ENV-2020-1512-EIR)
To: [email protected] <[email protected] 
Dear Ms. Henry, 
I strongly oppose Harvard-Westlake School's planned destruction of Weddington Golf & Tennis. The proposed conversion of the Weddington Golf & Tennis property into a private high school sports complex is concerning for a number of reasons.  
With LA's green open space disappearing, Harvard-Westlake plans to service a privileged, select few by replacing 16 irreplaceable acres with artificial turf and concrete buildings, as well as by exerting their influence to secure variances to Weddington Golf & Tennis' A1 Agricultural Open Space zone allowances from the City.  
By destroying the property's significant existing urban tree canopy along the LA River and replacing it with 12-foot walls, artificial turf, saplings, and towering light poles, the end result allows practices, games, and special events that will generate increased noise and traffic, which does not conform to the surrounding community.  
Weddington Golf & Tennis is often referred to as "the gem of Studio City" and considered a local landmark for nearly 70 years. The LA Cultural Heritage Commission (CHC) supported Historic-Cultural Monument (HCM) designation for the ENTIRE 16-acre Weddington Golf & Tennis subject property. For that reason, we strongly support the mysterious, last-minute revisions be reversed and the designation restored to the CHC's original recommendation: preserving the subject property, which encompasses the golf course, driving range, and a majority of the site's green open space and tree canopy.  
Millions of Angelenos from all over the City and San Fernando Valley have experienced Weddington Golf & Tennis since its opening in 1956. It is incumbent upon the City to protect precious affordable public spaces from developers and special interests, like Harvard-Westlake, who only serve a privileged few.  
Traffic and congestion continue to grow at an alarming rate in LA. If allowed to proceed, Harvard-Westlake will spend the next four to five years building a massive $100 million dollar sports complex for its students, while the rest of the community grapples with the plan's significant impact on our roads, traffic, and commutes to work and school. This project hinges on granting a Conditional Use Permit (CUP) and since the proposed plan does not satisfy the necessary conditions, a CUP should absolutely NOT be granted.  
Finally, please note that more than 14,000 community members have signed a petition supporting the preservation of the 16-acre Weddington property in its entirety.  
These individuals are counting on you to subscribe to a higher standard, support the public's interests, stand firm against Harvard-Westlake's lobbyists and moneyed special interests, and deny approval of the CUP and certification of the DEIR.  
Thank you for your time and consideration of this most important matter.  
Sincerely,
Eric Preven
The finalists for the 2022 Golden Padlock Award here.  
The University of North Carolina at Chapel Hill for a pattern of secrecy that includes paying hundreds of thousands of dollars to fight cases involving open meetings law violations and the disclosure of documents detailing campus sexual assault cases. 
The City of Huntsville, Alabama, and the Huntsville Police Department for their steadfast resolve in refusing to release police bodycam footage showing an officer fatally shooting a suicidal man who had called police on himself. It would take three years, a murder trial.  
Utah's Department of Corrections for stonewalling public access to supervision records of violent probationers and parolees, including wrongfully redacting vast swaths of public documents.  
The U.S. Food and Drug Administration for trickling out its response to a public records request at a rate that would take roughly 55 years to complete.   
The Arizona Senate for keeping secret thousands of documents related to a review of the state's ballots and voting machines that courts have ruled should be public.  
Not recognized. The Los Angeles County Board of Supervisors for brazenly reducing by half the amount of public comment they are willing to take. 
The Kings Road House: 
In Buster Keaton's, "Sherlock Jr." the Schindler house appears in the background as Buster speeds along on his motorcycle.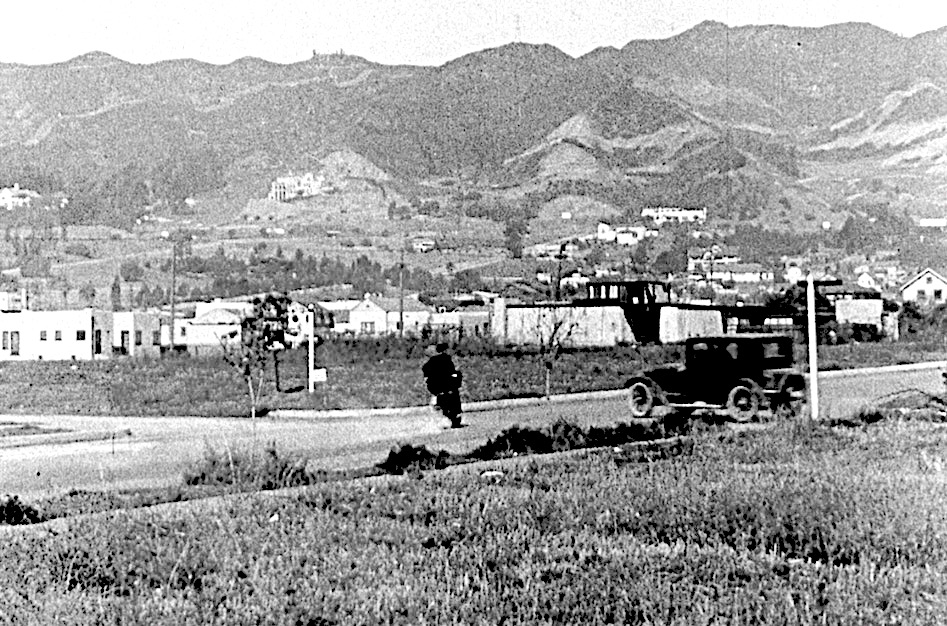 The Schindler House at 835 N. Kings Road in West Hollywood is turning 100 this year.  It was completed in 1922 and is currently home to the MAK center for art and architecture, partially owned by the government of Austria and friends like us, who love art, architecture, and Rudolph Michael Schindler (1887-1953).  
R.M. Schindler was a progressive architect who emigrated from Vienna to work with Frank Lloyd Wright, first in Chicago in 1918, and then in Los Angeles in 1920. Setting off on his own, Schindler built the Kings Road House in 1922, and for the next three decades went on to experiment with shaping space and making livable, iconoclastic houses and apartments, mostly throughout Los Angeles.
R.M. Schindler, Architect – Schindler House, Los Angeles
To commemorate the completion of his masterpiece there are a number of centennial celebrations, recognitions, and presentations, including one at the Schindler House by Alex Ross of the New Yorker.  
Disclosure: I've spent a fair amount of time reading Schindler's papers up in the archives at UCSB. My former wife and I willingly participated in a Schindler exhibit by MOCA in 2001 and on more than two occasions we've allowed the Gold house to be opened up to the public.*   
But people are touchy about what they want to leave behind in the way of...their personal legacy.  And the legacy of those they worship. 
From the moment I met, Robert Sweeney, I could tell he was clinging to a vision of Schindler that was informed by Pauline Gibling Schindler, his wife, and Sweeney's idol.  
When I dug up letters that cast any hint of shadow on Schindler's upstandingness, or revealed anything even remotely untoward, especially in any disrespectful way to Pauline, it would turn old Sweeney's cheeks a brighter shade of red.  He was very protective.  
There was a feeling by Sweeney that the sloppy passes and late night rendezvous were not important or worthy of further exploration... but rather embarrassing prurient chapters, that are better left out of the story. 
Of course, I disagreed, and started dating Mark, the son of Schindler. Not, romantically, but I took that man to lunch over two dozen times and I have no regrets or anything to show for it, frankly, but the memories.  
One story that I do believe to be true about R.M. Schindler was told to me by the late Yolanda Goodwin (1908-2004) who appears in part 14 of the autobiography of her husband, Nikolas Schmoll.  
Briefly, Nick's story is impressive:  a very young Nazi soldier with a heart of gold, winds up at the California Yacht Club in Marina Del Rey via POW experiences in London and Houston!   
Yolanda's story, by contrast, reads like a Desperate Housewives episode. 
When I met Yolanda and Nick they were an adorable older couple who lived just down Reklaw Drive from me in the early 2000's, as my former wife and I restored the Gold House, named after a man Schindler came to despise, Joseph George Gold.  
In 2003, I finally took Nick and Yolanda out to the Patio at Sportsmen's lodge for lunch and to see what they knew about Schindler.   
Nick, it turned out, had never met Schindler, but when he went to the bathroom, Yolanda spilled the... goulash.   
Apparently, Schindler had partially built her Goodwin house in 1940, before the war. The scarcity of materials caused delays and during the early forties, George Gold commissioned a design for one parcel, and then changed his mind and added a parcel causing a lot more unpaid work to be done by Schindler. The relationship was downhill from there.  
The nasty pointed letters between Schindler and the Tax Accountant client, George Gold ought to be submitted to the Smithsonian for an exhibit on mid century hostility.  Or perhaps read in their entirety on a snarky podcast! 
Since Schindler was frequently furious with Gold, it seemed to Yolanda, that he would sort of borrow materials from the Gold House project, to, for instance, finish her kitchen cabinets!  
All in exchange for home cooked goulash, wine and... plenty of hot sex, according to Yolanda, who had been in an abusive relationship with an alcoholic, before this period.  
Having studied under Helena Rubenstein, Yolanda opened her own beauty salon in Beverly Hills. She met Nick, a charming fellow who seemed to genuinely feel bad about his time serving in the Nazi army and his ensuing POW journey, on a trip to Rio.  
What happened to Nazis with hearts of gold?  
Nick, worked as a photographer in Rio di Janeiro, Brazil, and lived the high life in Copa Cabana before connecting with Yolanda who adopted him and took him to Studio City.  
Schindler was an earthy, scruffy architect who would pop over for a bit of goulash, cabinets... and hot sex.  A wonderful chapter in Yolanda's story, but she didn't want me to tell Nick about her Schindler affairs. 
I'm pretty sure Nick knew; the man was a photographer in Rio!   
Nick and Yolanda had a Columbia 28' sailboat and were members of the California Yacht Club in Marina Del Rey.   
Watch for more 100th Anniversary Schindler letters.  
Tag: European cooking, modern architecture, afternoon delight in Studio City
Budget Overage: 
One suggestion for how to spend the extra 97 billion dollars in the swollen state budget, would be to shorten some of these wait times.  
I have a friend who filed a FEHA civil rights violation and was told it would be eight weeks before Bonta could muster up the staff to provide a intake interview.  That's not an investigator, that's a screener to see if you have a hot tamale or a cold fish.  It's almost always outside of their purview to provide any assistance.    
Mediation: 
Our processing time for new mediation request is approximately 5-7 days, and during this time a mediation invitation packet will be sent to the other party. I cannot quote you a time frame beyond the 5-7 days because it will depend on how long it takes the other party to respond.  
We allow 3 weeks for a response after the initial packet is sent before we try to contact the other party again. We will make multiple attempts using the contact information you provided.    
Kind Regards.,  
Dispute Resolution Program 
Department of Consumer and Business Affairs
(Eric Preven is a longtime community activist and is a contributor to CityWatch. The opinions expressed by Eric Preven are solely his and not the opinions of CityWatch)