CIVIL RIGHTS - With the Supreme Court having heard oral arguments on the constitutionality of the Voting Rights Act last week, the Obama administration weighed in again Sunday with another impassioned defense of the 1965 law. 

"For our nation's Department of Justice, the fair and vigorous enforcement of this and other vital protections -- and their defense against all Constitutional challenges -- constitutes a top priority," read Attorney General Eric Holder's prepared remarks for a speech he was set to give at the Edmund Pettus Bridge Crossing Jubilee. "Let me be clear: although our nation has indeed changed, although the South is far different now, and although progress has indeed been made, we are not yet at the point where the most vital part of the Voting Rights Act can be deemed unnecessary. The struggle for voting rights for all Americans must continue -- and it will." 
The crossing jubilee was an appropriate setting for Holder to make a vocal defense of the Voting Rights Act, as he has done before. Politicians and civil rights leaders have descended on Selma, Ala., for the annual commemoration of "Bloody Sunday," the March 7, 1965, attack by armed officers on civil rights protesters that helped spur the groundbreaking legislation. Vice President Joseph Biden made the pilgrimage as well. (Read the rest … including how difficult the fight will be to preserve Article 5 of the Voting Rights Act … here.) 
●●●●●
IN PRAISE OF JOHN LEWIS
Randy Shaw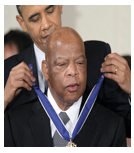 Seeing Congressmember John Lewis outside the Supreme Court this week in a rally to preserve Section 5 of the Voting Rights Act … (and standing with Vice President Biden in Selma on Sunday—ABOVE PHOTO) reminds us of his extraordinary life of activism. 
One of the original thirteen Freedom Riders, Lewis has been fighting for voting rights for over fifty years---and is as passionate as ever. 
Lewis' legacy is hardly news; he is a consensus first ballot choice in the 20th century's activist Hall of Fame. But it's still mesmerizing to see a man nearly beaten to death by racist southern police five decades ago still having a fierce dedication for the struggle. 
It would have been easy for Lewis to see the new obstacles to minority voting, and the Court's likely ruling in the case, and just throw in the towel. But he has never quit the fight.
The Supreme Court will likely strike down Section 5---Scalia and his allies would have issued Plessy v Ferguson (upholding racial segregation) and rejected Brown v Board of Education (which overturned Plessy)---but John Lewis won't be deterred. He is a living reminder of the activist commitment to justice, and why the struggle he has waged for over fifty years must continue.
-cw
(Randy Shaw is the editor of BeyondChron.org … where these comments first appeared.)
CityWatch
Vol 11 Issue 19
Pub: Mar 5, 2013