Carmageddon as Kingmaker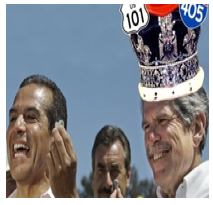 POLITICS - A favorite political guessing game in and around L.A. County these days is whether County Supervisor Zev Yaroslavsky will run for L.A. mayor in 2013.
That's when the incumbent, former Assembly Speaker Antonio Villaraigosa, must exit because of term limits.
Speculation has grown hot and heavy in the wake of Yaroslavsky's leadership role in managing "Carmageddon" – last weekend's closure of L.A.'s vital 405 Freeway.
Overall, he was, by far, the most visible and vocal public official interacting with the public.
In a potential field that includes the City Controller, one or more Councilmembers, a State Senator and a couple of multi-millionaires, Yaroslavsky would enter the mayor's race as the likely front runner—given his recent high visibility and his formidable fund-raising clout.
With the State Capitol in virtual gridlock, leadership, up and down the Golden State, will increasingly come from the local level.
California voters, disgusted with Sacramento's failings, seem to be looking more closely to local leaders to step up.
While Mayor Villaraigosa was front and center for the victory lap after the 405 shutdown of went off without a hitch, he was relatively quiet during the run-up. It was left to Yaroslavsky to steel Angelenos in the face of living without a major artery for a whole weekend. (The rest of Sherry Bebitch Jeffe's analysis
here
).

(This article was posted first at Prop-Zero Los Angeles. Photoshopped image created by Olsen Ebright.)
CityWatch
Vol 9 Issue 58
Pub: July 22, 2011