Council Wants Its Own Counsel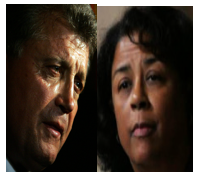 CITYWATCH - From the What-Goes-Around-Comes-Around department comes a new surfacing of the on-going Jan and Carmen feud. Or maybe it's the payback chapter in a saga that has been running at least since Trutanich, the City's Attorney, threatened to arrest Perry, the City's 9th District Council lady, early on in his tenure. In any case, now comes a Bernard Parks-Jan Perry motion asking Chief Legislative Analyst Gerry Miller for a study on breaking up the City Attorney's office. And based on the speed and heat of the response, the CA ain't gonna take this sitting down.
Trutanich's chief deputy called Perry's effort 'an attempt to intimidate the office and prevent it from issuing independent legal opinions,'
The Time's David Zahniser
[link]
says "The push for the study was spearheaded by  … Perry, who has repeatedly criticized Trutanich and his staffers over planning issues in and around her downtown district." Especially their handling of billboard issues.
Whatever lit her fire, Perry … who is running for mayor in 2013 … talked her colleagues into 13-0 support of her motion asking for a report on how, according to the LAT, "cities across the nation put together their legal teams—and on the possibility of separating the city attorney's misdemeanor criminal prosecutions from the work of crafting legislation and representing the city in lawsuits."
Rick Orlov covers the continuing Jan and "Nuch" battle for the
Daily News.
This Trutanich-Perry drama has had a long run on the City Hall stage but gets new energy this year because Perry has announced for the mayor's race and the feeling remains that Trutanich will wind up in the LA District Attorney competition.
So it will likely be another 18 months or so before the curtain comes down on one of City Hall's more colorful piques.
(Ken Draper is the editor of CityWatch. He can be reached at: editor@216.18.22.247)
   -cw
Tags: City Council, City Attorney, Jan Perry, Carmen Trutanich, billboards
CityWatch
Vol 9 Issue 58
Pub: July 22, 2011