PLANNING WATCH-For the past decade I have closely followed the faltering efforts of City Hall to update the Hollywood Community Plan.
This 33-year-old plan is one of LA's 35 Community Plans. They comprise the Land Use element of the Los Angeles General Plan, required by both the City Charter and California State law. Proposals to quickly update these plans – independent of the rest of the City's General Plan – have meandered through City Hall for at least 20 years. 
The previous effort to update the Hollywood plan went belly up in 2012, when Superior Court Judge Alan J. Goodman rejected the City Council-adopted plan's text, Environmental Impact Report, and up-zoning ordinance. He called them "fatally flawed." Realizing there was no chance to successfully appeal Judge Goodman's decision, the Department of City Planning went back to the drawing board and began its second Update of the reinstated 1988 Community Plan. 
I recently wrote that that the 2021 Update repeats the same shortcomings of the previous 2012 Update. If legally challenged, a judge would again send it to the round file because it is still based on a highly flawed methodology. It uses old population data and avoids calculating the amount of remaining zoning capacity in Hollywood. It also ignores the need for adequate supportive infrastructure and public services, and it again fails to include monitoring and enforcement programs. 
Quite frankly it is hard to make this stuff up! 
This is one reason the proposed plan has generated so many detailed comments from supporters, opponents, and fence-sitters. It also explains why the City Planning Commission is intent on quickly approving the draft plan at a special meeting scheduled for March 18, 2021. On one side are pro-development groups, like the Hollywood Chamber of Commerce and on the other side, planned-development groups, like Fix the City. In the middle is the Just Hollywood Coalition, trying to carefully thread a needle between the supporters and opponents. 
According to the critics, this update is another developer give-away. They cite the new plan's detailed provisions and the spurious arguments raised by advocacy groups, hired pens among attorneys and corporate media, and public officials, whether civil servants or in elected office. 
Let's first look at several sins of commission -- what the supporters of the proposed Hollywood Community Plan Update are saying -- and then what they fail to say, what I call their sins of omission. 
Sin of Commission #1: According to a City Planning Department manager, "We need to build new high-density Transit Oriented Development apartments near mass transit to fill subway cars."  Yes, transit ridership is down in Hollywood, including busses and subways, but the purpose of mass transit is not to demolish existing low-priced housing to make way for expensive, high-rise apartment buildings. It is to improve mobility for a neighborhood's existing residents; not evict them so real estate speculators can build expensive apartments. 
Furthermore, this approach to increasing transit ridership does not work. Because only high-income Angelinos can afford new market rate housing, these residents own and drive cars instead of using mass transit. It is the opposite of a program to increase transit ridership, which would match the retention of existing low-income housing and residents with new non-market public housing, reduced fares, and first-last mile upgrades to local streets.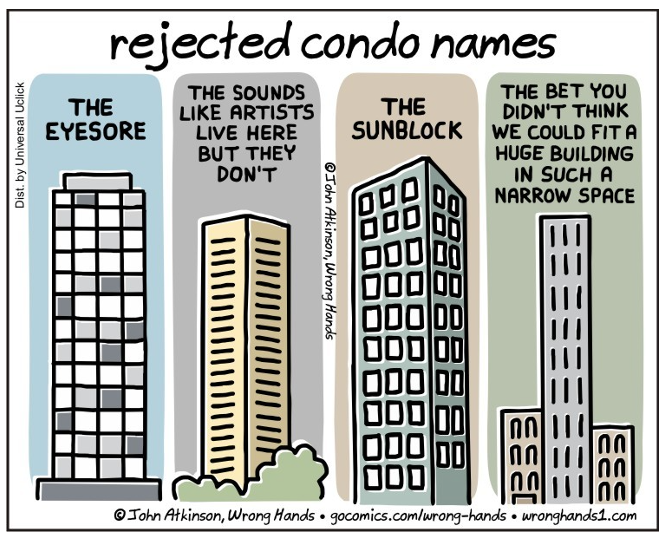 Sin of Commission #2: According to new Councilmember Nithya Raman, people who live in Hollywood's houses are responsible for the eviction and out-migration of low-income tenants from demolished buildings. Sorry, but people who live-in single-family houses in Hollywood's flats and hills did not buy and bulldoze older apartment building in order to replace them with new expensive rental units. This was the shady work of real estate investors, developers, rental agents, and some public officials. To blame other Hollywood residents, who have repeatedly opposed up-scale real estate trends in Hollywood, is a ruse to cover the tracks of those actually responsible for the evictions and out-migration of low-income Hollywood residents. 
If we follow the logic of this argument, more permissive zoning in Hollywood's residential neighborhoods would have been in lieu of investment in nearby commercial areas. This claim is totally mistaken because real estate is not a zero-sum game. If both options were profitable, developers would have invested in both. Hollywood would now have even more expensive apartments, not fewer.  This same reality plays out across much of Los Angeles since highly profitable McMansions pop up in the shadows of new, equally profitable, low-rise and high-rise luxury apartment buildings. 
Sin of Commission #3: According to a local AstroTurf lobbying group, building four-plex apartments in place of single-family homes would bring down the cost of housing by increasing supply.  But, if developers could suddenly build four-plex apartments in neighborhoods now limited to single-family homes and Accessory Dwelling Units (ADUs), this new housing would be expensive. First, up-zoning increases land values, and developers would need to buy out existing property owners and level their homes to create four-plex building pads. Second, they would need to build profitable apartments to take their place. Since modern four-plexes rent for approximately $6,000 per month, the number of expensive apartments would increase. No one who was displaced by development in Hollywood's flats could afford to move into these new four-plex apartments. Ditto for those living in Hollywood's many homeless encampments. They would still be priced out of housing and ready to join the thousands of low-income people previously pushed out of a rapidly gentrifying Hollywood. 
Sin of Commission #4: According to the Wednesday Los Angeles Times, "Hollywood must change. Los Angeles is in a housing crisis, after failing to build enough housing to meet population needs." I suggest that the paper's editorial writers leave their pleasant El Segundo offices and physically inspect the city. They will discover high vacancy rates in new market rate apartments and For Rent signs plastered on older residential buildings. They will also observe U-Haul trailers everywhere for renters deserting LA. The reason is simple. The only housing shortage in LA is for affordable residences, as detailed in the Vacancy Report. To build more expensive apartments, which is the essence of the Hollywood plan, makes LA's housing crisis worse, not better. 
Sin of Commission #5: According to Curbed LA, up-zoning promotes the construction of apartments in single-family neighborhoods and will be a powerful blow against racism. Since racism results from structural forces responsible for income inequality, according to former Beverly Hills Mayor John Mirisch, it makes existing property owners and developers richer. Their sudden wealth does not trickle down to low-income residents, including those who are victims of housing, education, and job discrimination, as well as police violence and mass incarceration.  
The Sins of Omission: There are other ways to spot the supporters of trickle-down economics, other than those who spout the above arguments. If you carefully listen to them, you will discover a long list of policies they carefully avoid. These are the giveaways of their real, rather than feigned, intent. This is what you will never hear: 
Calls for accurate population and zoning buildout numbers in updated plans. 
Attention to supportive infrastructure and public services to serve new buildings and residents. 
Proposals for plan enforcement and monitoring. 
Advocacy for the restoration of HUD and CRA public housing programs. 
Legislation to increase wages so resident will no longer be priced out of housing. 
Ordinances to change the Rent Stabilization Ordinance cutoff date to 1995 and eliminate vacancy decontrol. 
Mandating physical inspections and enforcement of density bonus housing requirements. 
Reducing or eliminating transit fares to increase transit ridership. 
As for Hollywood, my crystal ball is shining bright. More lawsuits are in the making.
(Dick Platkin is a former Los Angeles city planner who reports on local planning issues for CityWatch. He serves on the board of United Neighborhoods for Los Angeles (UN4LA) and co-chairs the new Greater Fairfax Residents Association. Previous Planning Watch columns are available at the CityWatchLA archives. Please send questions and corrections to [email protected]. (Prepped for CityWatch by Linda Abrams.