How Low Will Wendy Go?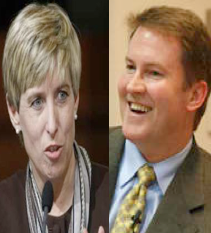 MAILANDER'S LA - While I was wandering the Caravaggio legacy exhibit at LACMA last weekend, I suddenly remembered something I learned in college about the great artist.
What I learned way back then was that, while we could tell a few things about Caravaggio from his paintings, we would know absolutely nothing solid about Caravaggio were it not for the artist's police record.
This lesson learned long ago not only gave me a renewed appreciation of the great painter, it availed to me a sensible way to approach the wild four-pronged goings on this week between Cerritos journalist Randy Economy, KTLK on-air personality David Cruz, Mayoral candidate Kevin James, and John Shallman, the highly combustible campaign manager of the highly aggressive political team supporting Mayoral candidate Wendy Greuel.
Because if it wasn't for a few Randy Economy priors, we'd know absolutely nothing solid about how Shallman plans to help the craven Controller Greuel slime her way into the Mayor's office.  Were it not for a couple of Economy's personal peccadilloes, we may never have learned how low Greuel's team is willing to go in serving her slavish hope to become Mayor of our pueblo.
Last week, local journalist Economy broke a potentially
huge story about Wendy Greuel's
penchant for taking meetings on City Hall Controller's time with people who were more likely to help her in her effort to become Mayor than to help her balance the City's ailing, failing, near-bankrupt books.
It's a big story, but even bigger if it sticks in the minds of local print scribes and broadcast mavens.
But even as candidate Kevin James set up an opportunistic press conference to discuss the allegations against Greuel, Greuel's longtime campaign manager Shallman pulled a fleaflicker out of the old Ace Smith playbook, pre-empting James's press conference with a classic, quick-and-dirty hit-piece on ... the journalist behind the big story, Randy Economy.
"Economy has a history of working and consulting for right-wing candidates," Greuel's campaign intoned in a press release, distributed to top LA media at James's own conference.
The Greuel team also made known to anyone willing to listen that Economy had some prior substance abuse troubles, now approaching ancient history.  Shallman's present hand Dave Jacobson, a man with extensive SEIU special ops ties, handed out the pressers to the media mob in front of City Hall East who were there for James.
Journalism skills in Los Angeles have not yet atrophied to the extent that anyone in media paid attention the Greuel campaign top sliming efforts of a fellow scribe.  But  KTLK 1150 AM talk jock David Cruz--who openly admits to being in the tank for Greuel, but also says he reserves the right to change his mind—did work both the charges against Greuel and the slime-slinging on Economy into his own show.
"'Kevin James admits he coordinated Greuel hit-piece,'" Cruz reads from the Greuel presser, linking James to Economy.  "'Economy has a history of working and consulting for the rightwing candidates.'"  Those who know Shallman, a consultant as beholden to top money unions as any scribe might be to any cause, rolled their eyes at that point, I'm sure.
But Shallman did indeed attempt to knock the focus off of Wendy Greuel's meeting book and put it on anyone else available, and Economy was apparently the best swinging piñata available.
After Cruz ran through some of Shallman's own accusations, Cruz's producer Vanessa Herron added on-air that the Greuel team told her "Well, you know that the reporter, Randy Economy, had several drug offenses on his record."  Yes, this non sequitur to the Mayor's race came straight out of Greuel's campaign communications office.
"That kind of history speaks to shoddy reporting," Team Greuel insisted.  At this point, even Economy himself could be heard chuckling in the background.  One of course wonders if old substance issues truly contributed to shoddy reporting, how any newspaper in America could even put out an issue on any given day.
When I spoke to Cruz later about the on-air interview, he surprised me with his candor.
"I've been here twenty years and I've never seen it go lower," Cruz said of Shallman's office slime-the-messenger tactic.
Certainly we've seen Shallman go fairly low over the years—just this past week, an attorney of his sent yet another Cease and Desist letter to the MayorSam blog, for instance, and he's done this before.  But for the moment, he had successfully deflected attention from the matter at hand, away from the fact that his candidate has been accused of using her office not to conduct the business of the Controller's Office, but to use that office to take as many meetings as possible in furthering her future ambitions.
As for me, while I too have been invited to one of Greuel's ambition-serving conferences—who hasn't?—I also feel obliged to note that every single time I've written Controller Greuel regarding some element of City Controller fiscal business, my correspondence has been ignored.
I have tried to talk to Greuel three times in the past eighteen months about the business of controlling the purse-strings of the City of Los Angeles--with no luck at all.
On July 14, 2011, I made a request of Controller Greuel for an interview.  No response from her or her office.
On September 11, 2011, I asked the Controller if she had any official or unofficial response to Councilmember Alarcon's proposal to hike sewer fees by over 25%.  No response.
On June 14, 2012, I asked Controller Greuel if she felt LA missed the CRA or not, and if there was any hope of luring developers into thorny areas of town without it.  No response.
But I also feel obliged to note that I did, in January 2010, get a response from Controller Greuel's email regarding where I could park at City Hall for a "Women and the Environment" seminar--which fits Economy's thesis perfectly.
It all makes me recall an episode back in 2006, when Greuel was still talking to the LA Weekly.  The subject was some mailers in support of a proposition that many had found "duplicitous and deceiving."
"This is a campaign," she [Greuel] said. "I was talking to Dick Riordan on Saturday, and we chatted about it," the councilwoman added. "And Riordan said, "Listen, this is a campaign. That's what you do. Sometimes you exaggerate, sometimes you embellish, or whatever."
Randy Economy, it turns out, isn't the only person in town with a record.
(Joseph Mailander is a writer, an LA observer and a contributor to CityWatch. He is also the author of New World Triptych and The Plasma of Terror. Mailander blogs at www.josephmailander.com.) 
-cw
CityWatch
Vol 11 Issue 4
Pub: Jan 11, 2013