The Whirling Dervish: Spinning the Rising Cost of Gas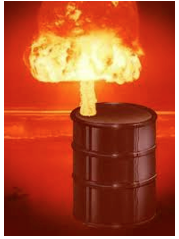 WHO'S MAKING THE COST OF GAS GO UP? - We found the city of Tunis to be a fascinating blend of Arabic, French, Roman, North Africa, and a smattering of sub-Sahara. The town plaza is filled with Bedouin nomads, snake charmers, exotic dates and various citrus, and the whirling dervish.
Well in our opinion, the entire city is a whirling dervish but nothing compares with present day Washington, D.C. They spin everything to death, especially when it comes to the rising cost of gasoline. (Robert Reich offers another view on the rising gas price issue here)

According to the Associated Press President Barack Obama is calling anew on Congress to end tax subsidies for the oil and gas industry, saying the nation needs to develop alternative sources of energy in the face of rising gasoline prices.

"They can either place their bets on fossil fuel from the last century or they can place their bets on America's future," Obama said. This is being said despite the fact we have hundreds of years worth of proven oil reserves here within the borders of our States and despite the fact that the ocean's algae will provide nothing. This is also being said while the country is starting to suffer from the rise in gasoline prices. Los Angeles in particular is feeling it more than all other cities in the States. (How do you spell S-P-I-N?)

Industry officials and many Republicans in Congress have argued that cutting the tax breaks would lead to higher fuel prices, raising costs on oil companies and affecting their investments in exploration and production. The measure is considered a long shot in Congress, given that Obama couldn't end the subsidies when Democrats controlled Congress earlier in his term. (How do you spell S-P-I-N?)
Obama said there is no quick fix to high gas prices, which climbed again on Friday according to AAA, but he pushed back against critics who say he is opposed to more drilling. He said the U.S. is producing more oil than at any time in the past eight years and has quadrupled the number of operating oil rigs. None of this increase is due to efforts of the federal government. (How do spell S-P-I-N?)

"If we're truly going to make sure we're not at the mercy of spikes in gas prices every year, the answer isn't just to drill more — because we're already drilling more," Obama said. He said his administration was trying to develop wind and solar power, biofuels and usher in more fuel-efficient vehicles to make the nation less dependent on oil.

In the weekly Republican address, Rep. Cory Gardner, R-Colo., said his constituents have been hard hit by an increase in gasoline prices and were "fed up with the way the president is handling this issue, and rightfully so. The most forceful thing the president has done about high gas prices is try to explain that he is against them."

Gardner said the $800 billion stimulus spending sought by Obama promoted energy companies that went bankrupt, wasting taxpayer money. Solyndra is one that comes to mind. (How do you spell S-P-I-N?)

"After spending money we don't have on what won't work — and overregulating what would — is it any wonder gas prices have more than doubled on the president's watch? Make no mistake, high gas prices are a symptom of his failed 'stimulus' policies," Gardner said.
How much does the president have to do with the price of gasoline? He has a lot to do with the price of gasoline, say American voters.

Republican presidential candidates have accused Obama of delaying drilling for oil in the Gulf of Mexico and in a national wildlife refuge in Alaska and faulted him for not advancing the Keystone XL oil pipeline from Canada to Texas Gulf Coast refineries. They have also criticized policies pursued by the Environmental Protection Agency as inhibiting energy development

The spin includes a lot of finger pointing while prices at the pump just keep rising. Los Angeles, in particular, is feeling the effects. We are all now aware of Life's Certainties:
-    Death
-    Taxes
-    $10 a gallon gasoline

The public is getting fed up and dizzy listening to all the spin. That is all we are going to get out of the whirling Washington dervish.

See you at the polls.  In the meantime we will see you at the pump.

(Kay Martin is a writer and a new contributor to CityWatch. His years of travel and work included tours in Russia, Europe, the Middle East, Africa, Asia, Australia, Hawaii, Latin America, and the Pacific.  He can be contacted at kaymartin@hotmail.com.) –cw

Tags: gasoline, gas, cost of gas, price of gas, Washington DC, Barack Obama






CityWatch
Vol 10 Issue 23
Pub: Mar 20, 2012