Who Is Paying for Albert Pujols?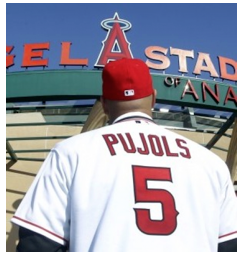 PAYING FOR LA SPORTS - Arte Moreno and the Angels stunned the baseball world by signing three time MVP Albert Pujols to a $254 million, 10 year contract.  At the same, the Angels snagged the top free agent pitcher, lefty C.J. Wilson, an Orange County native, with a five year, $77.5 million deal.
These two additions will add over $40 million a year to the Angel payroll, upping the total salaries to almost $170 million, right up there with the Phillies and the Red Sox.  At the same time, the bankrupt Dodgers payroll will shrink to less than $100 million, thanks to the plundering McCourts.
The National Football League also announced that it had entered into blockbuster contracts with three television networks, Fox, CBS, and NBC, where broadcast fees would increase 63%, to a total of over $3 billion.  Coupled with fees from ESPN and Direct TV, the total haul for the NFL is projected to be about $6 billion a year.

Earlier this year, the Lakers blew off the Fox Sports West and entered into a significantly more lucrative, multibillion, 20 year deal with Time Warner Cable to create a regional sports network that will essentially eliminate free over the air broadcast of Lakers games.  

Not to be outdone, the Angels are expected to enter into a new, very lucrative, multiyear contract with Fox Sports that will dwarf what the Angels are paying for the new talent.

And then we have the ethically challenged Boston Frankie. The Dodgers are attempting to set aside their legitimate contract with Fox Sports and enter into negotiations for a new multiyear deal for their media rights.  More than likely, this will result in a bidding war between Fox Sports and Time Warner Cable where the winning bid will be in the range of $3 to $4 billion over the next twenty years.

But who is going to foot the bill for the Angels, the NFL, the Lakers, and the Dodgers?

Very simple, we are going to get slammed with substantially higher cable TV fees, in large part because advertising rates do not have very much upside.  

These higher fees will most likely be incorporated into our basic cable fee. As it is, basic cable already includes ESPN, by far the highest priced channel, extracting over $4.50 a month per subscriber from the cable companies.  In turn, we are dinged for $9 a month so that these cable monopolies can maintain their 50% margins.

Overall, the media rights fees payable to the Angels, the Lakers, the NFL, and the Dodgers are guesstimated to increase by about $300 to $400 million a year over the next several years, resulting in increased payments by residential subscribers of $700 to $800 million.

This increase works out to be about $10 to $15 a month per subscriber, or $120 to $180 per year, a deal at twice the price if you listen to the cable companies and sports establishment.

And to compound the misery, just imagine the increased level of inane advertising that we will be subjected to, causing even more agonizing pauses in the flow of these sporting events.

One solution is to limit the Sports Tax (often referred to the ESPN Tax) by allowing subscribers to opt out of (or opt into) ESPN and the individual regional sports networks. But this will be a battle royal as the politically powerful cable companies and the sports establishment will go absolutely ballistic if their highly lucrative business model is disrupted.

As far as Angelenos are concerned, the Sports / ESPN Tax is just another raid on our wallets, right up there with the billions associated with the increases in our water, power, sewer, and stormwater rates; the $750 million increase in personnel expenses that the City is projecting over the next five years; the billions needed to repair our roads, parks, and sidewalks; and the more than $10 billion needed to fund the shortfall in our pension plans.

(Jack Humphreville writes LA Watchdog for CityWatch He is the President of the DWP Advocacy Committee and the Ratepayer Advocate for the Greater Wilshire Neighborhood Council. Humphreville is the publisher of the Recycler -- www.recycler.com. He can be reached at:   lajack@gmail.com) –cw

Tags: Arte Moreno, Angels, Dodgers, Albert Pujols, CJ Wilson, Time Warner, CBS, NBC, ESPN, Direct TV, Lakers, Fox, NFL, Jack Humphreville, sports, sports tickets, sports costs







CityWatch
Vol 9 Issue 101
Pub: Dec 20, 2011