The Final Indignity, the Last Insult, the Real America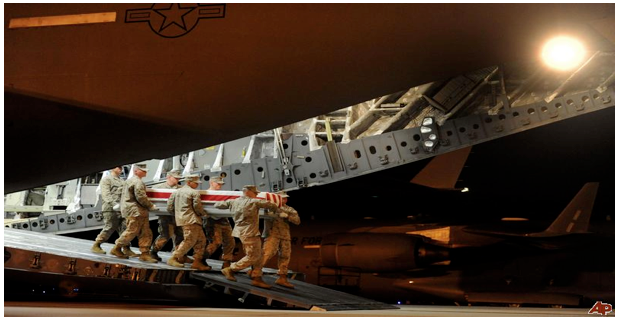 WAR AND POLITICS-Let's start here.

The Air Force dumped the incinerated partial remains of at least 274 American troops in a Virginia landfill, far more than the military had acknowledged, before halting the secretive practice three years ago, records show. The landfill dumping was concealed from families who had authorized the military to dispose of the remains in a dignified and respectful manner, Air Force officials said. There are no plans, they said, to alert those families now.

Think about that for a long moment.

This is a nation with a big, fat, fancy, shiny, appealing opinion of itself. The mythology of American Exceptionalism perseveres, even unto this dark and dilapidated day. We are not as others are. We are different. We are better. We honor and fete our soldiers, our veterans, our war heroes. We make movies about their bravery and their deeds, we throw parades for them annually, and when it suits us politically, we attack our political rivals for "not supporting" those who carry our banner in the field of combat.

We take care of our own, right? That's who we are, as Americans, right?

No, that is not who we are. We have not been thus for many, many years.  We, like so many allegedly "lesser" powers throughout history, also hurl our children into the meat grinder of meaningless warfare on the word of the powerful ones who control the day ... and when it suits, the broken bodies of those spent children - each of whom is nothing more than the chink of another gold coin into the coffers of those "leaders" - are anonymously and dishonorably cast into a convenient ditch, to be plowed under and forgotten, because it is easier that way, and far less expensive.

For the record, this program of indecent disposal of dead American service members began, and concluded, during the administration of George W. Bush. It is no accident, for that administration - despite perhaps the slickest PR campaign about America and patriotism and "Supporting The Troops" ever undertaken in our history - had no more regard or concern for the troops they consigned to death and dismemberment than a dog has for the snowbank it wets on.

They consigned thousands of US service members to death, tens of thousands of US service members to gruesome injury and the permanent aftermath of PTSD, and hundreds upon hundreds of thousands of innocent civilians to the same fates, for two reasons: to win elections, and to make money.

The soldiers themselves? The ones who have borne the battle? They are turned away from VA hospitals for lack of funds or insurance coverage, foreclosed upon by predatory lenders, left to shrift for themselves if alive, buried in the cold ground of a soldier's grave if not, or simply tossed into a landfill like a bag of household garbage. If anyone ever needed to see and fully encompass the true sum and substance of the administration of George W. Bush, and of all that has gone wrong in America, this despicable scandal tells you all you need to know.

That, for the record, is why I support "Occupy Wall Street." That is why you should, too. It is all of a piece - the wars, the profiteering, the looting of our most essential social protections, the evisceration of the most basic promises afforded by what was once a civil society.  Even as so many of us in America have suffered from the aftermath of that greed, it is the soldier who has bled for it, died for it, suffered for it in ways most of us cannot fathom, and has done so over and over and over again - as well as that soldier's family, now seemingly bereft of even the token comfort of a proper, honorable burial for the one they hoped would someday come home, but never did.

I have, since these wars began, spent countless hours at countless bars with countless service members from every branch, with their arms slung around my shoulder, well-met in their ever-temporary homecoming, in that fragile and fleeting slice of time between their return from their last tour and their government stop-gap-mandated departure for their next tour to either Iraq or Afghanistan, or both.

They were all unutterably grateful to be home, to have the simple privilege of tipping a beer on their native soil, an act those who cheered them into combat and slaughter take absolutely for granted even unto this very day, though they cheer the dead and maimed and shattered for "protecting our freedoms."

These troops and I would get nice and drunk, more often than not, and they would spend the later hours of the evening leaning into me to whisper the horrors they had seen and done into my ear.  I kept in touch with many of them, and some of those I stayed in touch with never came home, except in silence by way of Dover Air Force Base.

The idea, the remote possibility, that those fine people could have been discarded in such a heartless, soulless, despicable, un-American fashion is a towering insult to everything I hold dear...and a horrible thing to encompass. Those troops I have known who gave that last full measure of devotion deserve better, in whole and in part, than a burial beside garbage in an anonymous landfill.

When you don the uniform of the United States, when you pledge to spend your life in defense of the Constitution, you are making a sacred oath. That is only half the truth of it, however. The nation you have sworn your life to, and the government which represents it as it accepts that oath, is making a promise, as well.

It is the oath pledged by Abraham Lincoln in his second Inaugural Address, when he spoke the words that became the sworn duty of the Veterans Administration, written in tall letters at their door: [link] "Let us strive on to finish the work we are in, to bind up the nation's wounds, to care for him who shall have borne the battle and for his widow and his orphan, to do all which may achieve and cherish a just and lasting peace among ourselves and with all nations."

That we have not done so, that they swore an oath, died, and were thrown away like garbage - both the living and the dead - after fulfilling that oath, is a mortal stain of indelible shame.

(William Rivers Pitt is a Truthout editor and columnist.  He is also a New York Times and internationally bestselling author of three books: "War on Iraq: What Team Bush Doesn't Want You to Know," "The Greatest Sedition Is Silence" and "House of Ill Repute: Reflections on War, Lies, and America's Ravaged Reputation."  This column was posted first at truth-out.org)
-cw

Tags: Air Force, American Troops, Vets, Americans, Occupy Wall Street, Abraham Lincoln, Dover Air Base





CityWatch
Vol 9 Issue 99
Pub: Dec 13, 2011