Ya Gotta Stand for Something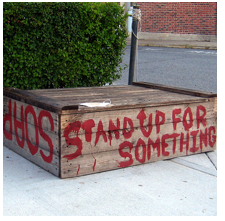 CITYWATCH - I've never met Joe Buscaino but he's got my vote. I'm speaking figuratively of course since I don't live in the 15th Council District and can't physically vote in November's Special Election.
Buscaino is a cop down in the Harbor Area and he's in the race for the City Council seat Janice Hahn vacated so she could run off to Congress.

I don't know much about his politics. I know that he's got a four-point jobs program and the quiet support of his brethren and the Police Protective League and created LAPD's first Teen Community Police Advisory Board … but that's about it.

I also know that he drew a line in the sand recently and that's what got my attention.

The Los Angeles League of Conservation Voters invited Buscaino to a debate with just two (Warren Furutani and Pat McOsker) of his dozen or so opponents a few days ago and that didn't play well with him. He sent back a conditional response.

"We will accept any debate so long as everyone can come," Buscaino said.  "I believe that all candidates who qualify with the City Clerk to be on the ballot this November have the right to debate."

I tried to figure out the political advantage of that decision for Buscaino and I couldn't find one.

Furutani … by most … is considered the front runner. McOsker and Buscaino fill out the odds-maker's top three. Keeping the long shots out of the mix so he could go head-to-head, get more time to frame his case and perhaps cut Furutani down to size would seem like a relatively risk-free opportunity for the San Pedro cop. Already known and liked by many in the South Bay because of his work as an LAPD Senior Lead Officer.

In fact, refusing to debate his presumed toughest opponents without the rest of the candidate crowd on the stage could be perceived as concern by Buscaino about his ability to win an in-close, down and dirty campaign tussle. A politically risky move some might advise.

Buscaino explains his stand: "It does not seem right that a debate should exclude everyone except the perceived frontrunners.

"During this time of high unemployment and economic uncertainty," Buscaino said, "this isn't the time to limit the creative ideas and possible solutions from any debate, any forum or any discussion that will have an impact on the future of the 15th Council District."

I realize that compromise and consensus are considered righteous political principles. I've never been a fan of that doctrine, however. I believe that, even considering the nature of the political process, our electeds have to stand for something. Perhaps even a number of somethings. Some issues, some principles, where there is simply no compromise. On which they will not cross the line. Because it's the right thing to do. Whatever the risk.

It's wrong to exclude legitimate candidates from the dialogue. It's wrong to predetermine the strengths of candidates in our elections … and then fulfill the prophecy by restricting their opportunity to be heard.

(Besides, it seems to be working for the 10-12 candidates populating the debate stages for the GOP presidential primary.)

Buscaino gets my 'vote'. He's already willing to risk a bit and stand for something. That's worth a lot more to me than all of the requisite hollow promises, generalizations, branding lines and campaign gobbledygook that today's candidates subscribe to.

(Ken Draper is the editor of CityWatch. He can be reached at editor@216.18.22.247) -cw

Tags: Joe Buscaino, Pat McOsker, Warren Furutani, San Pedro, Harbor area, South Bay, Council District 15, CD15, CD15 Special Election






CityWatch
Vol 9 Issue 76
Pub: Sept 23, 2011