Moratorium on Tobacco Needed in Los Angeles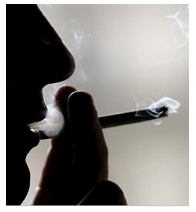 VIEW FROM HERE - The rise in the number of smoke shops popping up across the City of Los Angeles is forcing communities to spring into action. Some communities, like South and East Los Angeles, have become heavily concentrated with them. The number of smoke shops is starting to top the concentrations of liquor stores.  Within a two block radius, one can find as many as four smoke shops.
Tobacco is not the only product some are selling. Some have smoking apparatuses that mimic drug paraphernalia and some have porn.
Other issues associated with these stores, especially in low-income neighborhoods, are loitering, attraction of drug dealers and users, and their proximity to schools or school-age community programs.
It's ironic that there are no clear cut regulations on smoke shops in the City.  Depending on who one asks from various city departments, council offices, or law enforcement, there is no definitive information available to inform local residents of a public review process.
Cities across California, like San Diego, San Francisco, and Santa Maria, have enacted moratoriums on smoke shops to give themselves time to develop regulations and to curtail their concentration in some neighborhoods.
Angelenos are asking their local representatives to follow suit by banning new smoke shops temporarily until regulations are established that include a public review process to determine neighborhood suitability and neighborhood impact.
(Janet Denise Ganaway-Kelly offers more than a decade of accomplishments in the housing and nonprofit sector. Janet brings valuable insight in the areas of community and economic development. Additionally, she brings knowledge regarding the leadership and management challenges faced by large and small nonprofits that are struggling or growing organizations. She blogs at  jdkellyenterprises.org )
–cw
Tags: smoke shops, South Los Angeles, East Los Angeles, Santa Monica, San Diego, San Francisco, drug dealers, low-income neighborhoods, liquor stores, drug paraphernalia, porn
CityWatch
Vol 9 Issue 63
Pub: Aug 9, 2011