Dodger Soap Opera Continues: Here's Chapter 11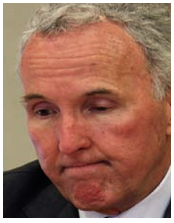 NO TEARS FOR FRANKIE - On Monday, Frankie declared war on Major League Baseball by tanking the Dodgers to prevent the Commissioner from seizing the LA Dodgers … because of Frankie's inability to fund the next payroll. It appears Frank McCourt bleeds red … not Dodger Blue.
While there has been considerable speculation on the fate of the Dodgers, poor Manny who is being stiffed for $20 million, and MLB few have focused on the plight of poor Frankie and whether he will be forced into personal bankruptcy as a result of what promises to be a long contentious reorganization.
Or has The Boston Parking Attendant have a big stash on the side like Whitey Bulger, his fellow Bostonian.
After all Frankie has lots of obligations:  $30,000 a month rent, Jamie, lawyers for all sorts of issues, and the Fox Sports loan.
Hopefully, he stiffs Princess Jamie who will then demand the orderly sale of the Dodgers and related assets under the supervision of the Superior Court. LA will shed no tears for Little Frankie.
(Jack Humphreville writes LA Watchdog for CityWatch He is the President of the DWP Advocacy Committee and the Ratepayer Advocate for the Greater Wilshire Neighborhood Council. Humphreville is the publisher of the Recycler -- www.recycler.com. He can be reached at:   lajack@gmail.com )
–cw
Tags: Dodgers, Dodger Blue, bankruptcy, Frank McCourt, Jamie, Manny
CityWatch
Vol 9 Issue 51
Pub: June 28, 2011