The Billionaire Developer and the Reimagining of LA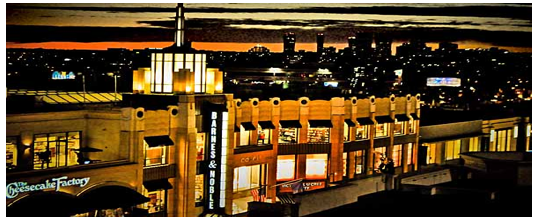 COMMENTARY - Rick Caruso - billionaire developer of retail romance - made money by reimagining Los Angeles one shopping center at a time. He may get a chance to reimagine the entire city if he decides to run for mayor in 2013. (Mayor Villaraigosa is term-limited out.)

Recasting the city's image has been the collective "art" of Los Angeles from the moment its American occupiers settled down to run their small, vulgar, and dangerous town. In 1847, the image of Los Angeles was "our Mexico."
In the boom years around 1900, it was "our Spain" and then "our Italy" and a romantically exotic retreat in the sunshine. Los Angles became "our future" around 1945 as the region transformed itself into the suburban everywhere of modern America.

By the mid-1990s, the city, marginalized by its suburbs, had become the sum of the suburbs' greatest fears.

The image of Los Angeles today merges all of these places: barrio, suburban bunker, Blade Runner stand-in, and threatened paradise.

To these, Rick Caruso would like to add regional mall - an amalgam of the Grove and The Americana at Brand, including a street trolley. Here's how Tim Rutten put it the other day in the Los Angeles Times:

"Last week, Caruso spoke to a San Fernando Valley audience and repeated not only his familiar critiques -- opposition to the subway, a desire to break up the Los Angeles Unified School District, a call to abolish the gross receipts tax -- but also a sketch of the city's future as he envisions it.

Speaking from "the developer's point of view on how to make Los Angeles more livable," he envisioned neighborhoods each organized around its own shopping center, all of which would be connected by an above-ground light-rail system."

A developer's image of the city - safe, leisurely, and entertaining - isn't far from what Los Angeles wanted to make of itself in 1900, when electric railways, street trolleys, funiculars, and even cable cars connected the city's neighborhoods.

Los Angeles succeeded in mirroring its early developers' image at least until the 1930s, but at the cost of civil liberties, racial equality, honest politics, labor solidarity, adequate public recreation and so much else.

What the cost of recreating that image might be troubles Rutten:

"Perhaps that is what people want: a Los Angeles in which the last distinctions between public and commercial spaces are swept away; a new sort of city in which the old American notion of lives lived in pursuit of happiness is redefined as an endless chain of convenient commercial transactions."

Businessmen who run for office are fond - as Caruso is - of redefining citizens as "customers." That shows their lack of imagination. Customers have no moral obligations to each other; citizens do.

(Mathew Fleischer takes a look at these issues from a public transit perspective here.)

(D. J. Waldie, author, historian, and as the New York Times said in 2007, "a gorgeous distiller of architectural and social history," writes about Los Angeles every Monday and Friday at 2 p.m. on KCET's SoCal Focus blog. This commentary was posted first at KCET.org) Photo credit: flickr user R.E.  –cw

Tags: The Grove, Rick Caruso, DJ Waldie, developer, Los Angeles, barrio, Blade Runner, street trolley




CityWatch
Vol 9 Issue 49
Pub: June 21, 2011