RESISTANCE WATCH--Just days before anti-Trump marches are set to take place in over 100 cities across the United States, the results of a new poll   just published suggest that a growing number of Americans want Congress to impeach the president, whose young administration is beset with scandals implicating not merely Trump himself, but members of his family and cabinet as well.
According to the poll, conducted by Politico/Morning Consult, 43 percent of Americans now favor impeachment—an increase of 5 percent from just last week. And though this number, as Politico notes, is "still less than the 45 percent who don't want Congress to impeach Trump," the trend is pointing in a perilous direction for the administration.
In addition to deep concerns about allegations that Trump attempted to obstruct an ongoing investigation into his campaign's ties to and possible collusion with the Russian government, the poll also indicates that many believe he, both through his words and his actions, "has proven he is unfit to serve."
Emboldened by the growing ferocity of the opposition to Trump's flagging administration and his right-wing agenda—which includes stripping healthcare from millions, undercutting civil rights, and dismantling what is left of the social safety net—progressive groups throughout the country are launching marches on Saturday that will "call for a fair and impartial investigation [into Trump's ties to Russia], for the pursuit of truth, and for the restoration of faith in our electoral system and the Office of the Presidency."
"June 3rd is a call for all Americans to come together as one and march to protect the very foundation of our democracy." —Bob BlandOrganized under the banner #MarchforTruth and with the support of groups like Indivisible and Public Citizen, the day of action will include an appearance by, among many others, Jill Wine-Banks, who served as a prosecutor during the Watergate scandal.
"June 3rd is a call for all Americans to come together as one and march to protect the very foundation of our democracy," Bob Bland, a fashion designer who was a chair of the Women's March on Washington, told NBC News. Combined with their call for an independent commission to investigate Trump's ties to Russia, organizers are also calling on the president to release his tax returns, a demand also in line with public opinion.
Pundits and politicians, responding to public outcry, have debated the merits of pursuing impeachment as a method of shielding "the very foundation of our democracy." Sen. Cory Booker (D-N.J.) urged caution on the point recently, saying that he is "not going to rush impeachment."

Many analysts disagree with Booker's stance, however, arguing that it doesn't comport with concrete realities.
Earlier this month, as Common Dreams reported, Harvard law professor Laurence Tribe argued that developments surrounding Trump's firing of F.B.I. director James Comey constituted evidence of "a series of high crimes and misdemeanors." The New Republic's Brian Beutler affirmed Tribe's stance in a recent piece, pointing out that "the list of reasons [Trump] could be impeached keeps growing."
In addition, Beutler argues that Democrats will "accomplish nothing" if they remain mild-mannered in the face of a president who has repeatedly shown contempt for the rule of law and democratic norms.
"What's ultimately making Democrats uncomfortable with the word 'impeachment' is not any doubt that Trump has earned it, but the shambling speed with which he did so," Beutler writes. "It is undeniable at this point that Trump has committed impeachment-worthy offenses, and that—should the political atmosphere in Washington ever allow it—he should be removed from office."
Progressive organizations across the country, confronting a Republican congressional majority that still largely supports the president, are attempting to cultivate such an atmosphere through mass demonstrations and persistent, organized action.
The anti-Trump marches taking place this Saturday are designed to be part of that effort.
"The Trump administration began under a cloud of deception, winning an election tainted by foreign influence," Jason Rieger, the founder of Indivisible Chicago, told the Washington Examiner. "We will rally downtown and march to Trump Tower to push back against the endless barrage of lies emanating from the White House."
++++++++++++++++
One Hundred Eighth Graders Boycott Paul Ryan Photo Op
Lauren McCauley
RESISTANCE WATCH--One hundred eighth grade students refused to be photographed with Republican House Speaker Paul Ryan during a field trip to the nation's capital because they "didn't want to be associated with a person who puts his party before his country," as one student put it.
According to reporting, roughly half of the 200 students who traveled from South Orange Middle School in New Jersey protested the photo-op on Thursday, watching instead from a parking lot across the street.
"It's not just a picture," eighth grade student Matthew Malespina told the local ABC News affiliate. "It's being associated with a person who puts his party before his country."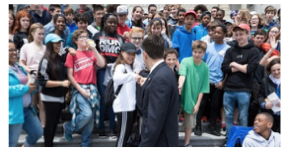 Most recently, Ryan has come under fire for forcing through legislation that would strip healthcare from 23 million Americans.
Malespina's mother, who also spoke to reporters, explained how her son had texted her ahead of time to let her know that he planned to sit out. "I think the point is that I don't want to be associated with him and his polices," Elissa Malespina said.
Unaware of the sizable boycott, Ryan posted a picture with himself shaking hands with some of the South Orange students to his Instagram on Friday.
(Jake Johnson and Lauren McCauley write for the excellent Common Dreams … where these reports were first posted.)
-cw
Tags: Paul Ryan, President Trump, impeachment, photo op, boycott, students