IMPEACHMENT EFFORT GROWS--West Valley Resistance is a grassroots community organization who spearheaded the passage of the impeachment resolution in the L.A. City Council, is standing up to defend the integrity of our American Democracy. This local group joins a nation-wide call for a Congressional Investigation. It is urgently necessary to determine whether sufficient grounds exist for the impeachment of Donald Trump. 
West Valley Resistance coordinates with a non-partisan national campaign led by Free Speech for People. Together we have inspired 16 American cities to pass resolutions calling on Congress to hold Donald Trump accountable to U.S. law and the Constitution. 
Grounds for Impeachment of Donald Trump
Leading constitutional scholars and government ethics experts have concluded that President Trump's vast business enterprises present a conflict of interest that may violate the Constitution, U.S. law and the public trust. Numerous legal challenges are already underway regarding these violations.
Information has become public clearly suggesting that Donald Trump and his associates colluded with Russian government officials to illegally influence the outcome of the 2016 presidential election. Such collusion may include undermining U.S. Government sanctions against Russian interference in that election. 
Since the election, Donald Trump's own public statements and other evidence clearly suggest that he and his associates attempted to Obstruct Justice by firing FBI Director Comey and took other actions intended to obstruct investigations of Trump/Russia collusion by Congressional Committees and Special Counsel Mueller. 
A majority of Americans now consider Donald Trump to lack competence and good faith in matters of public policy. Most of the news media and opinion leaders in and out of government, here and around the world, publically express the judgment that Trump is unreliable, reckless and mean spirited. In place of democratic leadership, he demonstrates a consistent preference for authoritarian behavior; producing false statements, personal attacks, and aimless disruption of public affairs. Polls show 40% support impeachment.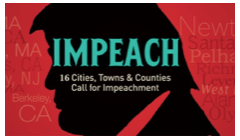 Recently, a national network of mental health professionals has studied President Trump's self-centered and erratic behavior, concluding that he is unfit to serve in that Office. They have launched a public education campaign they call "Duty to Warn". Senator Bob Corker, respected GOP Chair of the Senate Foreign Relations Committee has come out publicly to criticize the Presidents "stability and competence". Corker has revealed that the vast majority of his Senate colleagues privately speak of Trump as being both unfit and a clear and present danger to the nation.   
Tom Steyer, a prominent businessman and Democractic Doner has  also determined  that Trump is a critical threat to our republic. He is publically demanding that Democratic lawmakers and candidates support removing Trump from our White House.                                                                                          
Action Plan to Influence House Judiciary Committee (HJC)
Impeachment is the most powerful way to remove Trump from office
Impeachment is patriotic duty to defend the constitution
Rep Cohen is prepared to introduce Articles of Impeachment in HJC
Rep Cohen is a respected member but needs support from other Dems
Daily phone, email & social media campaign aimed at HJC and members
Direct member engagement via live events in member districts
Use creative graphics, billboards & video to influence members and the public
Visit HJC Dems in their Washington DC offices to discuss impeachment
Create Impeachment media event demonstration near the White House  
West Valley Resistance and its Patriotic Allies around the country will challenge Democratic Members of the U.S. House Judiciary Committee To Discharge their Duty to "Support and Defend the Constitution from all Enemies, Foreign & Domestic". Impeachment of Donald Trump is imperative. 
Pushing House Judiciary Democrats to Investigate Impeachment 
CAMPAIGN CALENDAR: October-November, 2017 
Contact: West Valley Resistance Laurie (818) 621-7392

-CW