NEIGHBORHOOD POLITICS--Councilwoman Nury Martinez instructed the City's Housing and Community Investment Department during the city's budget sessions, earlier this year, to develop housing for human trafficking victims. Today, the Los Angeles City Council's Housing Committee approved the department's request to release a proposal to develop housing for victims of human trafficking. 
Human trafficking has become the fastest growing criminal enterprise in the world, studies have shown. As law enforcement personnel continue to focus on breaking the chains of human trafficking, a key piece that continues to come up missing is dedicated housing and services for those victims. 
It was that concern that led Councilwoman Martinez to ask the city's Housing Department to develop a specific shelter proposal for victims of human trafficking.  The final vote on the proposal is anticipated for next week at the City Council meeting.
 Councilwoman Martinez had this to say regarding today's committee passage of the Human Trafficking Shelter Proposal: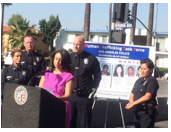 "This is an issue that has been of critical importance to me since the day I was elected to the City Council. This is not an issue that only affects my district, but its negative impacts are felt throughout Los Angeles and the rest of the world. This is an opportunity for the City to be a leader in helping women find a safe place to get free from their abuser. It is vital that we support human trafficking victims that are in need of a place that can offer refuge, resources, protection and serves as a transitional safe space. 
I know that for this population of those that are trafficked, threatened, abused and beaten, the need is imperative. With limited to no housing options, women are given hotel vouchers, sometimes to the same places they were rescued from, just to be victimized all over again. This dedicated housing can finally be a victims first step towards breaking the chains of abuse and we need to create a place that allows that to happen."
 (Nury Martinez is the Sixth District Councilwoman for Los Angeles.)
-cw