NEIGHBORHOOD POLITICS-Here's a question: Do the LA City Redistricting Commissioners think that the San Fernando Valley doesn't care about redistricting, or is it that the residents are not aware of redistricting?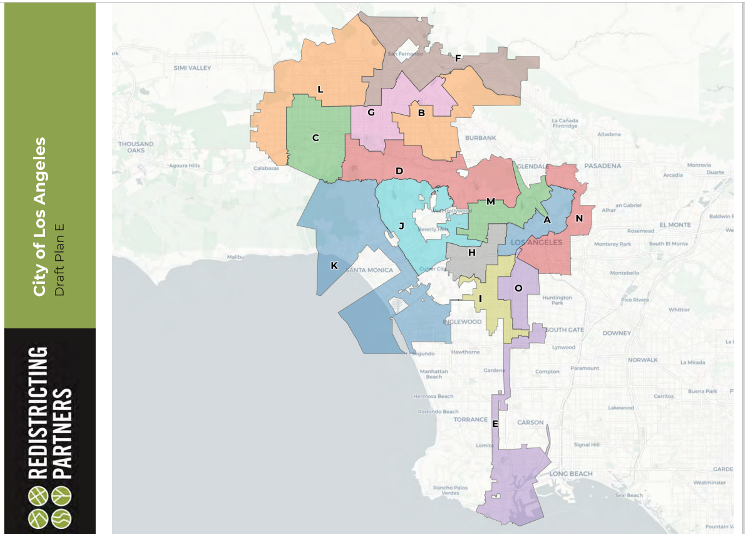 The above map is Draft Plan E by the LA City Redistricting Commission's contracted redistricting partner, Redistricting Partners. The map package that this map was taken from is on this link called the Second Draft Plan. 
Last night (September 21, 2021), I attended a five hour plus meeting of the Los Angeles City Redistricting Commission (LA CRC). This was the second night of a meeting which began on Monday night, September 20, and this meeting was considered a continuation of Monday nights meeting. It was stated at both meetings that those who spoke on the first night would not be able to speak on the second night. I was disappointed because I had not seen the maps that were being drawn prior to Monday night's meeting which began at 5:00 p.m. and went to after 9:00 p.m. 
The screen shot above is from a map packet that was distributed last night (September 21), just prior to last night's meeting. Each night, the Commission has taken Public Comment prior to being shown the updates of the maps created by Redistricting Partners. 
For two nights in a row, most of the comments have come from residents of Koreatown, the Greater Wilshire District, and also from Residents of Council Districts 8 and 9 who want certain assets in their Council Districts as economic drivers. 
Redrawing the lines of Koreatown within the existing Neighborhood Council District and beyond may potentially assist in keeping whole other smaller communities such as Thai Town according to those who spoke on this area. 
On Monday night, I do not think I heard anyone from the San Fernando Valley except for a group of residents from the Sherman Oaks area. Residents of these neighborhoods have spoken more than once about keeping Sherman Oaks whole. 
But what about the rest of the San Fernando Valley? One caller expressed concern about the community of Encino being separated from the Sepulveda Basin. Another North Hills West resident expressed interest in keeping that area in Council District 12 where it has been historically. 
But what about the rest of the San Fernando Valley? Are these residents just unaware of the redistricting process, or do they have other commitments? 
The West San Fernando Valley has really been gerrymandered in my opinion. 
The Woodland Hills Warner Center Neighborhood Council, depending upon the map page, has been particularly impacted by this redistricting process.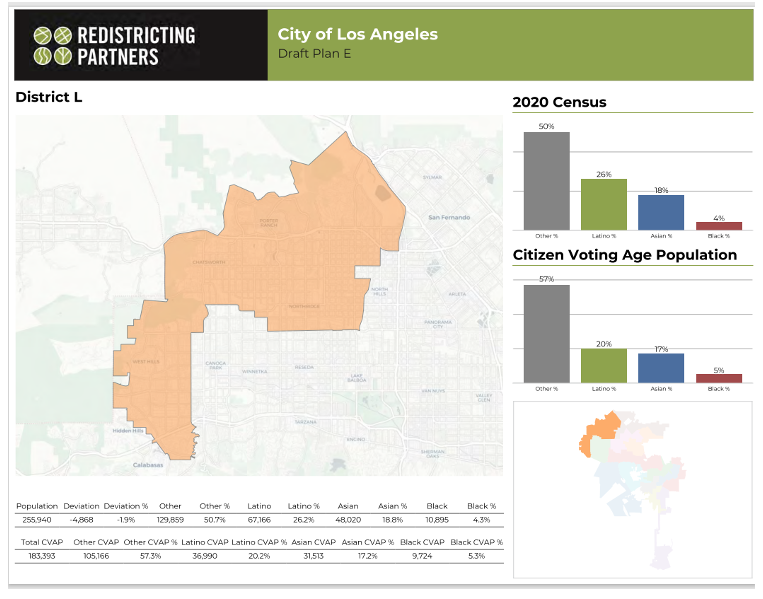 In the Draft E, District L plan above, the community of Woodland Hills has been divided on the west from Warner Center and eastern Woodland Hills. The western portion of Woodland Hills is taken out of what we currently  know as Council District 3. Woodland Hills west of Shoup has been placed into what is currently Council District 12 with West Hills.
I always questioned why West Hills was put into Council District 12. Other than the common Simi Hills to the west, and the Chatsworth Nature Preserve that is shared with Chatsworth, what do West Hills and Chatsworth really have in common? 
It is true that some residents who live north of Roscoe Blvd do send their children to school in Chatsworth. But others – like me – my assigned schools for where I live in West Hills are in Canoga Park. And other residents of West Hills would have assigned schools in Woodland Hills. 
Note – on this map, the legend to the left shows this District L as drawn as being 50% Other, 26% Latino, 18% Asian, and 4% Black.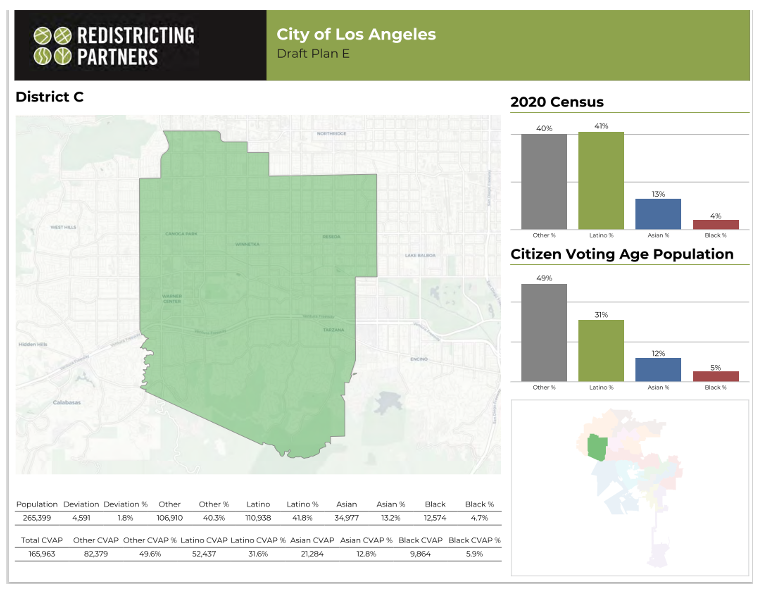 In the Draft Plan E – District C above, Warner Center is redistricted into District C with Canoga Park, to the north, Tarzana to the east, and Winnetka and Reseda north and east. 
Note: on the legend to the right, you can see that this District is made up of 40% Other, 41% Latino, 13% Asian, and 4% Black. 
It appears that in each of the maps in the link above that this is the configuration of the Woodland Hills / Warner Center and Canoga Park areas. 
Monday's Maps are linked here.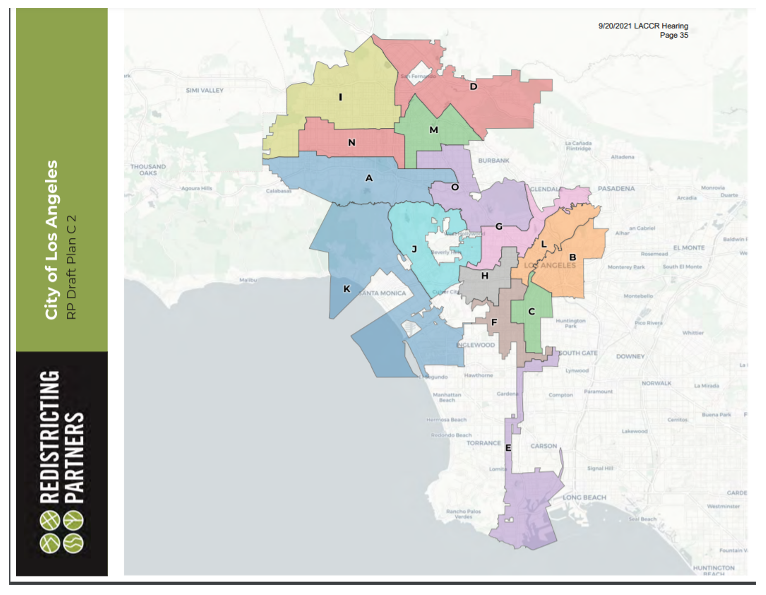 Above is one of the maps – there were four map sets on Monday that the Commissioners were shown by Redistricting Partners. The Commissioners expressed interest in Maps B 2 and C 2 which they wanted combined in some manner.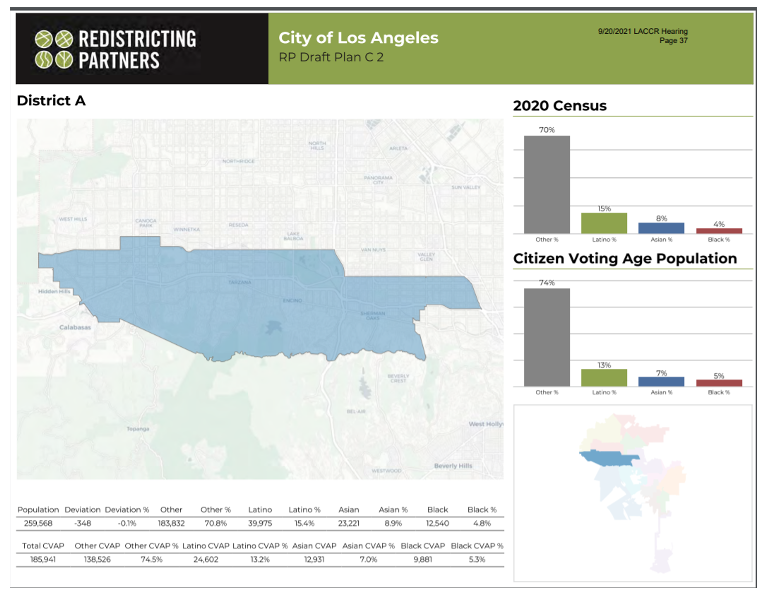 In this Draft C 2, Woodland Hills Warner Center were being redistricted as a District with a southern boundary with the idea that the San Fernando Valley's southern boundaries were to be north of Mullholland Drive. This map was drawn with this community to be included with Tarzana, Encino, and Sherman Oaks east to the 405 freeway. For some reason, just before last night's meeting, this plan was no longer on the table; it was not a part of the new packet as shown above. 
In this map as shown above, 70% of the population is seen as Other, 15% is Latino, 8 % is Asian, and 4% is Black.
Draft Plan C 2 District N – Canoga Park, Winnetka, Reseda, Lake Balboa, and part of Van Nuys? It is hard to tell because the community names and the Neighborhood Council names do not appear clearly on these draft maps.
This map is an attempt to draw a new San Fernando Valley Latino / Latinx District. The legend shows that 28% is Other, 54% is Latino, 12% is Asian, and 4% is Black. 
It is unclear why these C 2 alternative maps were removed. 
So where does that leave Woodland Hills and Warner Center? According to Draft Plan E above, Woodland Hills will be drawn into Council District 12, while Warner Center will be drawn into an unidentified future district. 
My Recommendations to the Redistricting Commission: 
First, I want to thank all of you and your staff, as well as the staff of Redistricting Partners for this work which is truly a full time – night and day, seven days a week job currently. 
Please allow for more Public Comment time. If there were over one hundred members of the public still on the call after 10:00 pm last night, please allow more time for Public Comment. 
Please allow the Presentations by Redistricting Partners to be made prior to taking Public Comment so that the residents of these areas can understand the current draft maps that are being presented, so that they can comment how those maps will impact them. 
Please allow access to the new Draft maps so that we – those of us who have been submitting maps – can work from the latest Drafts rather than from a blank slate. 
Please request that the Redistricting Partners put in a legend for the Neighborhood Councils. For example, the West Hills Neighborhood Council can be identified by WHNC; the Woodland Hills Warner Center Neighborhood Council can be identified as WHWCNC; and the Canoga Park Neighborhood Council can be recognized as the CPNC. 
Please find a way to do better outreach to the communities in the San Fernando Valley in particular. If I were not involved in City Government, as a former member of the Neighborhood Council system – I would not be aware of Redistricting or of how to navigate your website. I would not even be aware potentially of what a Neighborhood Council is. 
Thank you for your community service!
For the Public- Please be aware that the LA City Redistricting Commission agreed to hold a meeting next Monday, September 27, 2021, at 4:00 p.m. via ZOOM. That date is not currently shown on their calendar. 
Also note that there is a meeting scheduled for Wednesday the 29. That meeting is being moved to Thursday, the 30 of September. On that day, the Redistricting Commission plans to complete their Final Draft Map. 
Please see this link for their website and their schedule.
(Chris Rowe a 43-year resident of West Hills, CA, is a Public Health and Environmental Health Advocate. She was employed at Northridge Hospital, Tarzana Medical Center, and West Hills Hospital while in pursuit of her college degrees. She has a B.S. in Health Education from CSUN. Chris is a former member of the West Hills Neighborhood Council and served on committees of the Woodland Hills Warner Center Neighborhood Council. She writes a blog on the USC / Annenberg School of Health Journalism site. She has written for the Daily News, OURLA.ORG, RonKayeLA.org, and for CityWatch.) Edited for CityWatch by Linda Abrams.