WORKING TOGETHER WORKS-"I love when people that have been through hell walk out of the flames carrying buckets of water for those still consumed by the fire." ~ Stephanie Sparkle 
Los Angeles workers, all of them, not just Los Angeles city workers, owe Cheryl Parisi a nod of big thanks as she wraps up a long, important career as the Executive Director of AFSCME's Council 36 and longtime chair of the Coalition of Los Angeles City Unions. 
"Cheryl … has been fighting for the rights and dignity of Southern California public service workers for more than three decades. Under her leadership, Council 36 grew from 14,000 members to nearly 25,000, and today represents 56 autonomous local unions. Council 36 is recognized as a national model within AFSCME – a union of 1.6 million members nationwide – for its record of victories in collective bargaining, in the local and state political arenas, and in labor-community bridge building," AFSCME (the American Federation of State, County & Municipal Employees) Council 36 summarizes. 
"Born and raised in the City of Bell, Cheryl studied at UC Santa Cruz, where she received a BA in Politics. Immediately after graduating, she became an organizer with Council 36 and was assigned to represent a largely female, 'pink collar' workforce of low-wage librarians and clerical staff in the City of Los Angeles. Her representation of these employees culminated in a historic achievement in 1983, with the creation of a first-of-its-kind landmark of 'comparable worth' pay equity policies that sought to remedy glaring gender-based wage disparities. In recent years, Cheryl has served as Chair of the Coalition of LA City Unions, a partnership of six city unions representing around 20,000 city employees."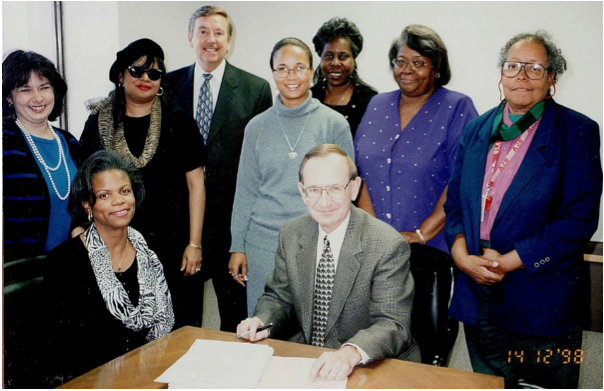 Cheryl taught me my job. In the late 1980s we accidentally worked together to challenge the then Department of Animal Regulation's overt racism. I always thought we were pregnant at the same time. And I loved to listen to her stories about the early days organizing city workers, when SEIU and AFSCME fought over every bargaining unit, the old Walter (Backstrom) stories of mixed-up messages inside campaign fortune cookies, the rallies ruined by mis-timed sprinklers in city parks. 
Cheryl Parisi showed me how to properly love Los Angeles, to understand its inner workings, its people and its workers. I was always happy to scurry along to keep up with her heels tap-tapping the marble of City Hall's halls. 
(Photo left: A young Cheryl Parisi standing at the far left - that's then CAO Keith Comrie seated next to Alice Goff)
I am proud to have been her "partner-in-crime" and to share how, in Los Angeles, we made labor solidarity work; AFSCME and SEIU work together here. 
Retired union advocate Jim Lauderdale recalled the critical times in 2008: "Cheryl Parisi, along with the other leaders of the City Coalition of Unions, had a vision of the workers of Los Angeles not just as employees, but as citizens and as taxpayers who had the special responsibility to safeguard city services for all. When they fought to keep departments funded, it was not only to keep the jobs, it was as a source of pride for the workers and their neighbors. 
"Cheryl believed in the absolute value of the input of workers not just through elected leaders, but through the effective network of worker leaders and activists, people who know how things work and how to make them work better, and because of this daily interaction, she helped enable an atmosphere where the overriding concern was the solution of problems by and for the people who call LA home," Lauderdale observed. 
Bob Schoonover, President of SEIU Local 721, worked closely with Parisi over the years as a labor partner in City of LA negotiations. "Cheryl Parisi has hands-down been my number one ally from another union," he said. "Her knowledge about the City is unmatched and invaluable for Coalition bargaining. I am really going to miss her." 
SEIU members voted in January to stay in the coalition. "With an 87% 'yes' vote to remain in the Coalition of City Unions, SEIU 721's City of LA members overwhelmingly placed considerable value on the need for organized labor to stay united in 2018," the union's website reports. 
"For decades, Cheryl championed labor in Southern California," said AFSCME Council 36 President Andy Jung. "She tirelessly mentored and cultivated new labor leaders and dedicated herself to fighting for equality and respect for all. She poured her heart and soul into the labor movement. She poured her heart and soul into Council 36." 
The full City Council honored Cheryl Parisi on May 29. Council President Herb Wesson emceed the presentation. "You know," he started after commenting on the sartorial gray of all the politicians standing at the podium, "so many of us in the room have dedicated our lives to being public servants, that point in our lives when we determine our work is to try and help other people, sometimes in big things, sometimes small. As you look at the people standing and sitting here, these are people who have dedicated their lives to other people. 
"Cheryl Parisi is unbelievably important to people who may never know her name. She has fought and cried, struggled to make sure our workers could take care of their families. She's been fighting for people, protecting people since before I stepped into City Hall," Wesson continued. "One thing we can say for sure, and that is that we are better human beings because we walked part of her life with her. And the City is a better place because she spent so much of her time fighting to improve the lives of its workers." 
The council president was not done. "She's an imposing five-foot-two figure. I always loved to see her storming the halls, demanding things, asking for things, cajoling and fiercely advocating for her members. But it was always with class. Cheryl Parisi is a class act, and that is why she always had our respect." 
Eric Garcetti took the mic. "I feel very doubly blessed to work with you and to have you as a friend and constituent," the Mayor said to Cheryl directly. "For 16 years, right upstairs from here, ours was one of the 'go-to' offices, issue after issue after issue, we'd sit down together, before there was a coalition and then after the coalition came together. In some of the best times, when we figured out how we could extend rights and lift up their work, when you brought volunteers out to do community clean-ups, when people had an image of public workers somehow time after time subjected to anti-worker and anti-human propaganda, you showed the human faces of our great city workers. 
"Any great labor leader hates when it's a conversation about her so I can only imagine how Cheryl's feeling right now, that she'd rather we be telling the stories of the people you represent -- but stand in that light for a minute. Because that light has burned bright right here because of what you have done, standing here, exercising rights of free speech and free assembly, rights now under attack, to give voice to forty thousand city workers, to four million Angelenos, to say there was always a better way. In the worst times, there are people who are working in the City because of decisions you made and policies you helped us pursue. 
"In the good times, there are people receiving services who don't know 'cause there's credit rightly given around this horseshoe to folks with word 'honorable' in front of their names but it is labor leaders, and specifically Cheryl Parisi, who have made sure that libraries are open the hours they are, that questions are answered when a constituent calls, that have made sure that every family has equal access to city parks, to green and healthy spaces. There are people walking these streets who are alive because of your work, who have been transformed because of your work," said Garcetti with the sincerity of an old friend. "That is a life well lived." 
He continued, "I think we're left with two things in the end of our days, Cheryl, who we knew and what we did. We've held hands and hugged, during very difficult times, during difficult personal times, during some of the most difficult city times. But who you knew, the people who are your fellow labor leaders who are here today, more importantly the city worker who said 'I have an idea. I have a problem. I have a voice. You brought justice, you brought dignity, you brought better city services – because of who you are." 
Eric turned to Cheryl as he wrapped up, "You deserve this retirement. Come back often. Lots of things around here are named for people but these too are your chambers." 
Back at the podium, Wesson recalled, "…the darkest days of our tenure. The Mayor was the Council President. Antonio Villaraigosa was the Mayor. We were going to have to make unbelievable cuts. Then Cheryl and city staff and Julie (that's me!) and all the other labor leaders went to work and within twenty-four hours they'd come up with $72 million in savings and we didn't have to make those cuts and we saved those jobs. She's a problem solver." 
City Controller Ron Galperin noted that his joy was tinged with sadness at Cheryl's leaving. "The Mayor said that you lead with your heart. You are a fierce, effective, tremendous advocate on behalf of everybody in the City. 
"I was delighted to get to know you through our work together on the Ad Hoc Commission on Revenue Efficiency and have since counted you a mentor, a role model, confidante, moral sounding board. You are the person I call when I need help navigating City Hall. I have learned so much and I am grateful to have worked with you. You're an amazing human being and we love you," Galperin said, concluding his remarks. Cheryl bit her tongue, perhaps for the first time. (photo below!)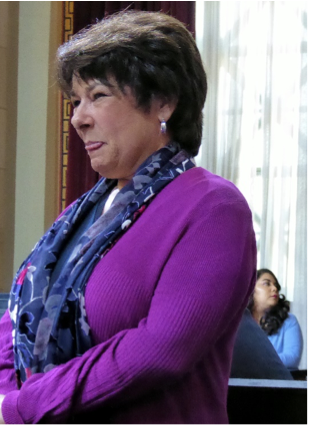 Councilmember and Budget Committee Chair Paul Krekorian wrestled the microphone away from Wesson to continue the recognition. "We live in a world of fierce advocacy and we are confronted every day by stakeholders with demands, especially when it comes to money. In a world of that fierceness, Cheryl Parisi comes to the debate with her mind and her muscle balanced with her heart. Because of that, in the toughest times this city has ever faced, she didn't say that's your problem, figure it out. Instead, she rolled up her sleeves and asked how do we work together to fix City Hall, to fix our budget, to improve working conditions, to fix things for members of organized labor and to improve and enhance services and revenue. 
"Whether it was on the Ad Hoc Revenue Commission or on the Quality & Productivity Commission to innovate and create new ideas for how we can work more efficiently, or by the constant scrubbing of every single public document available to find a penny here and a penny there, eventually adding up to tens of millions of dollars, Cheryl, personally and through her leadership of the coalition of all the unions, that due diligence has benefitted us all," Krekorian also recalled the "darkest of times." 
"It wasn't that that many years ago that we sat around this horseshoe debating the layoff of six thousand employees to balance the budget. Six thousand. Given the services we've lost due to attrition, think where we'd be if we had laid off six thousand workers. 
"But Cheryl Parisi would not let that stand. She knew not only what that would mean to those workers but to their families and to the entire city and so working with our committee and the council, we were able to prevent those layoffs, eliminated 85% of the structural deficit, and pulled the City back from the edge of what Mayor Riordan called 'inevitable bankruptcy.'" Krekorian wasn't done yet. 
"We did that in large part because of Cheryl's fierce advocacy, research, homework, and partnership. She is one of the greatest labor leaders the City has ever known, and this is the end of an era. We are losing a partner who has helped to save this city. On every street, Cheryl, you can see your legacy on every corner." 
The AFSCME international rep joked about speaking after every prominent Los Angeles city politician. They weren't done yet either. Councilmember Gil Cedillo called Cheryl a "working class hero." He told her that he'd admired her for decades. Mike Bonin reminded her that he'd urged her to run for public office years ago. "Maria Elena [Durazo] is going to need help up there," he teased. 
Cheryl finally took the mic, teary-eyed through another standing ovation. "My heart," she said, "I am blessed to have great love – my son Ryan is here and my brother Steve, Alice Goff and my AFSCME family, my coalition family. It has been my honor. 
"Every contract is a public statement of your public policy, what you believe in, what we all believe in. I am thankful for so many wonderful opportunities. I cut my teeth on the first organizing drive in the City – for the clerical unit – against SEIU. Some may remember Walter Backstrom? The first vote was a tie: 999 to 999. AFSCME won the run-off. That unit is MOU 1 in the City. 
"Under the leadership of Mayor Tom Bradley AFSCME negotiated the first pay equity settlement in the country. For clerical workers and workers in female-dominated classes, it was transforming. Our members were able to buy homes and quit second jobs, to spend more time with their kids. This great city took up this policy initiative. 
"Always remember these great progressive traditions. From when I got here as a young organizer and John Ferraro welcomed me with great warmth; he grew up with my dad in the City of Bell – he was warm but gruff; that was him. You have heard the concerns of the workers and allowed us to work with you to advance that progress. It has been a great honor to do that hard but important work to advance progressive leadership on behalf of our great city." Cheryl ended her comments, well before the timer buzzed. 
Here's the entire council tribute. Click on "presentations" and go to 53:52. 
Read Cheryl's historical Coalition of LA City Unions - statement to Council - April 2008 .  
Listen to Cheryl standing up for city workers' pensions here: Score One for LA Labor as Pension Reforms Are Rolled Back 
(Julie Butcher writes for CityWatch and is a retired union leader now enjoying her new La Crescenta home and her first grandchild. She can be reached at juliejbutcher@gmail.comor on her new blog 'The Butcher Shop - No Bones about It.') Prepped for CityWatch by Linda Abrams.