RANTZ AND RAVEZ-California State Assemblyman Matt Dababneh recently resigned from office leaving the 45th Assembly District seat open for a Special Election. The 45th District covers a major portion of the West San Fernando Valley and the Bell Canyon, Hidden Hills and Calabasas communities.  
I was contacted by many valley residents and business owners who encouraged me to run for the seat. I thought about it and decided to wait and see who else would enter the race. Much of my former council district (CD3), which I served for twelve years, covers a large portion of the 45th Assembly District, so I am well-known in the community and continue to remain very involved and active in the neighborhoods; and I participate in many community-based organizations, sitting on a wide variety of boards of directors. I also serve as current 3rd District Councilmember Bob Blumenfield's "Ambassador" to the community.   
As candidates began to file for the vacant seat, I continued to be encouraged to run for the position by many residents, business owners and law enforcement organizations.      
On Monday, January 29, I officially filed for this open Assembly seat and am now a candidate who welcomes your support and assistance during my campaign. I have a proven public safety record with my many years as an LAPD officer/supervisor. I am very involved in a wide variety of community organizations that are in place to help improve the quality of life for residents and business owners alike. More to come in future RantZ and RaveZ articles! 
Many LAPD Community Police Stations to Close at 11:00 p.m.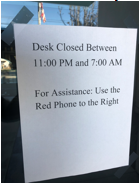 The LAPD recently began to close many local police stations to the public from 11:00 p.m. to 7:00 a.m. The plan is to close all LAPD community police stations that no longer have a jail in operation.  While most of the 21 LAPD stations in fact no longer have operating jails, the closures will impact many communities throughout Los Angeles. There are red phone boxes at the entrance of the impacted stations that permit a person to phone the LAPD and speak to a police representative.  
People have been encouraged for many years to go to a police station when they are being followed or to use the ATM machine that is in the station lobby when they need to conduct banking in a safe environment or conduct child custody exchange meetings.   
This new plan of after-hours station closures is part of the LAPD's redeployment of personnel to the field to respond to radio calls. There have been 350 police officers recently redeployed to the field and radio car duties due to the increase in crime in Los Angeles.           
LAPD Crime Stats and sworn personnel as of January 27, 2018. 
As of January 27, 2018, the LAPD reports the total number of sworn police personnel at 10,048. This is a significant improvement from numbers in the past and a good sign for public safety in Los Angeles. Many departments across the country are struggling to maintain adequate police deployment strength.  
As far as the LAPD crime statistics for 2018 are concerned, there is some improvement. The only increase in crime 2018 (year to d ate) versus 2017 is Robbery, which is up 4.2%. 
All other Violent and Property Crimes are down in 2018 (early reporting period) from 2017. Arrest figures show a drop in both Larceny and GTA. Larceny arrests are down 2.6% and GTA arrests are down 6.5%.
(Dennis P. Zine is a former and retired LAPD Supervisor, former and retired 12-year Los Angeles City Councilman and current General Manager at Bell Canyon in Ventura County. He is a candidate for the upcoming Assembly District 45 election.) Edited for CityWatch by Linda Abrams.