CORRUPTION WATCH-Last time we discussed how Mayor Garcetti and Los Angeles City Council have imposed the horrendous Wall Street tax on Angelenos.  
If we forbid increased density, housing prices would drop. Yes, it sounds as heretical as opposing a state religion in the 1500's, but it might be our only salvation. Because the corruption of densification is driving up prices, Angelenos should do the opposite of what Wall Street wants - de-densify.  
If we outlawed increased density of any type, then residential property would be worth its "Living Space" value rather than its inflated "Development Potential" value. No developer would buy a house with the purpose of adding a Granny Flat to it if he were forbidden to do that. With de-densification, the housing market would be left only to people looking for living space. Developers would stop buying and prices would instantly fall to their living space value. 
High Rises Should be Converted into Farms 
If some magical force imposed de-densification upon LA overnight, we could convert the high rises in DTLA, Century City, West LA and Hollywood into vertical in-door farms. This type of farming has a small footprint and the potential for growing better quality produce because the conditions are so closely monitored. When food is grown in the center of an urban area, there is a considerable savings on transportation costs. And urban auto pollution could be reduced for the next decade, until cars become all electric. 
Also, by converting many of the office towers in DTLA and Bunker Hill into farms, fewer people would be attracted to the Basin each morning. As a result, traffic congestion near and around DTLA would decrease. 
The Secret Wall Street Does Not Want Anyone to Know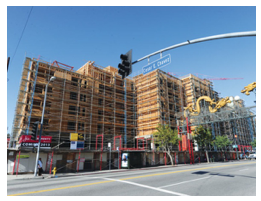 De-densification is already under way. While everyone talks about Seoul Korea's growth, the professional manufacturers of bogus real estate data fail to point out that Seoul's density of 27,000 people per square mile is noticeably less than East Hollywood's density of 31,000 per square mile.  While Seoul's population has increased by 30% in the last 25 years, its population density has dropped by 50%. (Atlas of Urban Expansion: 2016 Edition, New York University, UN-Habitat, and the Lincoln Institute of Land Policy.) 
There is a direct correlation between de-densification and increased prosperity and vice versa. LA has one of our nation's worst Gini Coefficients (measuring income or wealth distribution of a nation's residents) and yet, LA is our most densely populated city. The more the Garcetti administration constructs, the poorer most Angelenos become. The 1%, of course, continue to become wealthier. The city of LA's Gini is 53.1. By comparison, the Gini of Austin, Texas is 48.7, Nashville is 47.4, and USA, as a whole, is 47.0. 
An Example of How We Are Fed Fatally Flawed Data 
The population data for Seoul and other urban areas is habitually presented in misleading ways to make Americans believe that increased urban density is our inevitable future. For example, the population of the core part of Seoul, call Special City (its Manhattan), is reported at 10.29 million with 45,000 per square mile. Then, its density is described as twice as great as New York City's density of 28,000 people per square mile. The comparison is falsified by comparing Seoul's Special City with the population density of all of New York City's five boroughs, which is only 28,000 per square mile as opposed to that of Manhattan which has 72,000 per square mile. The reality is that Seoul's "Manhattan" has density comparable to all of NYC and is only 62% as dense as NYC's Manhattan. 
Comparing apples to oranges like this makes it extremely hard to create honest comparisons. Core areas are reported as if they are entire counties, and cities are reported as if they had no suburbs.  The constant in the mismatch of data is that it usually misleads people into believing that extreme density is a laudable objective. 
The statistically important feature here is that Seoul's density has dropped 50% in the last 25 years, while, over all, it has sky rocketed to being one of the world's wealthiest cities. 
Growth and Prosperity Correlate with De-Densified Urban Areas 
Worldwide, the situation is similar; growth is found in the suburbs and even when population in the core area increases, the growth in the suburbs is often three times as great. In China's Guangzhou-Foshan's (capital of Guangdong China's largest province) growth has been most concentrated in suburban areas. "The core accounted for 23% of the population growth over the past decade, while the suburbs accounted for 77%." (NewGeography, The Evolving Urban Form: Guangzhou-Foshan, by Wendell Cox 02/01/2012) 
The last thing Wall Street and Garcetti want Angelenos to learn is that increased density makes a city poorer or that de-densification results in more prosperity for everyone (except the 1%.) 
Whether Wall Street Likes it or Not, De-densification May Be LA's Future 
Family Millennials are exiting our city for places like Nashville and Austin, Texas. Those who stay are displacing Hispanics and Blacks in East LA and South LA where there are still detached homes with low sale prices. The average price of a single-family home in Watts in May 2017 was $320,000. The city-wide average is $632,000. 
Family Millennials do not want increased density. For close to a decade, Los Angeles has rated near the bottom of places where middle class Millennials want to settle, and those who are willing to come to LA want a home in the suburbs. They want to build equity, which is why they reject apartments. They want detached homes, which means they reject high rises. Millennials value a yard for their dog and that rules out living in an apartment. 
With so many thousands of square miles in the warm parts of the country already replicating the Los Angeles suburbs of the 20th Century, it may not be an exaggeration to say that LA now has the choice to either De-densify or Die. 
(Richard Lee Abrams is a Los Angeles attorney and a CityWatch contributor. He can be reached at: Rickleeabrams@Gmail.com. Abrams views are his own and do not necessarily reflect the views of CityWatch.) Edited for CityWatch by Linda Abrams.
-cw