DATELINE HOLLYWOOD-We're in a VIP Room at the Avalon Hollywood. It's a celebration the likes of which this reporter has never seen. An impossibly good looking private host escorts us through a private door to a VIP Table where Tom Joad sits snugly behind a velvet rope, sipping Dom Pérignon poured out of a Magnum at table side.
Decked out in the latest Louis Vuitton, Mr. Joad smiles a friendly greeting as his personal waitress lights up his costly Cohiba cigar with a platinum lighter, while a tuxedoed private security guard hovers nearby, attentive to his party's every need. No one, it seems, can do enough for Tom Joad these days. Not even the GOP. Literally.
Tom Joad, formerly of Oklahoma, recently transplanted to California — and the good life — is celebrating.
The GOP Tax Reform Bill has put Mr. Joad ('Call me 'Tom,' he says amiably) among the ranks of the fictional wealthy elite. And it shows.
"You know," Mr. Joad, 'Tom' says, "a lot of people used to look at us Joads and all they saw was a poor family of tenant farmers driven from their humble home in Oklahoma — Okies, they called us — by drought, economic hardship and bank foreclosures."
The Joads, you see, were victims caught up in a dire and hopeless situation, mired in the dearth and economic disparity that was the Dust Bowl in a cruel and unforgiving American climate. Those days are past, blown away by the fair winds of fevered political change in Washington.
"No one cared about us, regular common folk like us Joads. That is, not until those 51 members of the GOP Senate finally took pity on us. Now we are living the high life. All we wanted was an opportunity, you see, jobs, a bit of land, dignity. A future, you know? Like anyone in this great country deserves," he says, pausing briefly so the waitress can refill his Dom. Tom is as effervescent as the expensive bubbles.
Helped along by the generosity of GOP Tax Reform, the Tom Joads of the world are moving up.
"And the GOP did that for us. We deserve it, right? Why, did you know, we can even deduct private jet maintenance costs right off our taxes? Ain't that something? I mean we Joads like to pay our own way, same as any decent folk, but sometimes a person just needs a hand up, am I right? This new tax reform bill is a real game changer, is what it is," Joad says euphorically, awash in a cloudy cornucopia of Cohiba smoke and good fortune, The Dust Bowl but distant memory during these heady times when it seems anything is possible.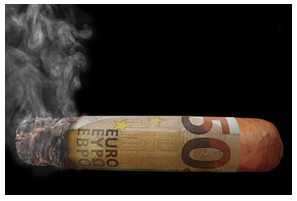 (Left: The GOP has given Tom Joad money to burn.) 
When you talk with Mr. Joad — Tom, to his friends — he's positively giddy with the possibilities all this new-found wealth opens up for him and his family.
"Guess the first thing we'll probably do is buy some food, but after that, well, I guess the sky's the limit in today's America with this new tax reform. I've been talking to some investment folks and they've come up with some wonderful financial opportunities. They tell me right now," Tom says as he gestures for yet another Magnum of Dom Pérignon, "that a lot of my financial benefit is going to be what they call notional. But I've got some pretty good notions," he says, reaching into his haute couture peaked-lapel Louis Vuitton blazer and pulling out a paper emblazoned with a list of potential investments scrawled in 24-karat gold ink that almost perfectly matches the color of the costly champagne we sip.
You can't help but marvel at the glimmer in his eye as ponders the myriad possibilities his new-found prosperity affords him. All thanks to his new friends, the GOP.
"Education is a good thing and now that private school is going to be tax deductible, well I may just invest in this Hogwarts School or Xavier's Academy. These look pretty good to me…
"And course, people have got to eat," Tom says, as he hungrily slathers a blini with a heaping mound of coal-black Beluga caviar and tosses it down before continuing.
"Also, there's this factory, owned by a Mr. Wonka, that sounds like it just might be a pretty good investment, too. But then I'm not going to forget about the little people, so I might invest some of my tax windfall into a little place called Lilliput. Who doesn't want a private island, right? Or maybe Neverland will pan out, for Pete's sake. Real estate's always a good investment, don't you know. Might get some Indexed Mutual Funds that are leveraged into The Shire. Heck, we Joads might even just up and buy all of Middle Earth, maybe even get a nice place in The Emerald City. It's a little early to tell, just yet. Sky's the limit."
Right now, it all seems like fiction, but rest assured that there's a whole new Galaxy of possibilities for the Tom Joads of America. It's just far, far away from here.
As I walk away, Mr. Joad's — Tom's — words echo in my ear:
"Wherever they's a fight so hungry people can eat, the GOP will be there….And when our folks can't eat and when they can't raise anything on the land they don't have and in the houses they can't build, the GOP will be there."
(Scott Stavrou is an American expat writer in Greece | Word, play | www.WriteAwayEurope.com | Editor, Emphasis | @WriteAwayEurope.This piece can be found on Medium.)  (Photos: Anders Nord, Unsplash)   Prepped for CityWatch by Linda Abrams.