There are a lot of great reasons to visit Malibu Wines in Malibu.  The best reason is to enjoy one of the most beautiful outdoor settings in Los Angeles listening, or better yet, dancing to a seasoned band with a mountain backdrop and vineyards in the foreground. 
The live music is on Saturdays and Sundays throughout the summer with the 5 shows each weekend, three on Saturday at 12 noon, 3 pm and 6 pm and two on Sunday at 12 noon and 4 pm.  You cannot do better than the price; it is free! There is no cover charge or drink minimum. The only request of Malibu Wines asks that you buy a bottle of wine to support the facility. 
Last weekend, I was lucky to catch two shows on Saturday, July 1, Aileen Quinn and The Leapin' Lizards, a fun rockabilly and swing band that is easy to bop around the dance floor. They play tunes ranging from Elvis to Stay Cats and original music with a special mention of the very talented Aileen Quinn who pours her heart and soul into the vocals. They attract a regular following and I too plan to be a future groupie. 
The band afterwards was Sterling Sylver a five-man classic rock and country band. We were entranced with their music.  Before we knew it the dance floor was filled with MW guests that were celebrating bachelorettes, b irthdays, and hipsters of all ages. It was a happy crowd happily groovin' to the tunes.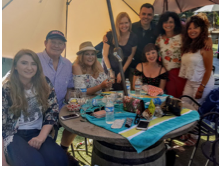 To honor MW's request to buy alcohol, I wholeheartedly indulged in a $15 flight of white wines. The sommelier poured a very generous 2 ounces of five different wines with the Saddlerock Sparking Brut being my favorite. My bestie sampled the red flight at $17 and ended up buying a bottle of Semler Cabernet. 
Besides wine tasting and live music, the vineyards has many enjoyable events going on weekdays and weekends, such as outdoor yoga, movie night, live band karaoke, comedy "Sips 'n Giggles", trivia night, safaris and hikes.   
You can check on the calendar section of the Malibu Wines website to get the updates of what's going on: 
An enjoyable afternoon of music at the vineyard has been a highlight of my summer so far, and I highly recommend going. If you are having out of town guests, put it on your to do list, you will not regret it! 
Just a few tips I observed:
Bring your own food, especially if you are making an afternoon of it
Bring sunscreen
No kids, or adults under age of 21
No smoking
Be patient with parking. The parking lot nearby fills up, and overflow parking down Mulholland is ½ mile away. The shuttles come every 10 minutes so make friends with your fellow guest while you wait.
The location is breath taking but can take time to get there, so plan accordingly. 
HERE IS THE JULY MUSIC LINE UP:
Saturday, July 8
12 Noon        Kevin Obrien
3 pm             Sean Wiggins
6 pm             Sean Wiggins and the Lone Goat 
Sunday, July 9
12 noon         Mike West
4 pm             Black Hips  
Saturday, July 15
12 Noon        Steven Luczy
3 pm             Carol and the Shakers
6 pm             Reckless 
Sunday, July 16
12 noon         Pulp 90's
4 pm             Grey Street 
Saturday, July 22
12 Noon        Bill Rotella
3 pm            Sean Wiggins
6 pm            Phoenix Rising 
Sunday, July 23
12 noon         Mike West
4 pm             Docs of Doheny 
Saturday, July 29
12 Noon        TBA
3 pm             Bill Rotella
6 pm             Ignition 
Sunday, July 30
12 noon         Pulp 90's
4 pm             Caught Red Handed
NEED TO KNOW:
Malibu Wines
31740 Mulholland Hwy
Malibu, CA  90265
818-865-0605
(Sue Helmy has plenty of tricks up her sleeve. She is currently providing superb administrative services at a financial management firm in Century City. She is active in countless church and civic organizations and spends every minute she can spare dancing to the Zumba beat.)
-cw