@THE GUSS REPORT-Domestic violence is a tragedy that can happen in any household, including those connected to the rich, famous, political and powerful. The same can be said when someone is wrongfully accused of it. 
But if you were wrongfully accused of domestic violence, would you head for the hills, call your attorney and let them sort it out? Or would you take to social media, declare your love for the person who accused you of years of criminal acts of domestic violence and torment and add you're a "fan" of hers, to boot? 
Whatever did or did not occur in the tumultuous two-year marriage (not including the time of separation) of Roger Wolfson, an appointee of LA Mayor Eric Garcetti to LA Animal Services, and Noran Elshinnawy, their stories could not be further apart. 
As noted in this column last week, the domestic violence accusations El-Shinnawy, now 32, leveled against Wolfson, now 52, include his allegedly injuring her during a pregnancy which did not result in the birth of a child, and preventing her from leaving to safety. Her detailed, handwritten accusations and his response to them deserve a side-by-side comparison: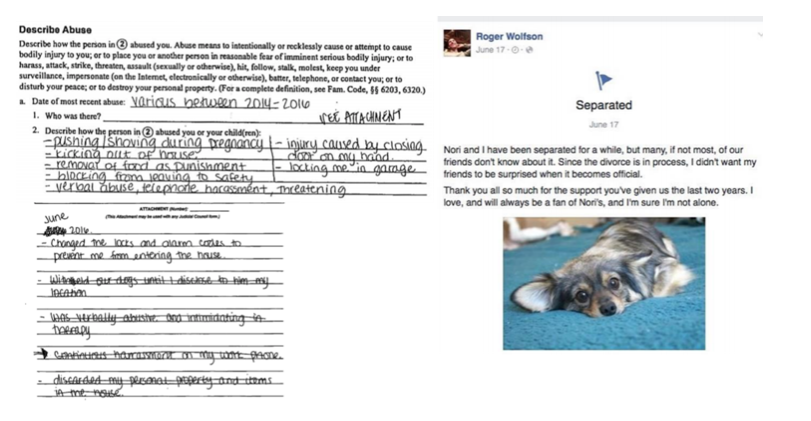 Worth noting on Wolfson's website, where he promotes his political punditry, including photos of himself with Speaker of the House Nancy Pelosi and ironically promoting his commentaries on women's issues, Wolfson put two remarkable words under his name on the front page: "Words Matter." 
Wolfson's public praise of his domestic violence accuser looks similar to what Board-certified psychiatrist Dr. Dale Archer refers to as Love Bombing: 
"The expression has also been used to describe the tactics used by pimps and gang members to control their victims, as well as to describe the behavior of an abusive narcissist who tries to win the confidence of a victim. . .Modern social media can intensify the effect of love bombing since it enables the abuser with nearly constant contact and communication with the victim."  
More specifically, this may follow what Dr. Archer describes as a domestic violence pattern of Idealization, Devaluation, Discard and then Repeat, with Wolfson's social media praise (even after El-Shinnawy's domestic violence accusations) being the Repeat of Idealization. 
LAPD Did Not Respond to El-Shinnawy's Plea for Help 
In El-Shinnawy's application for a restraining order against Wolfson, she claimed that the LAPD did not respond to her May 13, 2014, plea for help. When I asked LAPD spokesperson Josh Rubenstein why that happened, he forwarded my request to the agency's Discovery Unit but did not respond when I pointed out that the Discovery Unit doesn't provide explanations, only records and notoriously withholds many of those, as well. 
Friends in High Places 
This fawning 2013 LA Times story on chats, poetry readings and plays Wolfson puts on in his backyard theater mentions its participants, including political and entertainment industry names, among them, Gil Garcetti, the Mayor's dad and former Los Angeles County District Attorney. 
It is unclear whether Wolfson's relationship with either Garcetti influenced the LAPD's failure to respond to El-Shinnawy's cry for help. Garcetti, the father, left the D.A.'s office in 2000. 
Also noteworthy, in the Times column dated June 10, 2013, writer Deborah Vankin lists Wolfson's age at the time as 43, but Wolfson's date of birth on El-Shinnawy's restraining order request – if she is to be believed – was 46. 
But that's narcissism for you, as Dr. Archer pointed out. . . 
Speaking of Narcissism 
Wolfson spent a great deal of 2019 promoting but failing to institute a good but pointless policy in the City of LA, namely the banning of horse racing in the City. 
While banning horse racing where it exists, such as at the deadly Santa Anita Park (where Wolfson has zero influence), is a great idea, it doesn't exist in the City of Los Angeles, where Wolfson, at least for now, remains a Garcetti Commissioner. 
In fact, the City of LA doesn't have a horse racing track. One isn't being planned. And there is no pari-mutuel betting, the lifeblood of the cruel sport, here, either. 
Wolfson still wanted it banned because he has spent the last few years promoting himself as a speech-giver on social issues and the appearance of such a ban on horse racing where none exists, like his misleading age claims, advances Wolfson's personal agenda on the public stage and dime. 
When the horse racing matter was eventually heard at the LA Animal Services Commission, 40% of Garcetti's appointees didn't bother to show up and when Wolfson's idea was voted down, he broke quorum and stormed out because he said he had a flight to catch to give a speech on -- wait for it -- "his" ban on horse racing in LA. 
Also, Wolfson continues to promote himself as an attorney, but as this column wrote upon Garcetti's re-appointment of him a few years ago, he doesn't appear to have any active license to practice law in the jurisdictions in which he claims, with most of them expired due to failure to pay law license fees and/or not maintaining his continuing legal education, as required. 
Wolfson, upon seeing this columnist at last week's LA Animal Services Commission meeting, ran out of the room when it was my turn to address agendized items, and returned only upon the very second of my completing them. In other words, his personal issues interfere with his duty to perform on Garcetti's and the public's behalf. With various City Hall gadflies on his case since his abrupt horse racing exit, it doesn't appear that that will get any better any time soon. 
Mayor Garcetti, now a co-Chair of Vice President Joe Biden's presidential campaign, refused to comment on this matter. Sony Pictures Entertainment's Crackle and USA Network, with which Wolfson claims to have current production deals, have not yet responded. Wolfson also lists the Academy Awards, former Senator Joe Lieberman, former Secretary of State John Kerry and Johns Hopkins University, among others, as his clients. 
Impressed? Perhaps that is what drew in El-Shinnawy in the first place. 
She and Wolfson refused to comment on her domestic violence allegations, and neither party appeared in court for the restraining order hearing. Their divorce was finalized on January 25, 2018.
(Daniel Guss, MBA, is a member of the Los Angeles Press Club, and has contributed to CityWatchLA, KFI AM-640, iHeartMedia, 790-KABC, Huffington Post, Los Angeles Daily News, Los Angeles Magazine, Movieline Magazine, Emmy Magazine, Los Angeles Business Journal, Pasadena Star News, Los Angeles Downtown News, and the Los Angeles Times in its Sports, Opinion, Entertainment sections and Sunday Magazine, among other publishers. Follow him on Twitter @TheGussReport. His opinions are his own and do not necessarily reflect the views of CityWatch.) Prepped for CityWatch by Linda Abrams.