ALPERN AT LARGE--Yes, my family is Jewish, but we love our annual holiday retreats to the Mission Inn in Riverside.  The staff is friendly, the rooms are delightful and classic, and the beds are oh-so-comfortable.  And the adjacent pedestrian-friendly walkway combined with the hotel itself makes for a daytime visit for tens of thousands of visitors every year who delight in the Christmas/Holiday lights, the fun events, and the sinful-but-delicious food that is so emblematic of the Festival of Lights. 
I noticed the menorah this year, which was new, in the lobby.  
Chanukah/Hanukkah/Hannukah/however you want to spell it (!) is also the Festival of Lights for the Jewish religion, and works well for the Mission Inn, which has more lights this year than last and is only outnumbered in Christmas/Holiday lights within North America by Rockefeller Center.  If you like holiday lights and joy, then this place is for you. 
Of course, this place is also for you if you like the pedestrian walkway and all the amenities afforded to make this walkway work. 
The walkway is connected to a host of small businesses and restaurants that allow everything from a connection to the Farmer's Market on Saturdays to the Riverside City Hall/Court House complex, along with fountain, sculptures, and memorials to Martin Luther King, Cesar Chavez, and Riverside's war veterans. 
From the merry-go-round to the hordes of small vendors to the dancing programs, the opportunities afforded for both culture and commerce can't be beat. 
We have something like this at/near Los Angeles City Hall, and we also have something like this at the Santa Monica Third Street Promenade, and we need more of them. 
L.A.'s mission in culture and commerce is similarly predicated towards small businesses pedestrian walkways. 
1) Getting people out of their cars and on the feet is fundamental for businesses, both great and small.  If we built more parking structures (not free, because they have to pay for themselves) next to Farmer's Markets and city/neighborhood centers, then we would ensure more regional access to such centers. 
2) Multimodal access is critical: buses and bicycles are important, but safety must be balanced with economic and infrastructural realities.  Cars must be blocked off to create a safe and vibrant and relaxed pedestrian walkway, but if regional access is to be ensured then roads to allow cars AND buses AND bicycles have to be established. 
3) Small businesses have to have affordable licensing and permit fees to ensure profitability.  Not every business is big and with large financial reserves. 
4) Diverse attractions to all ethnic and socioeconomic groups must be promoted.  Anyone going to the Mission Inn Festival of Lights will see such diversity, with businesses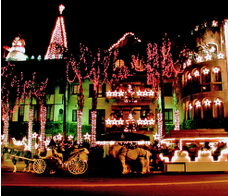 promoting items both affordable and not-so-affordable allowing ALL individuals the ability to purchase food, toys, and fun.  The line to the brilliantly-lit hotel itself is long...as are the Cinderella lines and the food vendors because they're popular...but the ground floor hotel access is free and the events are overall quite affordable. 
Such a pedestrian-friendly, business-friendly holiday experience like the Mission Inn Festival of Lights is eminently more affordable than, say, Disneyland (which was ONCE a family-friendly, affordable place to go).  Families will go there.  Lovers will go there.  Cultural groups will go there. 
And a small army of vendors and workers will enjoy an industrious and profitable experience to make Christmas all that more Merry. 
Not a bad idea for Los Angeles to emulate.
(Kenneth S. Alpern, M.D. is a dermatologist who has served in clinics in Los Angeles, Orange, and Riverside Counties, and is a proud father and husband to two cherished children and a wonderful wife. He is also a Westside Village Zone Director and Board member of the Mar Vista Community Council (MVCC), previously co-chaired its Planning and Outreach Committees, and currently is Co-Chair of its MVCC Transportation/Infrastructure Committee. He was co-chair of the CD11 Transportation Advisory Committee and chaired the nonprofit Transit Coalition, and can be reached at alpern@marvista.org. He also co-chairs the grassroots Friends of the Green Line at www.fogl.us. The views expressed in this article are solely those of Dr. Alpern.)
-cw