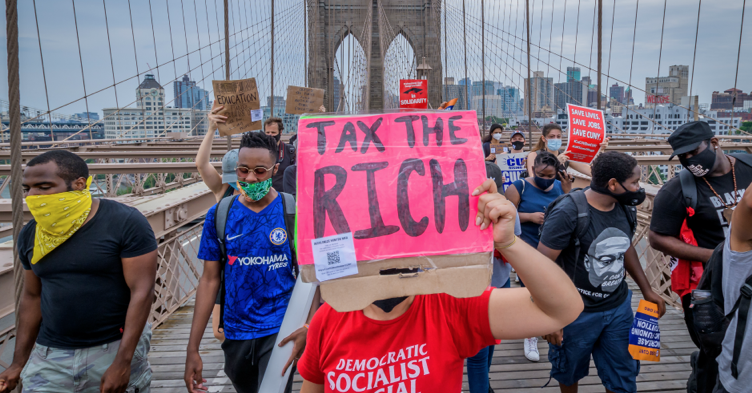 CORONA WATCH--Since the start of the pandemic, American billionaires have been cleaning up. As more than 50 million Americans filed for unemployment insurance, billionaires became $637 billion richer. Facebook's Mark Zuckerberg's wealth has ballooned 59 percent. Amazon's Jeff Bezos's, 39 percent. Walmart's Walton family has added $25 billion. (Photo above: A demonstrator holds a "Tax the Rich" sign during a protest in New York on June 27, 2020. (Photo: Erik McGregor/LightRocket via Getty Images)
Big drug company CEOs and their major investors are doing nicely, too.  Since the start of the pandemic, Big Pharma has raised prices on over 250 prescription drugs, 61 of which are being used to treat Covid-19.  
Apologists say this is the "free market" responding to supply and demand – the barons of Big Tech, online retailing, and Big Pharma merely providing what consumers desperately need during the pandemic.