MEDIA WATCH--Kamala Harris's public record on trans rights began the moment she stepped into elected office in 2003 as San Francisco's District Attorney. One of her first acts as DA was to establish an LGBTQ taskforce, establishing a hate crimes unit to fund the investigations and prosecution of anti-LGBTQ violence. Her office also set up a victim assistance program, creating a two-part approach of prosecution for the offenders and relief for the victims.
In 2006, transgender teen Gwen Araujo was tragically murdered by a man in Newark, who cited the reveal of her gender identity as his motive for murder. Though the man was successfully convicted of second degree murder, DA Kamala Harris was appalled by the defense for using such an argument. She convened a conference for law enforcement officers and prosecutors across the nation to discuss options to counter the "gay panic" and"transgender panic" defenses used in courtrooms to gain acquittals or reduced punishments for violent crimes. This seminar was the first of its kind in national history.
The groundwork District Attorney Kamala Harris laid out to abolish the trans panic defense came to fruition in 2014, when as Attorney General, she co-sponsored a bill in the California House with Assemblymember Susan Bonilla to abolish it statewide, making California the first state to ban it. To date, it is still one of the only states to do so.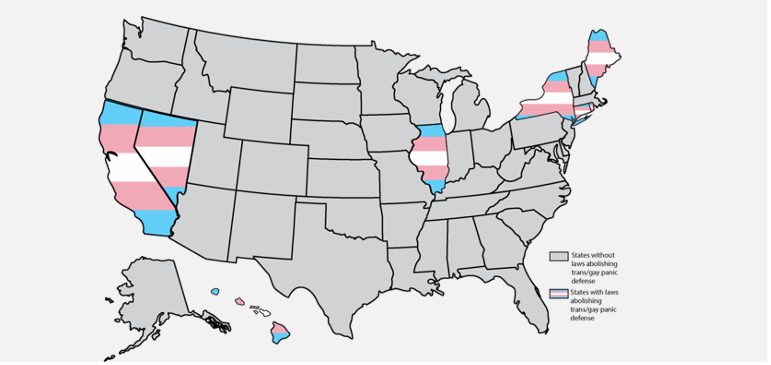 Photo credit: Andrew Lang
Just as she did from DA to AG, Kamala Harris continued the fight to abolish the trans panic defense after she was elected the junior Senator of California. She introduced the Gay and Trans Panic Defense Prohibition Act of 2018 with Senator Markey to ban the practice nationwide.
In fact, since joining the Senate in 2016, Kamala Harris has used her new role as a legislator to be either the author or a cosponsor of virtually every proposal to further trans rights, including, but not limited to:
Derived from Kamala Harris's voting record
In addition to the above laws specifically referencing trans rights, her Justice in Policing Act was endorsed by the National LGBTQ Task Force, Action Fund. In their endorsement, they cited data stating that "58% of transgender people who contacted the police reported some form of mistreatment, such as harassment, misgendering and assault. This number increases to 61% when looking specifically at the experience of Black transgender respondents."
Her work on trans rights as a District Attorney and Attorney General was not limited to ending the trans panic defense, however.
In June 2012, AG Harris received the George Moscone Ally Award for LGBT Advocacy for all of her aforementioned work on trans rights, in addition to her countless other achievements for the LGB portion of the community. The creation of her LGBT Victim Advocacy Unit and an LGBT Sexual Assault Awareness Program was also highlighted at LA's Pride Parade.
In December 2016, before nonprofit healthcare industry BlueMountain could acquire a nonprofit religious organization, AG Harris required a series of strict conditions, including that "all facilities and the medical office buildings' policies and procedures shall explicitly prohibit discrimination against lesbian, gay, bisexual or transgender individuals."
In July of 2016, one of Kamala Harris's last acts as Attorney General was to join California's AG office with two cases supporting trans rights with briefs challenging the controversial "bathroom bill" and to expand Title IX protections to include gender identity.
The record established so far is above and beyond any other political leader in American politics today. 17 years of consistent allyship and using an increasingly more powerful platform to push the envelope beyond blue bubbles and into the mainstream. Which brings us to the question — why on Earth are some people disparaging Kamala Harris's record on trans rights as "mixed"?
Kamala Harris's record in general has been grossly misinterpreted by people that either don't understand how an Attorney General's office works, or intentionally wish to disparage her record in favor of their preferred 2020 candidate. But this particular conclusion is based on two cases involving two trans inmates petitioning for gender reassignment surgery.
One of the primary roles of a state's Attorney General office is to defend other state agencies during a lawsuit, regardless of the personal opinions of the Assistant Attorney Generals or the Attorney General herself. Similar to an assigned defense counsel, they are obligated to represent their client to the best of their ability. These two cases were against the California Department of Corrections and Rehabilitation, which clearly had a policy against gender reassignment surgery funded by the state.
Kamala Harris's name may be present on the letterhead of the briefing to deny one of the inmates gender reassignment surgery and to instead proceed with hormone therapy, but that merely means it originated from the California Attorney General's office, which employs thousands of Assistant Attorney Generals to handle caseloads across California ranging from custody battles to murder cases. There is no evidence to suggest that Kamala Harris wrote the brief, and she would have had no reason to, any more than she would have personally filed a petition for review of child support.
Kamala Harris has stated multiple times that she was not involved in the case until much later in the process, which is supported by both her office and outside lawyers familiar with the case.
Peter Renn, a senior attorney in the Western Regional Office of Lambda Legal who works on transgender cases, said the situation changed in the lawsuits as Harris became more involved in the litigation.
"The California AG's office shifted its handling of these cases significantly after now-Sen. Harris took over. Initially there was language in briefing for the state that glaringly misunderstood the medical necessity of transition-related medical care and was patently offensive. But then, there was a dramatic change, which seems to have gone along with important policy shifts." -Peter Renn
Those important policy shifts included a settlement to the trans inmates and forcing the review and reversal of California Department of Corrections's policy!
"Members of the LGBT community, especially those who are transgender, are too often subjected to discrimination and forced to live on the margins of our society. In a groundbreaking settlement, the California Department of Corrections & Rehabilitation has agreed to evaluate and provide sex-reassignment surgery if recommended to Shiloh Quine, a transgender inmate. This is an important step forward in the ongoing effort to protect transgender rights in California." -Attorney General Kamala Harris
Despite Kamala Harris's clear delight in the case resolving in such a fashion, some circles are conflating her involvement in earlier stages of the case and using them as ammunition to berate her as out of touch — and even transphobic. The case certainly warrants criticism, and her involvement or lack thereof is still subject to scrutiny since she was still in charge of the actions of her subordinates. And Kamala Harris agrees!
The bottom line is the buck stops with me and I take full responsibility for what my office did. -AG Kamala Harris
The degradation of her record is the result of an explosive cocktail of wanting to take her down to prop up other political figures, the desire to eliminate nuance in the pursuit of political purity and, of course and as always, racism.
On the subject of trans rights, Kamala Harris doesn't just have the rhetoric. She also has results.
(Courtney Swanson is a veteran, mom, student, Pokemon master. Posted first at Medium.com)
-cw