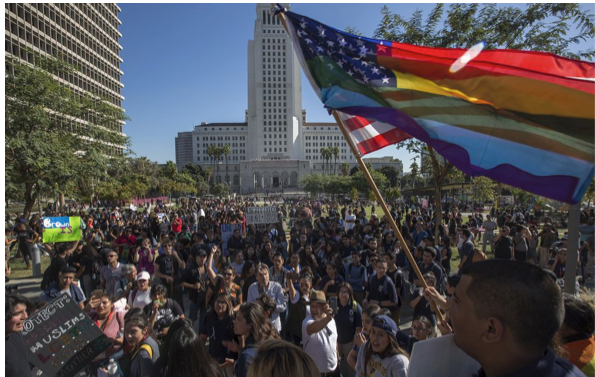 RESISTANCE WATCH--Technology and social media have been at the forefront of Trump-driven activism. I sat down with Sean Howell, president of Hornet, the world's premier gay social network and the only LGBT app serving as the official hub of June's LA #ResistMarch and other marches throughout the country to discuss the role technology can play in the resistance movement. 
"Social media is a tool for rallying and organizing, with protests on the rise," says Howell. "We're empowering grassroots activism by not only providing information and event details, using technology to bring people together, but also the opportunity for people to share images." 
This year's LA Pride Parade has shifted focus to become #ResistMarch. Howell shares the vision of #ResistMarch founder Brian Pendleton.  "It's important that the LGBTQ community works with other marginalized groups," says Howell. "Hornet will work with #ResistMarch and LA Pride to organize and mobilize."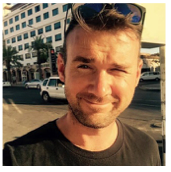 "The tone out of the White House is significant, especially for LGBTQ people. We've made great strides in history but this can be a step backwards," says Howell (photo left), who adds that the Administration has attempted to set policies that negatively impact other groups, as well. "The policies about not funding birth control here and for overseas NGOs is concerning. The movement has us worried, even the appointments that have been made." 
"It's important for the community to come together in a visible way. We've spent twenty years funding and fighting for rights in the Courts, in politics, in local elections. We cannot afford to go backwards or even maintain where things are. There's still so much to accomplish in the U.S. but also internationally," Howell adds. "The U.S. has always been looked at as a beacon of LGBT rights. Life for LGBT people is really dark in the rest of the world. Not only do we want to do what we can but whether we look at the Arab Spring or Black Lives Matter movements, we see how technology can empower voices." 
The Hornet app's users are gay men across the world, many who do not have full equality. "All our users are unified in that way. We can disseminate information easily and can empower connectivity with each other and participants," says Howell. Another function of the app's involvement is to continue the conversation and the dialogue. "We are also opening a connection between what we need to say as a community -- and to connect in a human way," he says. "Sometimes, in the courts, there's a victory but people still have ideas against you. We realize that we have to persuade people through their hearts and we have lots of work to do." 
Why is technology such a powerful tool? Howell says social media makes it easy to disseminate information and to stay on target with messaging, as well as to make the goals of the march more accessible. "Lots of people are unable to participate physically, whether because of disability or they will be at work, maybe they live too far or are introverted so there will be ways to participate online," says Howell.  "Before technology, this did not exist. Now people can vocalize through social media. We can look to the President to see that social media does matter. It's empowering to make your own messaging and that can be as important as an actual march." 
During the Obama campaign, developers worked to create a geo-specific app to connect with Obama phone bankers and Howell says in the coming year's midterm elections, apps will help with fundraising and getting messaging out for candidates, as well as for Get Out the Vote. 
Howell says Hornet will be supporting the West Coast and to make the LA march as big as possible but also to boost the virtual march so that everyone is supported. 
"At the core, we want to let everyone know that Los Angeles is important not only as a media capital but it's a big city in North America with a mixed voting record. It's a great place to have visibility. The kid on the street seeing a large march and asking his moderate or conservative parents to explain -- that could be the beginning of an important conversation and it could be the renaissance of mobilization. We've had a little bit of paradise but in some ways, we have been taking things for granted. The task of our generation is what are we going to do? Are we capable of what happened in the sixties or the seventies? I hope so. -- Sean Howell, President of Hornet 
During a recent visit to Taiwan, Howell says he was interested to see LGBT associations in a march for Tibet. "We're learning that when minority groups stick together, we have louder voices. I would love to see that with the LGBT movement," he adds.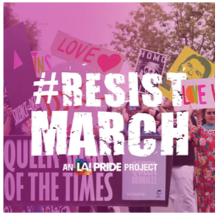 It's important for us to reach across to other groups, to think of ways to work together," he adds. "For LGBT rights, there are different issues, different politics, low income, disabled, of every color. Different groups face different challenges." 
The one thing that can bring us all together is the current administration. My hope is that the #ResistMarch has huge visibility on the streets and through technology. It's going to be fun. We are activists again. It's not something I wished for but it's the reality and it's going to give us lots of meaning for this year. We're just getting started. -- Sean Howell, Hornet 
What's next? Howell says it helps to know people are working to resist in the political and ideological battle in the long run. "That's why we produce content, not only through our editorial team but talking about critical conversations of the day, covered as news at a time when media is imploding. We have niche media for LGBT that we are working on growing, so many nuances and we can disseminate this with our app," he says. 
Currently, the Hornet app is addressing the Trump administration's move to drop questions pertaining to sexual orientation and gender identity from the 2020 census. According to polls, between 3.8% and 19% of the U.S. population could identify as LGBT, a figure that will remain unquantified without inclusion in the upcoming census. 
Hornet is encouraging "every LGBT person to stand up and #BeCounted. Using the power of technology and social media, Hornet wants to send a powerful message that the LGBT population is large, productive, and growing. Hornet is also asking LGBT people everywhere to sign its Change.org petition and to share far and wide," says Howell. 
NEED TO KNOW on the census issue.
(Beth Cone Kramer is a Los Angeles writer and a columnist for CityWatch.)
-cw