BCK FILE--In 1970, Christopher Street West organized the first Los Angeles parade advocating for gay rights.
The parade was in response and to commemorate the 1969 Stonewall Riots in New York's Greenwich Village. 50 years after the Stonewall Riots, thousands of activists and supporters gathered in West Hollywood this past weekend for LA Pride 2019 not only to celebrate the LGBTQ+ community but also to speak against the policies of the Trump Administration. 
For the first time, this year's LA Pride Parade was broadcast on ABC-TV.  LA Pride and the City of West Hollywood have teamed to host the first ever Pride on the Boulevard,a  block party with entertainment, rides, and attractions along Santa Monica Boulevard. LA Pride events included performances and appearances by Megan Trainor, Paula Abdul, and Lisa Vanderpump. Dozens of groups and organizations marched from Crescent Heights Boulevard to just Robertson Boulevard. 
LA Pride Week, which kicked off on May 31, is one of the world's largest LGBTQ+ celebrations. The theme of this year's parade was #JUSTUNITE, recognizing the the LGBTQ+ community includes people of every race, religion, philosophical belief, immigration status, gender, and sexual orientation. 
Proceeds from ticket sales support events including the LA Pride Parade, as well as citywide programs, including CSW philanthropy, Casa del Sol, a joint project with APLA Health that provides low-income housing to people living with HIV/AIDS. 
While today's parade and festival celebrate diversity, there's also an acknowledgement of the struggles of the LGBTQ+ community, from exclusion and the AIDS crisis of the 80s to the rising homophobia under the Trump Administration, including  deliberate attacks on transgender people.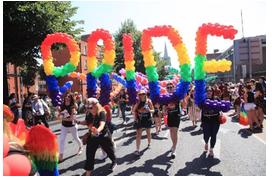 The record of the Trump Administration on LGTBQ rights belies the president's recent tweets:
As we celebrate LGBT Pride Month and recognize the outstanding contributions LGBT people have made to our great Nation, let us also stand in solidarity with the many LGBT people who live in dozens of countries worldwide that punish, imprison, or even execute individuals ...
... on the basis of their sexual orientation. My Administration has launched a global campaign to decriminalize homosexuality and invite all nations to join us in this effort!

The policies and statements of Trump prior to and during his presidency are in direct opposition to his statements above. See the GLAAD website for a detailed account. Here is a summary from the past two months alone. 
Since the days of the Stonewall Riots, the gay rights movement has made many strides, including the landmark Supreme Court Obergefell decision, which recognized the fundamental right of same-sex couples to marry under the same terms and conditions as opposite-sex couples. There is much to celebrate, including diversity. However, it's important for us to remain on guard about the Trump Administration policies, as well as growing homophobia and transphobia.
(Beth Cone Kramer is a professional writer living in the Los Angeles area. She covers Resistance Watch and other major issues for CityWatch.)
-cw