DEEGAN ON LA-Los Angeles is known for many things: the beach, the movies, oil, the art of the personal makeover and reinvention, some of the best cuisine in the country, great art, endless ways to have fun, and even our gridlocked traffic are just the beginning. But, books? Libraries? 
Ask what are the most famous libraries in Los Angeles and you may hear names like, Powell at UCLA, Central Library in DTLA, The Motion Picture Academy's Margaret Herrick Library, the Huntington Library (not LA, but still local), but probably not The William Andrews Clark Memorial Library, a gem within a gem located in preservation-rich West Adams. This area was developed by Henry Huntington of Southern Pacific Railroad (and Huntington Library) fame as a wealthy neighborhood full of Victorian mansions and notable houses in the 1880s. Huntington also developed the beachside community of Huntington Beach, known as the home of the surfing craze, thanks to his bringing legendary longboard surfer Duke Kahanamoku to put on a display as a publicity stunt for the town's grand opening.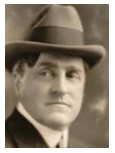 In 1934, William Clark, Jr. gifted to UCLA his mansion and library building and the five acres it occupied, as well as his collections of rare books and manuscripts on the study of England and the Continent from the Tudor period through the Eighteenth Century. His library's strengths include Oscar Wilde, b ook arts, and volumes on Montana and the West. (It's interesting to note that UCLA was, at first, a small college for the education of teachers, located in downtown Los Angeles, named the Los Angeles State Normal School established in 1881. When it relocated to Vermont Avenue it was known as the Southern Branch of the University of California. After moving to its new campus in Westwood in 1929, it was renamed UCLA and has since expanded to become a leading world university.) 
So, exactly who was the Clark Memorial Library's eponymous William Clark, Jr.? And what made him an "accidental Angeleno"? 
Born in Montana in the late 1800s to the son of a copper baron, Clark was raised in Paris where he spoke only French. He was eventually sent to Los Angeles to live with his grandmother so that he could properly learn English. He wound up here by an accident of language since in his early years he did not know how to speak his native tongue. Fortunately for LA, he stayed here. 
His dad, William Clark, Sr., (1839 to 1925) was a bigger than life character on the western frontier of the Montana Territory where he became known as the "Copper King," making his fortune from various types of mines located across the west and southwest. The centralized shipping depot he used for moving his minerals from mine to market was a small crossroads of a town in Nevada that later became Las Vegas, located in what is now his namesake, Clark County. 
At one point, after Montana obtained statehood, Clark Sr. was elected a senator from the new state but was at first refused his seat by the Senate because of corruption and bribery scandals that surrounded him. In his defense, he allegedly said, "I never bought a man who wasn't for sale." 
No matter how he was styled or viewed, Clark Sr. amassed a fortune that eventually provided half-billion-dollar inheritances to each of his children, William, Jr. and Huguette, who used their wealth in wildly disparate ways: his for the people of Los Angeles, and hers for her personal lifestyle. 
Clark, Jr. decided to remain in Los Angeles and enter the civic and cultural spheres of his adopted hometown. Not only a bibliophile but a music lover and musician himself, William Clark Jr. was the founder of the LA Philharmonic in 1919, and he contributed to the construction of the Hollywood Bowl. 
Two bigger than life characters, William Clark senior and junior, may suffice for any one family, but there was another noteworthy but somewhat eccentric Clark, his sister Huguette, renowned for living twenty years in a New York hospital suite (until she died at age 105) even though she had no illness. Also raised in Paris, Huguette invested her inheritance in deluxe homes for herself across several cities in New York, Connecticut and California. Her Santa Barbara mansion, a very large family estate on a bluff overlooking the Pacific Ocean that she inherited, was last visited by her in 1950, but was kept fully staffed, maintained and manicured until her death in 2011, just in case she happened to stop by. At her death, her estate was valued at almost a quarter-billion dollars. Her brother's library gift to UCLA included an endowment that UCLA says is today valued at almost a quarter-billion dollars. He left a separate endowment for his grand piano, one of his musical instrument treasures. 
Clark is buried in Los Angeles in a mausoleum situated on an island in an artificial lake at Hollywood Forever Cemetery. His library legacy is a treasure that very few Angelenos know about but offers tours and public programming including chamber music concerts, theatrical performances, and lectures. Today, the Clark Library's holdings contain over 130,000 printed books, pamphlets, broadsides and maps. Highlights of the concentration of English Literature from the seventeenth and eighteenth centuries include the works of John Dryden, Chaucer, Shakespeare, Scott, Dickens, and Wilde. 
All these offerings -- from a reflective docent tour of the Library to researching English literature of the seventeenth and eighteenth centuries to attending public programing -- are available for anyone who wants to enjoy the permanent legacy left by this "accidental Angeleno." We need more "accidents" like William Clark, Jr.
(Tim Deegan is a civic activist whose DEEGAN ON LA weekly column about city planning, new urbanism, the environment, and the homeless appear in CityWatch. Tim can be reached at timdeegan2015@gmail.com.) Edited for CityWatch by Linda Abrams.