ALPERN AT LARGE--You know, Mr. Bird/Lime/Dockless Scooter Company, I really think you guys are onto something.
They're everywhere, the governor signed off on legislation to not require helmets, and clearly they serve a purpose. But I've got one more question about the scooters.  
Just one more thing ...
Why are the hospital and urgent visit and ER's filled with scooter-related injuries? I mean, just because the data isn't formally collected by the City and State doesn't mean it shouldn't be...
And just one more thing ...
If mopeds and motorcycles are required to have visible turn signals so that they can operate in traffic with cars, why aren't there required turn signals for the scooters as well? The thought of scooters drivers getting hit at night really unnerves me...
And just one more thing ...
Scooters aren't for drivers less than eighteen years of age, so why are there so darned many of them parked around the elementary schools...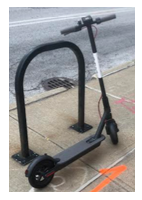 And just one more thing ...
How many scooter riders know that they are subject to all the fines associated with driving under the influence, motor vehicle fines and penalties, etc. when they turn on the scooter...and how many of them know that they can't use the sidewalks any more than a moped ...
And just one more thing...
What sort of legal liability will dockless scooter companies have from all the injuries associated with head trauma, motor vehicle accidents and the like if it's clear that there's not enough public information about the potential risks and hazards with using those scooters?
And just one more thing ...
Just because Sacramento gave you a pass on the helmets, do the scooter companies think that riders shouldn't use helmets any more than motorcycle or moped riders?
And just one last thing ...
Do you guys think that you're working with local and state governments to promote mobility and safety in a way that actually establishes mobility and safety for your products, or is it all about making a quick buck?
(Kenneth S. Alpern, M.D. is a dermatologist who has served in clinics in Los Angeles, Orange, and Riverside Counties, and is a proud husband and father to two cherished children and a wonderful wife. He is also a Westside Village Zone Director and Board member of the Mar Vista Community Council (MVCC), previously co-chaired its Planning and Outreach Committees, and currently is Co-Chair of its MVCC Transportation/Infrastructure Committee. He was co-chair of the CD11 Transportation Advisory Committee and chaired the nonprofit Transit Coalition and can be reached at alpern@marvista.org. He also co-chairs the grassroots Friends of the Green Line at www.fogl.us. The views expressed in this article are solely those of Dr. Alpern.)
-cw