ALPERN AT LARGE--It's Metro's job to explore ALL routes in its expanding rail network, and the era is over as to wondering whether or not certain key rail lines will occur.
Freeway fixes, and road fixes, are still under way (although not to the level of speed and efficiency of Joe/Jane Taxpayer, it's guessed), but even the Orange Line Busway Experiment in the San Fernando Valley is going towards light rail. 
Issues such as speed, efficiency, cleanliness, first/last mile connections to rail lines, and passenger behavior/safety are still thorny and concerning issues to all parties because there remains a need to get from here to there. Commuters and even tourists may wish to reduce car usage, but while they won't give up on cars altogether they DO want a rail option to be out there. 
1) And when the Crenshaw/LAX Metro Rail Line is finished, and a new light rail connects the Expo to the Green Lines, and set up a new east/west People Mover connection to LAX, it's to be guessed that many a taxpayer will wonder why the Inglewood-to-Union Station rail right of way is being used for a bikeway and not the light rail line that would establish a direct LAX-to-Downtown rail connection.  
2) And when the Purple Line lawsuits end, the likely result will probably conclude that a subway below Beverly Hills High School will not put students at risk, and the direct connection to Century City will be the correct and cost-effective route for the Purple Line/Wilshire Blvd. Subway. No offense to anyone, even those filing the lawsuits, intended. 
3) And when the 405/Sepulveda Blvd. Subway to connect the San Fernando Valley and the Westside (at least as far as the Expo Line, it's guessed at this immediate time, and with the ultimate goal of LAX also guessed), the route won't as likely be under the freeway but under Sepulveda Blvd. and UCLA to get to the critical passenger destinations that are so darned hard to reach by freeway and road connections.  
Maybe this wonderful and long overdue north-south 405/Sepulveda Line will make a dent on 405 freeway traffic, or just provide another commuting option to get to/from the Valley as traffic just gets worse. 
But one of the big questions is the proposed north-south extension of the Crenshaw/LAX Line to the Purple and Red Lines as illustrated by this diagram in Metro's "The Source".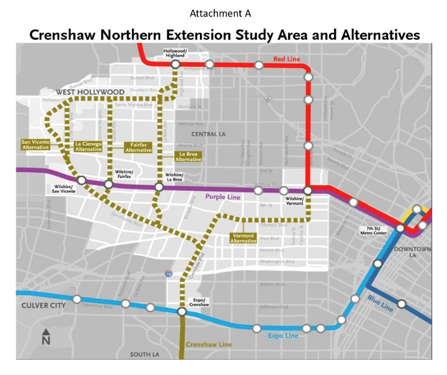 It's to be remembered that this north-south line is, ultimately, just that: a north-south line. 
It's also to be remembered that it's Metro's' job to explore all routes, especially those that might pick up a few thousand more riders a day, hence the rather devious and innovative routes considered.
Yet it's to be remembered yet again that the LAX/Green/Crenshaw Line was also explored with virtually EVERY possible route considered--above ground, below ground, and with every configuration that could have been conceived by transit officials and advocates (and even more than once thought possible) ... but the final result was a straight line.
The ridership in the Crenshaw Line underground northern extension (and all northern extensions WILL require underground routing to the Purple and Red Lines) that jogs westward to La Brea is the option that has the shortest transit time, the shortest distance, and probably the smallest cost.
And it's hoped that the La Brea option will be the option that wins out, because increased transit time means lower ridership, and money doesn't grow on trees. It's possible that a Fairfax alternative, or even the Vermont alternative, could do the trick, but the more that this line deviates from being a north-south rail line the more that things start looking pretty WEIRD.
It's to be seriously respected and appreciated that West Hollywood wants IN to the Metro Rail system, but a series of Metro Rapid Buses to the Purple, Red and Crenshaw Lines is probably more cost-effective ...
... and if another east-west subway leg under Santa Monica Blvd. is to be considered, then so be it, but a first-rate series of Metro Rapid Buses is probably much, much more cost-effective, and will be used if those buses are clean, well-maintained, speedy, and reliable.
... and if a quick, one-stop LAX-to-Downtown rail route is to be considered with a Vermont jog eastwards, then perhaps it's time for the elected politicians of the Metro Board to grow up, and ask all other parties to grow up, and focus on the unused and publicly-owned rail right of way (the Harbor Subdivision Right of Way) to connect LAX to Downtown Union Station.
Building a light rail AND a bikeway, and NOT just a bikeway, on the Harbor Subdivision Right of Way to connect LAX and Downtown in the shortest distance possible, just makes sense.
And building a north/south rail line to extend the Crenshaw/LAX light rail line north to the Purple and Red Lines via La Brea to keep it focused in a north/south direction, also just makes sense.
Thank you to all the Metro staff who are doing their jobs and exploring all options, and thank you to the rail/transportation advocates who are diligently trying to find a new alternative to get commuters from point A to point B.
(Kenneth S. Alpern, M.D. is a dermatologist who has served in clinics in Los Angeles, Orange, and Riverside Counties, and is a proud husband and father to two cherished children and a wonderful wife. He is also a Westside Village Zone Director and Board member of the Mar Vista Community Council (MVCC), previously co-chaired its Planning and Outreach Committees, and currently is Co-Chair of its MVCC Transportation/Infrastructure Committee. He was co-chair of the CD11 Transportation Advisory Committee and chaired the nonprofit Transit Coalition and can be reached at alpern@marvista.org. He also co-chairs the grassroots Friends of the Green Line at www.fogl.us. The views expressed in this article are solely those of Dr. Alpern.)
-cw: