RESPECT--The Queen of Soul, the "voice of black America", Lady Soul, arguably the greatest singer in living memory –
Aretha Franklin, who died in her Detroit home on August 16 aged 76, will go down in musical history as one of the few artists that not only defined their times but transcended them to become a key figure in social change.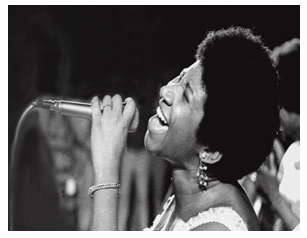 Her glorious, roof-lifting performances on tracks such as 'Respect', '(You Make Me Feel Like) A Natural Woman', 'Think' and 'Spanish Harlem' set the bar for passionate soul music in the late '60s and early '70s, but also saw Franklin become an icon for feminism and the civil rights movement. Her febrile demands for respect and understanding chimed with counter-culture calls for equality, and becoming the most charted female in history with over one hundred singles hitting the US Billboard chart made her a symbol of hope and aspiration.
"American history wells up when Aretha sings," Barack Obama said in 2015. "Nobody embodies more fully the connection between the African-American spiritual, the blues, R&B, rock and roll – the way that hardship and sorrow were transformed into something full of beauty and vitality and hope." 
Congressman and Civil Rights leader John Lewis defines Aretha.  
(Mark Beaumont blogs at nme.com) 
-cw