INTEL REPORT--At a bail hearing on Monday, lawyers for rich white guy and accused child sex trafficker Jeffrey Epstein will have the chutzpah to ask their client be released to await trial in his $77 million, prosthetic-breast-and-child-porn-filled Upper East Side mansion, one of two homes (out of his total of six) where he allegedly "sexually exploited and abused dozens of minor girls." 

Their request, sent initially in a letter to District Court Judge Richard Berman, comes after the sudden resignation of Labor Secretary Alex Acosta for his earlier "sweetheart deal" for Epstein and Acosta's creepy press conference to make himself look good - Miami Herald reporter Julie Brown: "In reality, there is nothing here that makes him look good." 
It also comes as over a dozen new young accusers of Epstein surface, as prosecutors say Epstein tried to buy off witnesses, and rumors swirl that more charges, in the U.S. and abroad, are forthcoming. In their audacious request for bail, lawyers said their client doesn't pose a flight risk despite his two private islands and staff of 70 in the Virgin Islands - one dubbed "Pedophile Island" and "Island of Sin by locals - his three passports, and his private jet known as the Lolita Express.
Arguing that pretrial detention should be reserved for "a small but identifiable group of particularly dangerous defendants," maybe like Eric Garner (loose cigarettes!) and Stephon Clark (cell phone!), they proposed 14 conditions "to abate any conceivable danger (Epstein's) claimed to present.
They include bond secured by and home detention in his fabulously glitzy digs, electronic monitoring, no fourth passport, jet grounded, no guests except attorneys, no leaving except for approved purposes - pretty harsh for a "self-made" guy fallen victim to "the toxic political climate" - read # MeToo - and "legally erroneous government assertions" in the face of Epstein's "perfect compliance with onerous sex offender registration requirements" and "a spotless 14-year record of walking the straight and narrow," and besides, okay sure he may have dabbled in a little sex trafficking but only in one or two of his houses and he never "forced, coerced, defrauded, or enslaved anybody," so all good, and never mind "how much rhetoric and hyperbole the government and media pile on a presumptively innocent citizen."
Such hubris, it should be remembered, is well-earned: After Epstein's earlier nasty brush with the law - and his comfy 13-month-sentence served in a relatively posh prison - he was welcomed back to New York's fat cat society with nary a sideways glance.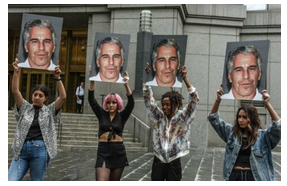 His soft landing came in part thanks to a complicit legal system whereby police and even prosecutors, whose ostensible job was to punish him for his crimes and protect the rest of us, sealed his records, looked the other way when he failed to show for check-ins, kept victims and their lawyers from know about his plea deal and gave him that "obscenely inconsequential sentence," writes a furious Rebecca Solnit.
"What was the punishment for softballing child rape?" she asks. The answer: Acosta, in charge of the Florida case, got to be Labor Secretary before being booted. William Barr worked for the law firm that defended Epstein. And the buddy of Epstein's himself accused of child rape is president.
Epstein, Kavanaugh, Weinstein, Strauss-Kahn, Trump and all the other rich serial sexual predators, she writes, were possible thanks to "a bipartisan cadre of powerful allies," "an elaborate infrastructure that let them continue committing crimes with impunity," and a broader rape culture that embraces a might-is-right ethos where "truth is whatever the powerful want it to be."
Above all, she says, the #MeToo movement made obvious the connection between public abuse of power and once-hidden private abuse of power. "Monsters rule over us, on behalf of monsters," she writes. "These men could not do with they did without a culture—lawyers, journalists, judges, friends—that protected them, valued them, devalued their victims and survivors. They do not act alone, and their might is nothing more or less than the way a system rewards and protects them...Their impunity is not inherent; it's something society grants them, and (ed's note: most vitally) can take away."
(CityWatch guest columnist, Abby Zimet, writes for the excellent Common Dreams.) 
-cw