GELFAND'S WORLD--It's that time of year when thousands of people throng Santa Monica Blvd from Highland eastward to the Hollywood Forever Cemetery.
It's the Hollywood Fringe Festival, a spectacle of drama and song that springs forth for a mere month and, then, like the lotuses of Echo Park, leaves us. In short, you've got June 7-24 for the Hollywood Fringe Festival and the weekend of July 14-15 for the Lotus Festival.
Over the past few days, theatrical companies have been running preview showings of their new Fringe productions. Over the weekend, I attended three performances and chatted with numerous people who told me about productions they would be in. 
Let's start with Easy Targetsby the aptly named Burglars of Hamm (a pun on Burghers, one would assume). Easy Targets involves 4 separate one-person performances, each a spoof on the one-man-show genre. For example, Selina Merrill depicts a self-centered actress whose main subject is "All About Me." Eric Curtis Johnson does the back-woodsy version of Abraham Lincoln (a Lincoln who never was). Hugo Armstrong is the Space Man, complete with silvery space suit, a fishbowl helmet, and an irritating Texas-southern drawl. 
The gimmick is that the audience is invited to throw rolled-up socks at the performers as an indication of irritation or humor. To make this gimmick work, the company rents bags of socks to the audience. On Saturday night, I joined a line of people along Santa Monica Blvd, each holding a plastic bag full of rental sox in the anticipation of whacking an actor. It was reminiscent of that famous scene in the movie Airplane where a long line of people carrying clubs and monkey wrenches wait for the chance to do violence to a woman who is having hysterics. 
In Easy Targets, the night's top performer was Tracey Leigh, who parodied (and to a certain extent, outdid) the role of African American Woman as vocalist and thespian. She put so much energy into her act that at one point, the audience was stunned into not throwing socks, a rare tribute indeed. Jamie Robledo was effective as a drummer who accompanied Leigh's routine. In conversation, he explained that he was the author of the Space Man routine and director of that evening's show. 
A rare play by the nearly unknown Lars Mattsun 
This being my evening for the Burglars of Hamm, I also attended their performance, brought back after 20 years, of the oddly named RESA FANTASTISKT MYSTISK (yes, the title is in all-caps). The program explains that Lars Mattsun lived at the same time as Strindberg, and that his genius undoubtedly affected the work of other Scandinavian authors of his era. 
Audience members are provided with closed circuit audio gear including a receiver and earphones. As the performance begins, the director gets up on stage and explains that due to the complexity of the wording in the play and the deep symbolism, he is going to guide us through the play by providing his own spoken comments over our earphones as the action progresses. 
A modern audience might wonder at this point whether MYSTISK is or is not a spoof. The answer  involves (WAIT! SPOILER ALERT! see below) 
The Real Thing: Ibsen's Ghosts 
Henrik Ibsen's Ghosts was a scandal in its day (1882) in that it dealt with family secrets of the sort that weren't properly spoken of in mixed company. The widow of Captain Alving reveals that her husband was a dissolute man who impregnated the maid. She learns that her late husband transmitted his own case of syphilis (through her) to their as-yet-unborn son. The son, now returned home, asks his mother to help end his life as soon as his disease becomes unbearable. 
There is an implied bit of unintentional incest along the way, and a running stream of argument that challenges church doctrine. No wonder newspapers of the day condemned the play. 
The International Theater Group: Dreamwalker  is now presenting their version of Ghosts as part of the Fringe. Actually, they title their production #ghosts  A whole new immersive theater. 
What's immersive about this show? For one thing, the action takes place in one room in which players and audience are somewhat mingled. Audience members are invited to stand and to walk around the room during the performance. (A few chairs are supplied, but it's made clear that they are intended only for the occasional rest.) 
The playing area is a dining table surrounded by chairs. There is a sort of tent-like set of poles erected around and above the table, apparently as a sign to the audience that this is the main playing area, and perhaps we should be careful not to walk into that place. 
Other than that, there is nothing immersive about this production at all. The characters don't talk to the audience members or make physical contact as in other immersive theater companies. Perhaps the main immersive thing is that the audience is right on top of the action. But that would be true for any small theater or even for a high priced box at one of the world's great opera houses. 
At this point in theatrical history, Ghosts is considered to be a great play, or if I may be so bold as to translate that term, it is an "important" play. 
As for the performers on this preview evening, I can give them credit for giving it the old college try. There was a lot of that dry effect that seems like the characters are either trying to remember their lines or working on achieving proper diction and volume. In other words, they seemed like they were reciting the play rather than being those characters brought to life. In their more dramatic moments they achieved the proper level of screaming and wailing and looking upset. 
I suspect that Ghosts runs long and dry because there are so many words, so much back and forth, and so many points of fact and personal history to be revealed. It's hard for the performers to deliver natural performances and still shoe horn the show into 90 minutes. 
One actor brought more to his role. Erik Dabrowski in the subsidiary role of Engstrand inhabited his character more naturally. It probably helps that he gets to play the character as drunk for much of his stage presence, but he was a believable drunk and a believable villain. Lauren Ashton Baker was largely believable as Regina. 
The Fringe Experience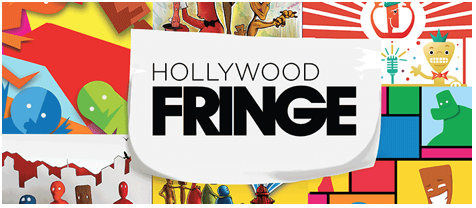 The Fringe seems to attract a lot of young actors and acting students. Over the course of an evening at the Fringe, you will get to meet people who will hand you postcards advertising their shows. It is also an opportunity to chat with young performers, producers, and technical people. 
A couple of members of what seems to be called the Clown Troupe invited me to attend their show Les Bancs. The catalog describes Les Bancs as "a variety clown show featuring physical comedy in the form of short skits." The two performers distilled that version into "clowns in space." Sounds interesting. 
Another conversation of interest. When I stopped into a local cafe for dinner, I noticed about a dozen young people circled around what looked like a photocopy of a board game. At the same time, they all had what looked like scripts. In conversation, I was told that they are a group of Chinese students studying at USC, UCLA, and Cal Arts, and that they are the cast and crew for a production called House of Tales. And yes, they had decided that rather than do another run through before that night's performance, they preferred to relax a bit by playing a board game. 
This was all explained to me by their stage manager Xingsi Chen. The stage play is adapted from a book of stories going back to early 1700s China. Considering that the players and tech people come from prestigious drama schools, this one might be worth seeing. 
SPOILER ALERT 
Was there actually a Lars Mattsun, author of the play RESA FANTASTISKT MYSTISK? Does a theater company that calls itself the Burglars of Hamm do anything without a bit of tongue in cheek? Could they have created a spoof on the Scandinavian theater genre all by themselves, in spite of the dearth of Strindberg level talents available to us nowadays? Or was there a Lars Mattsun and an otherwise comedic troupe that wanted to take on a weighty work? 
I suppose it wouldn't be fair to give away any secrets that might remain in the potential viewer's mind -- but all questions will be eliminated by the first two or three minutes of the show (which is a very effective bit of clowning). On the other hand, it would be better for your ultimate enjoyment of the show to walk in expecting a densely literary, deeply philosophical work (in the way that only Scandinavians can do in the brooding Scandinavian style) and enjoy the surprise. 
I'll leave it at that but add a few comments on the actual effect of this show. What we get through the earphones are the thoughts and feelings of the director as he watches his show come to fruition. In this case, they are all the irritations about how the actor fails to achieve the lofty goals here, or frankly misses a couple of lines there. We get hints (and outright spewing) about the petty personal conflicts and rivalries between players and the director. It's meant in fun, but there is a bit of insight into the process of communal creativity. Sometimes things don't work, and sometimes they work well, but not in the way that the director wanted.
(Bob Gelfand writes on science, culture, and politics for CityWatch. He can be reached at amrep535@sbcglobal.net) 
-cw