CHATTERBOX--Ya gotta love New Yorkers. The day after a video of racist lawyer Aaron Schlossberg wildly haranguing people at Mid-town's Fresh Kitchen for speaking Spanish went viral, the city's multi-cultural denizens defiantly pushed back with a vengeance.
In quick succession: Schlossberg was kicked out of his office space - his actions are "totally contrary to everything we believe in," said the leasing company - and the building's security workers were on the lookout: "I'll throw my shoes at him," said one. "We're all hungry for him." 
Rep. Adriano Espaillat and Bronx borough president Rubén Díaz Jr. filed a grievance with the state court system arguing, "Such behavior should never be tolerated." Mayor Bill De Blasio tweeted in praise of the city's diversity: "The 8.6 million people who call this city home speak more than 200 languages – they're all New Yorkers and they're all welcome here." Several people posted stories and videos of earlier run-ins with Schlossberg spewing hate - accosting a cop at a ball game, randomly threatening a guy on a sidewalk, cursing out pro-Palestinian protesters - to reveal a sick pattern.
So many people posted savage reviews on his law firm's Yelp listing- it's now tanked at one star - the company began screening reviews; newly posted, take-no-prisoners photos - Aaron as Hitler, the KKK, a douchebag - remain. Google users took to reclassifying the law firm as a Mexican restaurant, accompanied by sombrero-themed images. And about 500 multi-hued people gleefully attended a Latin Party, originally scheduled for outside his office, but after his eviction moved to his West Side apartment building. The event was organized by an array of groups, including Millennials For Revolution, Viva Bernie 2020, Unofficial: DNC, Latinos for Revolution, and announced on Facebook.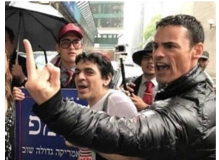 Organizers called the lies in Schlossberg's rant (photo right)- that all Spanish speakers are undocumented and on welfare - "a little sad," adding, "However, Hispanics are not sad people and we will gladly educate you on our culture and language." Said one, "We're basically clapping back at this fool." Loudly, it turned out. After a GoFundMe campaign to book a Mariachi band raised twice its goal, a local band offered to play for free. Their arrival was met with jubilation - as was a Mexican flag someone flew above the building - and the money went to hire a taco truck and, thanks to Alt Immigration, brochures offering information on laws  governing undocumented immigrants. "We have the power to speak," said Carlos Jesus Calzadilla of Young Progressives of America. "That's the message we want to spread - that if someone (is) openly racist, the response will be swift."
(Abby Zimet is a columnist for the excellent Common Dreams  … where this piece originated.)
-cw