CHATTERBOX-After a brief period when they were pushed aside allowing Donald Trump to audition two other klutzes for his presidential clown car, Eric and Don Jr., the president's idiot sons, have resumed their places at their father's feet.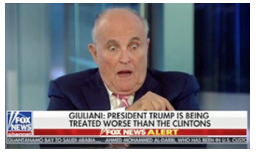 Former NYC Mayor Rudy Giuliani (photo, left) squandered his last shred of credibility with a series of unhinged appearances on FOX. 
"The Trump boys were driving the president crazy with their stupid comments on television and inability to effectively defend his agenda," said an aide to Mr. Trump, speaking off the record. "So he brought in two guys from his old New York neighborhood, Rudy Giuliani and Michael Cohen, to straighten things out. But that pair of schmucks was worse than the original morons, so Mr. Trump decided to bring back Dumb and Dumber." 
Eric and Don Jr. have been out of the public eye for months, ever since the Mueller investigation heated up last fall. President Trump, fearful that the two boobs could say something incriminating in a fit of verbal farts, had them sequestered in the "tenant dungeons" at Trump Tower in New York City. The tenant dungeons are used to lock up residents of Trump's residential properties who are late with rent payments. 
Once called "the kid you most want to punch on the playground," President Trump has lost faith in the work of his fixer Michael Cohen. (photo, left) 
"The president wanted to keep his halfwit twins far from the investigation underway in Washington," added the White House aide to Mr. Trump, "His adopted son, Michael 'The Imbecile' Cohen, has caused him enough trouble already and he didn't need his dumb fuck spawn provoking an FBI raid on Trump Tower or even the Oval Office. They're back, but now the president is looking for a way to muzzle that other putz, Jared, so that little twit doesn't end up bringing down his presidency." 
The president is eager to get this mealy-mouthed mannequin out of his hair. (Jared Kushner, photo, left) 
Asked why Mr. Trump continues to surround himself with incompetent flunkies who bring him nothing but trouble and misfortune, the aide responded, "The president is someone who believes in personal loyalty and would never throw Eric, Don Jr., Michael, Rudy or Jared under the bus until he's absolutely convinced that they can't be useful in some regard. However, he's quickly coming to believe that all five are disposable and that the best way for them to serve him now is by sacrificing themselves for the good of the country. President Trump is confident that they will all carry out their patriotic duties." 
It is thought that Michael Cohen, whose offices and home were raided in April resulting in the seizure of mountains of incriminating evidence, will be the first among the five to fulfill his patriotic obligations to the president. 
(Allan Ishac has been a Medium member since Apr 2017. I read. I write. I ride. I rest. I RESIST! This piece was posted first at Medium.com. Prepped for CityWatch by Linda Abrams.