Beverly Hills Says: "Not Under My Back Yard!" (Video)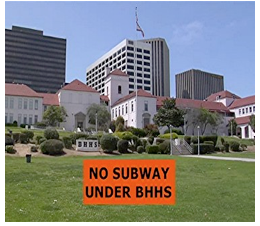 SUBWAY TUNNEL TUSSLE  - First the Beverly Hills Unified School District ended its tradition of allowing BH-adjacent kids to attend that posh city's schools. (LINK) Now the local PTA is fighting tooth and French nail to keep subway trains from traveling under Beverly Hills High School via the proposed Westside Subway Extension.

The subway has been planned to run through a nine-mile tunnel connecting the current Wilshire and Western terminus of the Purple Line to downtown Santa Monica.

The PTA, according to a Los Angeles Times piece, has released a scare video that predicts "a doomsday scenario" in which students could be incinerated in the event a train somehow ignites a plume of subterranean methane gas left over from the oil wells the school was built on.

But if the school is sitting on such a potential box of dynamite, why isn't it shut down immediately – with or without a subway?

The video proposes that the line be moved further south, to run under Santa Monica Boulevard – which happens to be within an earthquake fault zone. Metro's Web site has a page countering the PTA's dramatic charges.
According to Times reporters Dan Weikel and Martha Groves, "Metro has approved only the first 3.9 miles of the project – as far west as La Cienega Boulevard –  because Beverly Hills requested a hearing to air its concerns. Metro has scheduled the hearing for May 17."

The Times piece also notes that "the city of Beverly Hills and the school district have threatened to sue." Old-timers might remember how Beverly Hills similarly stopped the 2 Freeway dead in its tracks at Glendale Boulevard in Echo Park rather than have it extended through BH – even when backers proposed to run it beneath the city.

Stay tuned.

(This article was posted first at fryingpannews.org) -cw

Tags: Beverly Hills, Beverly Hills High School, Subway to the Sea, Wilshire Subway, BHHS Video






CityWatch
Vol 10 Issue 37
Pub: May 8, 2012