Moving Forward Despite Collusion, Corruption and Cowardice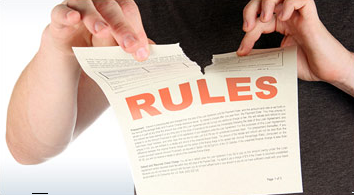 CALIFORNIA COMMENTARY - Yes, believe it or not, we are moving forward in California.  It might be because our learning curve has been ratcheted up by our harsh economic times, the budget numbers and an Internet that just doesn't let the dark secrets stay hidden, but we're moving forward.

Take, for example, the City and County of Los Angeles.  Apparently, as Steve Lopez of the Times reports, a University of Illinois study suggests that L.A. is #2 in the nation behind Chicago when it comes to corruption.  Perhaps the Illinois researchers were partial to their local Chicago metropolitan region, but I doubt being #2 is anything to be proud of.
We've got overpaid DWP employees and a rot-infested budgetary process that has been approved by mayoral wannabees Jan Perry and  Eric Garcetti and by city controller wannabee Dennis Zine.  And we've got a hideous usurping of power by new City Council overlords Herb Wesson and Jose Huisar in a City Council redistricting process that as full of racial/racist politics as it is pure backroom graft.
And it's easy to blame all this on L.A. being a one-party town:  for the most part, Republicans need not apply for public office, because we already have three political parties:  moderate Democrats, liberal Democrats and very liberal Democrats.  It's just a darned shame that the local government is so focused on Democratic politics in Sacramento and Washington to the exclusion of doing their jobs here in the City of L.A.

However, it's not that simple:  somehow, Carmen Trutanich, a moderate Republican who somehow overcame the political machine of our current Mayor to defeat Jack Weiss and become the L.A. City Attorney, is breaking his campaign pledge to stay two terms in office when the City of L.A. needs him the most in order to enter the race to replace the outgoing Steve Cooley and become District Attorney.  Apparently, lying to the voters is a bipartisan thing in this town.

Not to be outdone at the county level, the L.A. County Assessor Noguez scandal is making us all wonder who's paying enough or too much property taxes.  Furthermore, the county supervisors (who've for decades been known as "the five kings and queens of L.A.") are potentially running afoul of Brown Act laws and are as removed as ever from their constituents (of course, isn't that what being a L.A. County Supervisor is all about?).

And, just as if we'd had enough of law-bending and other non-enforcement kookiness, it appears that our two leading local cops, Sheriff Lee Baca and L.A. Police Chief Charlie Beck have decided to selectively ignore the word "illegal" in offering illegal immigrants drivers licenses (link).  Kinda makes one wonder which rules are OK to be enforced—after all, there's no blowback in embracing rulebreakers and lawbreakers, right?

And rules and laws were MEANT to be broken, right?

Yet despite all this, I wanted this piece to be positive—and there IS room to be positive despite the University of Illinois study declaring the obvious (that our open-minded, enlightened City and County of California is corrupt).

For example, Metro is actually getting serious on fare evaders, which brings hope for those of us who want to ensure the financial viability of our budding rail/bus transit system.  The voters elected to pay for Measure R, and will likely be asked to pay more to extend Measure R, so it's only fair that those who use Metro pay their fair (fare?) share.

Furthermore, Governor Brown and the new leadership of the California High Speed Rail Authority are now focusing on upgrades to Los Angeles Union Station, San Francisco Transbay Terminal, and the Caltrain and Metrolink systems that feed into them.  This is the only realistic immediate remedy to ensure that our $10-15 billion state/federal investment isn't prudently spent to justifiably enhance commuter rail in a state that is rightfully-infuriated by an apparent bait and switch (link).

Giving Governor Brown some more well-earned props—as well as to his usual Republican opponents in Sacramento—it appears that the GOP is saying "yes" to supporting the Governor on pension reform, which even the L.A. Times is praising.

Of course, the GOP has been saying "yes" to balanced budgets and keeping spending within sustainable limits—despite its pathetic inability to make a case to the media and to the voters of California.  Furthermore, Republicans and conservative Democrats alike who are concerned about the sustainability of the state's pension system (and the pension spiking that's made it rotten to the core) also said "yes" to an initiative to correct that lack of sustainability.

Unfortunately, Attorney General Kamala Harris' obscenely-biased summary and title of an initiative engineered to correct this budget-busting problem (link) forced its backers to drop the initiative.  Let's hear it for the lady, huh—SHE really showed whose pocket SHE is in.

Yet Governor Brown and his GOP opponents are stepping up to plate to defend the taxpayers against the likes of Harris and a Democratic-dominated Legislature, who've become too used to doing the bidding of a state public sector union system that has no problem stepping on the collective neck of the aforementioned taxpayers.

The TAXPAYERS—you know, that group of suckers who've not yet fled the state and will be invariably be asked to raise their taxes to pay for education, transportation, infrastructure, safety/security, our parks, etc.?

The TAXPAYERS—you know, those had-it-up-to-here folks who will also invariably say "no" to new taxes if its cities, counties and states don't clean up their collective act?

So yes, we're moving forward.  There's plenty to like and despise at all levels of government, and in both political parties.

But necessity is the mother of invention, and our necessity is forcing us to reinvent California, one painful step at a time.

(Ken Alpern is a former Boardmember of the Mar Vista Community Council (MVCC) who previously co-chaired its Planning and Outreach Committees, and who currently is Vice Chair of its MVCC Transportation/Infrastructure Committee. He is co-chair of the CD11 Transportation Advisory Committee and chairs the nonprofit Transit Coalition, and can be reached at Alpern@MarVista.org. The views expressed in this article are solely those of Mr. Alpern.)
CityWatch
Vol 10 Issue 17
Pub Feb 28, 2012