Are 8,000 Dodger Fans Worth $1.2 Billion?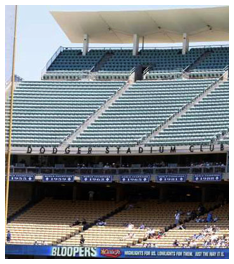 DODGER FEW - Something very fishy is going on at Chavez Ravine.

A couple of Wednesday's ago, Bill Plaschke of The Los Angeles Times reported that there were only 8,000 bodies at the afternoon game against the cellar dwelling San Diego Padres, possibly the smallest attendance in Dodger history since they moved from Flatbush Avenue.
Yet official attendance was almost 28,000.

This major league discrepancy exemplifies the utter contempt that Angelenos have for The Boston Parking Lot Attendant and Princess Jamie, the selfish owners who have looted the Dodgers to the tune of $180 million to support their family's profligate lifestyle.

On the following day, Bill Shaikin of The Los Angeles Times had a scoop where he disclosed that Bill Burke, a politically connected man about town, and a consortium of unidentified Chinese state institutions and American investors offered to purchase the Dodgers and the related assets for $1.2 billion in cash.

But why would anybody in their right mind offer to pay an astronomical price for damaged goods, where the Dodgers' revenues, attendance, broadcast ratings, prospects, and brand name are heading south?

Or what do they know that we and the Major League Baseball don't know?

But the expectations based on this so called "offer" from unidentified investors are bound to stir up the pot, especially in the courthouses in Los Angeles and Delaware.

Needless to say, Princess Jamie, fearful of Frankie's high stakes gambling and scorched earth policies, will make a beeline to Divorce Court in Los Angeles, demanding the Dodgers be sold so she will receive her fair share of the $500 million of equity value that is left over after the payment of an estimated $700 million in debt.

As for the Bankruptcy Court, this "offer" is a distraction since it has not been endorsed by the Dodgers or its two feuding owners, nor has the source of funding been verified.

If anything, it will put more pressure on the Dodgers to sell the team to pay off the lenders and creditors.  As for the ability to attract new investors, who in their right mind would want to be a partner with the overly litigious and less than trustworthy Boston Parking Lot Attendant?

As for the Dodgers, they have been on a roll, having won 12 out of their last 15 games, including five away games against the St. Louis Cardinals and the Atlanta Braves, the leader for the Wild Card spot in the playoffs.

They even have a decent chance of a breakeven season as they are now are only 3 games under .500, a vast improvement from the 57-69 record on Sunday, August 21.

Unfortunately, Arizona's Magic Number is now 9 games, in large part because the Diamondbacks have been on a tear, winning 13 of their last 15 games.

Of course, this streak has fans thinking about next year.  

But don't hold your breath as the Dodgers' finances will only deteriorate as the very lucrative season ticket holders continue to desert the Dodgers and Angelenos continue to boycott Boston Frankie.

And compound the continued decline in attendance and revenues with the over $700 million of debt, we are looking at a financial train wreck which will hopefully lead to the sale of the Dodgers to a responsible owner.

As for Bill Burke's air ball offer and Boston Frankie's failure to jump all over it, it once again shows that there are two fools in the room: the fool that made the offer and the fool who did not accept the offer.

BOYCOTT Boston Frankie's Dodgers!

(Jack Humphreville writes LA Watchdog for CityWatch He is the President of the DWP Advocacy Committee and the Ratepayer Advocate for the Greater Wilshire Neighborhood Council. Humphreville is the publisher of the Recycler -- www.recycler.com. He can be reached at:       lajack@gmail.com ) –cw

Tags: Dodgers, Frank McCourt, Boston Frankie, Jamie McCourt, Princess Jamie






CityWatch
Vol 9 Issue 72
Pub: Sept 9, 2011