Finally, Train Lines to LAX … No Really!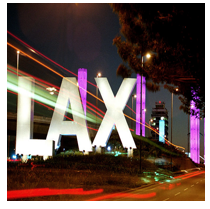 TRANSPO LA-There are several key talking points to the Measure R transportation half-cent sales tax that was passed in 2008 by two-thirds of LA County voters--the overdue Subway, the overdue road and freeway projects, the overdue Foothill Gold Line and a slew of other overdue projects.  But let's not kid ourselves:  one of the biggest, if not THE biggest overdue project that ranks up there is the overdue light rail access/connection to LAX.
And now we have the chance to finally build that overdue rail access/connection to LAX. (Link).  

Much of the anger and disappointment that LA County residents have towards our mass transit system is predicated on the perceived screwup of Metro by not connecting the Green Line to LAX when it had the chance, and while Metro deserves some of that blame, it's critical to remember that Metro's biggest obstacles to that worthy process are:

1) The geographic layout of the north-south, publicly-owned Harbor Subdivision Right of Way (ROW) to the east of the airport, and the need to not have MetroRail interfere with LAX safety and operations--this has been studied for decades, and there is much more consensus (particularly after the Green Line Interagency Task Force) than ever before.

2) The nightmarish expense, engineering and environmental challenges of tunneling under LAX to get a direct Metro link that is completely obviated with the above-ground MetroRail/LAX People Mover plan--this has also been studied for decades, and there is much more consensus (particularly after the Green Line Interagency Task Force) than ever before.

3) The intransigent mindset among too many LA World Airports (LAWA) leaders and staffmembers that they have the ultimate power over LAX and Metro access--this has also been studied and confronted for decades, and despite a Green Line Interagency Task Force that included LAWA, Metro, the LADOT and other groups, there are private conversations from LAWA officials that the critical Green Line/LAX monorail link (Automated People Mover, or APM) will be abandoned for a bus service.

Bus Rapid Transit (BRT) has always been understood to be a lower-capacity, less-desirable approach to mass transit than a rail line to whisk travelers from MetroRail (which was always supposed to occur at Century/Aviation and/or Aviation/Imperial) to the individual airline terminals, and BRT is invariably more expensive to operate despite the ability to inexpensively throw it together by buying some buses.

Yet (again) let's not kid ourselves:  Measure R still enjoys two-thirds of voter support (according to the most recent polling), and it's clear that LA County residents want to do things in a cost-effective manner, but they did NOT want to do the big projects in a pennywise, pound-foolish manner.

And that includes making sure that LAWA would do its share of the heavy lifting once Metro was willing to spend the big bucks on its MetroRail connection via the Crenshaw/LAX light rail line, which is doing double-duty by connecting the Expo and Green Lines as well as offering the Green Line an extension to LAX-adjacent Century/Aviation.

LAWA needs only to build its Automated People Mover (which was planned to be a monorail to be built, run and maintained by LAWA) to Century/Aviation, and not the longer Aviation/Imperial terminus to the south as envisioned and proposed by LAWA during the Hahn era; Metro is again doing the heavy lifting to LAWA's benefit.  

In theory, the APM could be light rail and use the same cars that MetroRail uses throughout the county, and LAWA could contract with Metro to perform and even run the APM if it made it operationally easier for LAWA.

Of course, for those who need reminding, there are two key reasons for not having MetroRail trains directly access the individual airline terminals, rather than the indirect connection from Century/Aviation:  it's crazy to have all north-south non-airport bound Crenshaw and Green Line trains have to make that long, seven- or eight- stop detour, and it's crazy to not have the opportunity for security clearance to the airport and/or create a remote check-in site at Century/Aviation.  

Century/Aviation (or Manchester Square) was ALWAYS the planned MetroRail/LAX APM interface site, except when Mayor Hahn and LAWA pursued a more expensive (for LAWA) Green Line/APM connection at Aviation/Imperial to the southeast of LAX.  

This was true even when Metro originally built the Green Line and planned a North Coast extension to Parking Lot C and up Lincoln Blvd. to Marina Del Rey (how many of us know that Marina Del Rey was Metro's originally-planned destination for the Green Line?).

On a related and key note, the late state senator Jenny Oropeza fought like the dickens to ensure a few hundred million dollars of Measure R money would both extend the Green Line to LAX and into the South Bay.  She knew, as a former Metro Boardmember, that the ideal Green Line needed not to just go to LAX but THROUGH the LAX area to at least access Parking Lot C at the southeast corner of Sepulveda and Lincoln.

She knew that a Crenshaw/LAX Line could, would, and should be directly linked with the South Bay Green Line stub to create a huge north-south light rail line from the Expo Line to Torrance (and perhaps someday from the Hollywood Red Line to San Pedro or even the Blue Line), and she knew that the Green Line could, would, and should extend from Norwalk in the east to at least Parking Lot C in the west.  

The two lines could, would, and should share stations at Aviation/Imperial to create a big "X to mark the spot" where travelers could access LAX from the west, east, north and south.

We owe it to her memory to do the right thing.

And now it is up to Mayor Villaraigosa, Councilmember Bill Rosendahl and the rest of the LA City Council to remind LAWA that the City of Los Angeles directs the operations and planning for LAX, and not the other way around.  

We need the APM to connect Century/Aviation to the Consolidated Rental Car Facility, Parking Lot C and the individual airline terminals, and we need the Green Line to extend from Century/Aviation to Metro-owned properties to serve the hotels on Century and Airport Blvds. until it reaches Parking Lot C.

In particular, it is up to Mayor Villaraigosa to leave his lasting imprint on LA and end his two-term leadership in a manner opposite to that which led his predecessor, James Hahn, to be a one-term leader:  not only did James Hahn fail to overcome the legal and financial hurdles of a Wilshire Subway, but he also did not overcome the legal and financial hurdles of connecting the Green Line to LAX.

Mayor Villaraigosa can fix all that, and make sure that the decades-long and elusive Green Line to LAX can be created on his watch.  But he needs our help, and the three Green Line to LAX outreach/planning meetings are listed below.

(Ken Alpern is a former Boardmember of the Mar Vista Community Council (MVCC), previously co-chaired its Planning and Outreach Committees, and currently is Vice Chair of its MVCC Transportation/Infrastructure Committee. He is co-chair of the CD11 Transportation Advisory Committee and chairs the nonprofit Transit Coalition, and can be reached at Alpern@MarVista.org.  He is also co-chair of Friends of the Green Line. The views expressed in this article are solely those of Mr. Alpern.) –cw

Tags: LAX, LA airport, LAWA, Measure R, Foothill Gold Line, Metro, Mayor Villaraigosa, Mayor Hahn, LA County, Automated People Mover, Crenshaw Line, Green Line, Century-Aviation


Metro Green Line to LAX Workshops
Tuesday, August 23, 2011
6:30 pm - 8:30 pm
Flight Path Learning Center
6661 West Imperial Highway
Los Angeles, CA 90045
Served by Beach City Transit Line 109 with connections at the Metro Green Line Aviation/LAX Station and LAX Transit Center.
Free parking is available on site.

Thursday, August 25, 2011
6:30 pm - 8:30 pm
Metro Headquarters
Plaza Level Lobby, 1st Floor
One Gateway Plaza
Los Angeles, CA 90012
Served by Metro Red, Purple, and Gold lines, Amtrak, Metrolink, Metro Bus Lines 40, 42, 68, 70, 71, 76, 78, 79, 485, 487, 704, 728, 733, 740, 745, 770, and 910 (Silver Line), Dash B, Dash D, Dash Lincoln Heights/Chinatown, Santa Monica Big Blue Bus Line 10, Torrance Transit Line 2, and Foothill Silver Streak.
Free parking with validation is available on levels P2 and P3.

Tuesday, August 30, 2011
6:30 pm - 8:30 pm
Veterans' Memorial Complex - Yanji-Iksan Room
4117 Overland Avenue
Culver City, CA 90230
Served by Metro Bus Lines 33 and 733 and Culver City Bus Lines 1, 3 and 7.
Free parking is available on site.

Spanish translation will be provided. Special accommodations and information in alternative formats are available to the public upon request. All requests for reasonable accommodations must be made three working days (72 hours) in advance of the scheduled meeting date. Please call the Project Hotline at 310.499.0553 or the California Relay Service at 711.

Please visit  [metro.net/greenlinetolax] for more information.





CityWatch
Vol 9 Issue 65
Pub: Aug 19, 2011